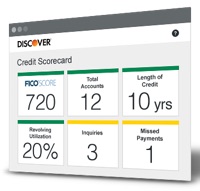 Discover has rolled out a new service called Credit ScoreCard, which provides everyone access to their FICO score for no charge with no trials or credit card relationship required. (Well, free in exchange for right to market things to you based on your personal information.) Checking your own credit does not impact your credit score. This post provides updated information and instructions regarding this service.
FICO Score details.
FICO Score version: FICO Score 8, or FICO 08. This is the most widely used of the many FICO flavors. Score version is directly shown on the website.
Credit bureau: Experian
Update frequency: Either monthly or when you log in, whichever is longer.
Limitations: Available to everyone. You do not have to be a Discover cardholder.
Is this legit? The name is a little generic and perhaps even phishy-sounding, but you can view information at discover.com/free-credit-score, which links directly to creditscorecard.com/registration. The domain registry information matches that of Discover Financial Services.
How to get your score. Here's a preview of the application and approval process:
You must provide personal information, including Social Security Number. Name, address, etc. This is required for any service that checks your credit score. You do not need a Discover credit card.
You must agree to their Terms & Conditions and Privacy Policy. Basically, they will give your free access to your credit score and other credit information, and they will also collect personal information to market Discover products and other services to you. Don't miss this chart:

Identity verification questions. They will ask you some multiple choice questions based on your Experian credit report data in order to verify your identity. If you don't pass this quiz, I would go over to AnnualCreditReport.com and get a copy of your report to scan for errors.
Set your personal security questions. At this point, you are approved. You just need to set up the standard security questions like "Who was your 2nd grade teacher?"
What kind of information do you get? The score model is FICO Score 8, based on your Experian credit report. This is the same score model and credit bureau offered by American Express, and is within a few points for me (the check dates are slightly off). The other two major bureaus are TransUnion and Equifax. Note that Discover also offers their cardholders access to FICO Score 8 based on their TransUnion credit report. From their terms:
The FICO® Credit Score we provide is the FICO® Score 8. The score range is 300-850. FICO® Credit Scores are based on information on your credit report, and give you a snapshot of your credit report information at a very specific point in time. As the information in your report changes, your score may also change. According to FICO®, 83% of the population experiences changes to their score by up to 20 points month to month. FICO® Credit Scores as well as other credit scores are based on credit bureau information, and may be different from one credit bureau to the next.
You also get access to data points like Total Number of Accounts, Length of Credit (Oldest Account), Revolving Utilization Percentage, and Missed Number of Payments.
How often is it updated? As often as every 30 days, but only if you log in to the website. Many sites operate this way, as it reduces their costs of grabbing your score if you are no longer interested. Also, they want you to log in so that they can show you advertisements. From the terms:
Unless you cancel this authorization, we'll pull fresh credit report information for you the later of every thirty days or the next time you log into your Credit Scorecard.
Screenshots. Here's a peek at mine: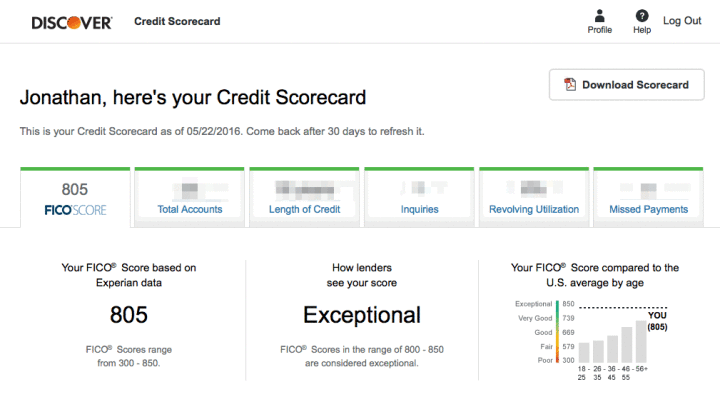 Bottom line. CreditScoreCard by Discover is one of the first free services I've seen that offers a FICO Score without requiring you to be an affiliated credit cardholder. If you already have access to this score model and credit bureau combination through other means, you may not want another entity to have access to your personal data. If you don't, you may find this a very reasonable way to get free access to your Experian FICO 8 score.
Related: Here is additional information about other major credit card issuers with free FICO programs: