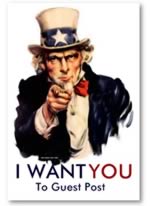 I am taking some time off in October, and am looking for some additional content for MyMoneyBlog. I'm not looking for the usual "5 Ways To Save Money" material though. I want unique, original content. By this, I mean I want something that only you could write, something I couldn't replicate after spending an hour researching on Google. Perhaps you don't have time to start a blog, but did build a house by yourself. How much did it cost? Was it worth it?
I want personal decision processes. I want to hear if you scored a great deal, got ripped off, or retired early and read this blog from the beach every day. Here are some more potential topics that I would love to read about (will add more as I think of them):
My research for picking a high-deductible health plan (HDHP) and Health Savings Account (HSA) provider.
How I bought a used car off Craigslist
How I worked a nice stable federal/state job for 20 years and retired early
How I work only on an Alaskan fishing boat three months a year and take the rest off
How I started RandomWebsite.com and it now earns me $1,000 a month in passive income (not a personal finance blog)
Booking my around-the-world itinerary for under $10,000
Paying for college in real time and finishing with no debt at all.
How I retired to a country in SE Asia/Mexico/South America at age 45 (or 75)
How I built a solar-powered house that is off the grid.
How I built my own "go bag" or survival kit myself on the cheap.
Please contact me with your post idea. I'm flexible on length, but I reserve the right to suggest some edits. You will get full credit, an author byline, and a link to your website. If you want to remain anonymous, that's fine too. As an additional push, I'll even throw in a $25 Amazon.com gift certificate if your post gets published. If I get at least 10 guest posts, I'll run a contest for the best one and that person will get $100.
I know there is some great experiences out there. Share it!
Update 9/29/10: I think I now have enough guest post offers for October, but may need some at a later time. If you've already e-mailed me, I'll be replying shortly. Thanks!