Update 1/3/2022: Today, I received two very different emails from my Juno fintech account. The first one happily told me that the balance limit on their 5% interest rate was raised from $10,000 to $25,000 and emphasized that everything with good ole' USD was still FDIC-insured through Evolve Bank & Trust. $25,000 at 5% held at Juno would now earn over $100 a month in interest!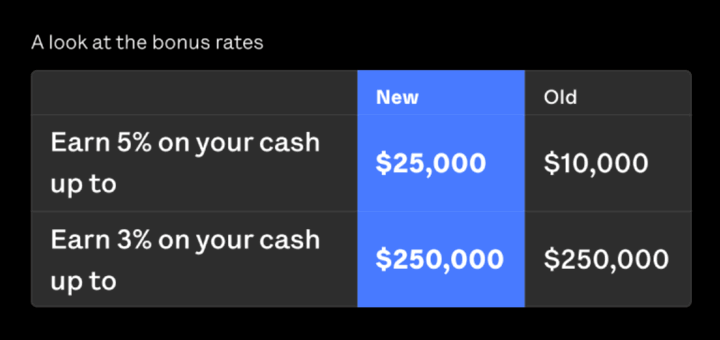 The second one warned me that their unnamed crytpo custodian was shaky and they advised me to either self-custody or sell all my crypto with them immediately. Crypto buys are currently disabled and they are looking to switch custodians. They even auto-liquidated USDC and USDT stablecoins for some users and moved the funds into the FDIC-insured side.

First, definitely sell any crypto! But what if you never used Juno for crypto? Theoretically, your FDIC-insured cash should be firewalled from the crypto side. Realistically though, there is still a chance for disruption in the access to your cash if the entire fintech fails, so I would not keep any funds you might need immediately there. In the end, I feel they are trying to help in telling you to get out ahead of time here (instead of instantly freezing withdrawals like others), but it still makes me question their judgment. I will personally tread cautiously here despite the new balance limits. You may feel differently.
Updated full review: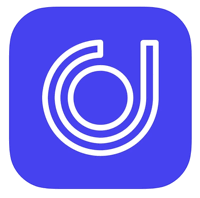 Juno.finance (formerly OnJuno) is a fintech that combines an FDIC-insured bank account and a crypto custodian. Notably, the banking part now pays 5% interest on up to $25,000 balance. Details:
New: Earn 5% on all cash deposits up to $25,000 and 3% on cash deposits from $25,001 up to $250,000. This applies to traditional cash deposits (USD), which are FDIC-insured through Evolve Bank & Trust. Applies to both the Basic and Metal tiers. No transaction or direct deposit requirements.
Up to 5% cashback on debit card purchases. Metal tier offers 5% cashback on your 5 selected merchants on up to $6,000 per year (max rewards $300). Basic tier only gets up to $500 per year ($25 max).
New: JCOIN Loyalty Program. Earn loyalty tokens "JCOIN" when you complete certain actions with Juno. Existing users should check their accounts as Juno just "airdropped" a bunch of these coins for free to users that you must claim. These loyalty tokens are redeemable inside the app for an interest rate boost to 5.5%, cashback boosts, and other promised stuff that may or may not materialize.
$10 + 500 JCOIN Referral bonus. If you open via referral link, there is a $10 + 500 JCOIN bonus offer.
OnJuno partners with Evolve Bank and Trust for FDIC insurance. A reminder that cryptocurrencies, including USDC stablecoins, are not covered by FDIC insurance even though the creators claim they are backed 1:1 by US dollars. Juno has added support for crypto and external wallets, and you can set it up to automatically convert your direct deposits into BTC, ETH, USDC, or a mix of currencies. Don't confuse your FDIC-insured USD deposits with stablecoins.
Metal tier benefits. The requirement to reach the Metal tier is maintaining qualifying Direct Deposits of $250 per month. A benefit of Metal tier is that your 5% cashback on your selected merchants like Amazon/Uber/Doordash/etc works on up to $6,000 in purchases per year (max rewards $300). Basic tier only gets up to $500 per year ($25 max). Another benefit is that you are allowed to redeem more JCOIN rewards each month.
Basic users have a 5,000 JCOIN daily limit and 50,000 JOIN monthly redemption limit.
Metal users have a 25,000 JCOIN daily limit and 150,000 JOIN monthly redemption limit.
Metal tier no longer directly affects your bonus rate on cash, but if you have the Metal tier, you are allowed to spend 350 JCOIN and "boost" your rate from 5% to 5.5%. So it can still indirectly affect your rate paid.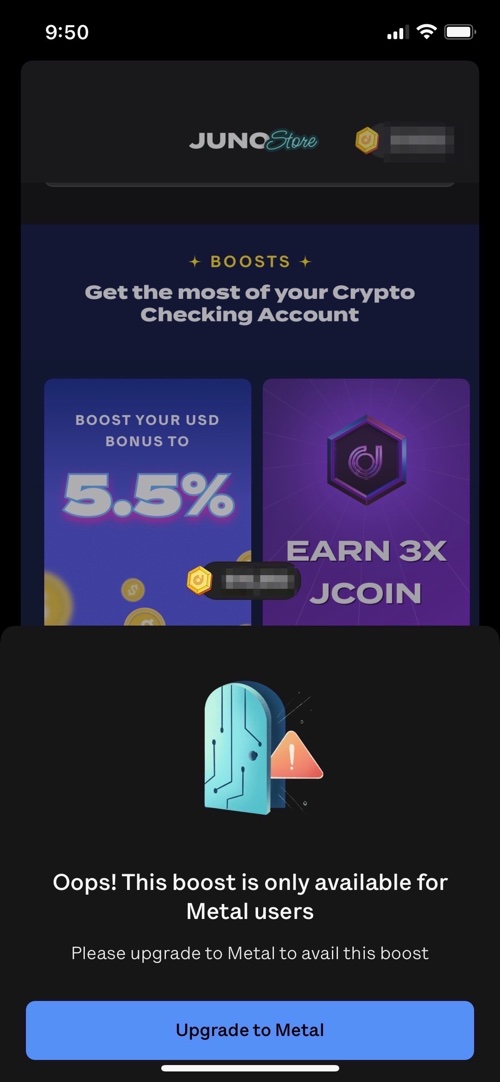 This might make it worthwhile to switch some of my direct deposit over if I'm already going for the 5%… if I switch $350 a month, that would earn 350 JCOIN on its own, which would boost my rate up to 5.5%. The 3% on everything else isn't bad at all either.
Traditional Bank-to-bank transfers. OnJuno uses the Plaid service to link with external bank accounts for funding and free ACH transfers (both deposits and withdrawals). They also provide you with the full account number and routing number, which you can use to connect with other banks like Ally, Marcus, CapOne 360, etc. The routing number is 084106768 which is confirmed as that of Evolve Bank & Trust. I was able to make a deposit and withdrawal initiated at Ally without issue (subject to transfer limits of $20,000 daily/$500,000 monthly). As with some other fintechs, their in-house limits are lower.
Bonus rate, not APY? You may notice that they don't use "APY" and instead say "bonus rate". Here's their reason:
The Bonus Rate is offered entirely by OnJuno and is not interest provided by Evolve Bank and Trust. The bonus rate You earn will be credited to Your account at the beginning of each month. Your funds begin generating a bonus rate once they are available on Your OnJuno Checking Account. Please note that OnJuno reserves the right to cancel, remove, and change this bonus at any time. OnJuno also reserves the rights, in sole discretion, to refuse this bonus without cause, reason, and notice.
I've been getting my bonus rate every month without issue at the proper annualized rate, so this just seems to be a legal thing. Your interest is still shown on a 1099-INT at the end of the year. I already see the 5% rate on my app: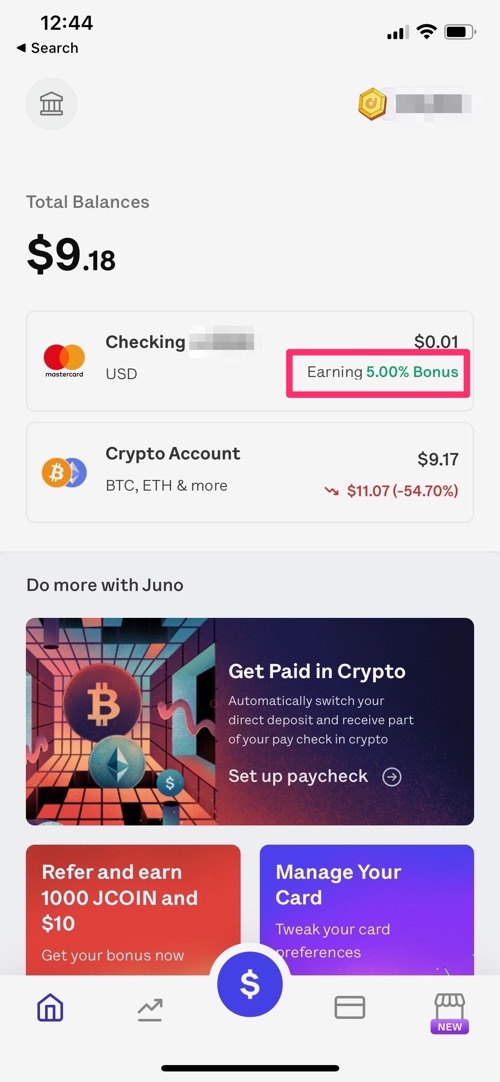 5% cash back debit card merchant list. You can choose 5 from the following list of brands.
Amazon, Target, Best Buy, Walmart, Netflix, Amazon Prime, Disney+, Spotify, Headspace, Calm, Whole Foods, Walgreens, Trader Joe's, CVS, Uber Eats, Grubhub, Postmates, Doordash, Starbucks, Dunkin Donuts, Blue Bottle Coffee, In N Out, Taco Bell, Wendy's, Chick-fil-A, Uber, Lyft, and AirBNB.
See warning above regarding crypto.
New Juno Crypto Wallet. Send and receive crypto from external wallets. Bridge crypto to L2s like Arbitrum, Polygon and Optimism directly from checking account. Juno currently offers 0.5% fee on stablecoin trading, 1% fee on non-stablecoin trading. However, you can use 100 JCOIN to get a 100% discount on stablecoin trading, and 50% discount on non-stablecoin trading. Crypto deposits and withdrawals are free.
New JCOIN loyalty program, ways to earn. Earn loyalty tokens "JCOIN" when you complete certain actions with Juno. These loyalty tokens are
redeemable inside the app for merchant discounts, cashback boosts, and to waive crypto trading fees. Ways to earn JCOIN:
(Existing users should first check account to claim free JCOIN from past activities.)
First funding to your Juno account – 250 JCOIN
Card spends with crypto – 2x rewards
Card spends with cash – 1x rewards
Connect a cash direct deposit – 1x rewards every time your paycheck hits Juno
Connect a cash direct deposit – 2x rewards every time your paycheck hits Juno
Refer a friend – 1000 JCOIN
Additional details.
Instant virtual cards. You can create "virtual" 16-digit debit card numbers in the app, which are different than your physical card and you can "lock" them at any time. This may be useful for fraud prevention and perhaps even pesky trial offers.
Transfer limits. If you plan on transferring larger sums of money, know that OnJuno has different transfer limits for if you initiate with them vs. external institution. The external daily limits are much higher, currently $70,000 per day vs. $10,000 per day. View limits here.
Customer service. You can contact them via phone at 415-969-5775 (9am to 6pm Pacific) or online message (they replied to me within a few hours).
No minimum balance requirement.
Fee-free access to both Allpoint and Moneypass ATM networks (85,000+ locations).
Free debit Mastercard.
No mobile check deposit yet.
Bottom line. Juno is a fintech banking app with the unique feature of paying 5% on up to $25,000 of cash deposits with no direct deposit or debit card usage requirements. FDIC-insurance from Evolve Bank and Trust.