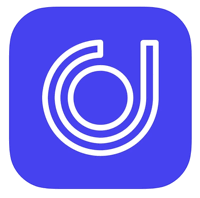 Updated. OnJuno is a new fintech banking app with the notable features of 2.15% bonus rate on up to $30,000 and also 5% cash back on select merchants. They partner with Evolve Bank and Trust for FDIC insurance. Here's my updated review after a few months of use. Here are the basics of their two options:
Basic tier. 2.15% Bonus Rate on up to a $5,000 checking balance. 5% cash back on up to $500 a year in debit card purchases ($25 max). 1 free out-of-network ATM withdrawal per month. No monthly fee.
Metal tier. 2.15% Bonus Rate on up to a $30,000 checking balance. 5% cash back on up to $3,000 a year in debit card purchases ($150 max). 3 free out-of-network ATM withdrawals per month. $9.99 monthly fee.
OnJuno is providing all new sign-ups 6 months of Metal tier for free if you set up direct deposit. The bonus rate drops to 0.25% on balances above $5,000 for Basic and $30,000 for Metal, with a total limit up to $100,000.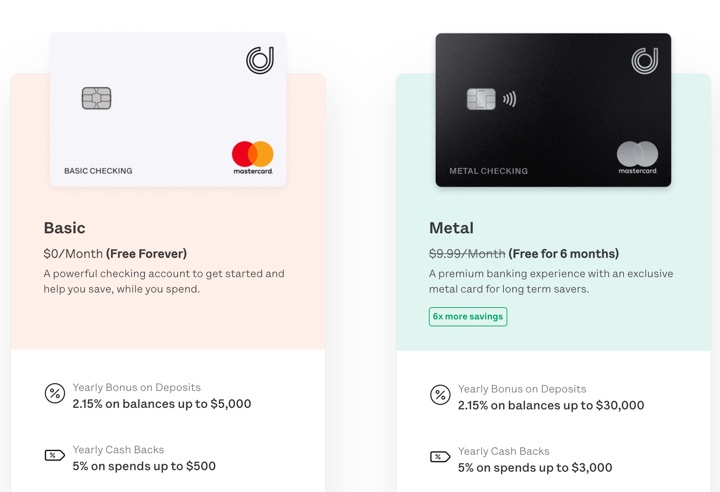 Sign-up process. The sign-up process was completed 100% online and mostly fine, although I had to spend some extra time carefully taking smartphone photos of the back and front of my driver's license. My pictures were rejected for being too dark, too much glare, too fuzzy, etc.
Immigrant-friendly. According to this American Banker article, OnJuno intends to target Asian immigrants who like to build up savings and then remit some of it internationally to their families abroad. You only need a Social Security number and state-issued ID to join.
Bank-to-bank transfers. OnJuno uses the Plaid service to link with external bank accounts for funding and free ACH transfers (both deposits and withdrawals). They also provide you with the full account number and routing number, which you can use to connect with other banks like Ally, Marcus, CapOne 360, etc. The routing number is 084106768 which is confirmed as that of Evolve Bank & Trust. I was able to make a deposit and withdrawal initiated at Ally without issue.
Bonus rate, not APY. You may notice that they don't use "APY" and instead say "bonus rate". Here's their reason:
The 2.15% Bonus Rate is offered entirely by OnJuno and is not interest provided by Evolve Bank and Trust. The bonus rate You earn will be credited to Your account at the beginning of each month. Your funds begin generating a bonus rate once they are available on Your OnJuno Checking Account. Please note that OnJuno reserves the right to cancel, remove, and change this bonus at any time. OnJuno also reserves the rights, in sole discretion, to refuse this bonus without cause, reason, and notice.
I've been getting my bonus rate every month without issue, but this is the first time I've seen this language. Your interest is still shown on a 1099-INT at the end of the year.
5% cash back merchant list. You can choose 5 from the following list of brands. No Costco (sad face).
Amazon, Target, Best Buy, Walmart, Netflix, Amazon Prime, Disney+, Spotify, Headspace, Calm, Whole Foods, Walgreens, Trader Joe's, CVS, Uber Eats, Grubhub, Postmates, Doordash, Starbucks, Dunkin Donuts, Blue Bottle Coffee, In N Out, Taco Bell, Wendy's, Chick-fil-A, Uber, Lyft, and AirBNB.
Here are my picks, as I already have the Amazon Prime credit card with 5% back at Amazon and Whole Foods.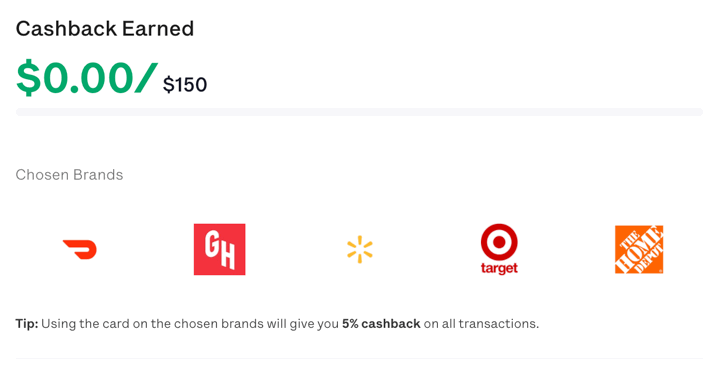 Additional features.
No minimum balance requirements for either Free or Metal tiers.
Fee-free access to both Allpoint and Moneypass ATM networks (85,000+ locations).
Free debit Mastercard.
Instant virtual cards. You can create "virtual" 16-digit debit card numbers in the app, which are different than your physical card and you can "lock" them at any time. This may be useful for fraud prevention and perhaps even pesky trial offers.
Apple and Google apps. OnJuno launched their app in February 2021.
No mobile check deposit. I have installed the app, but they do not have mobile check deposit as of April 2021.
Customer service. You can contact them via phone at 415-969-5775 (9am to 6pm Pacific) or online message (they replied to me within a few hours).
My quick take. I signed up and I'll definitely take advantage of the higher rate for 6 months free on $30,000 as that is a pretty high limit, but paying the $10/month going forward will depend on them maintaining a high interest rate. The free tier is also a nice gesture, but even 2.15% on the full $5,000 only adds up to about $7 a month in extra interest over Ally Savings at 0.50%. If the rate drops, it may not be worth the extra effort. The benefit from the 5% cash back will depend on your personal spending patterns and existing credit card rewards. Let's hope that rate stays high.
Bottom line. OnJuno has launched as a fintech checking account paying a 2.15% bonus rate on up to $30,000 and also 5% cash back at select merchants on debit card purchases. New customers that set up a direct deposit can get Metal tier perks for 6 months free (usually $10 a month). FDIC-insurance from Evolve Bank and Trust.