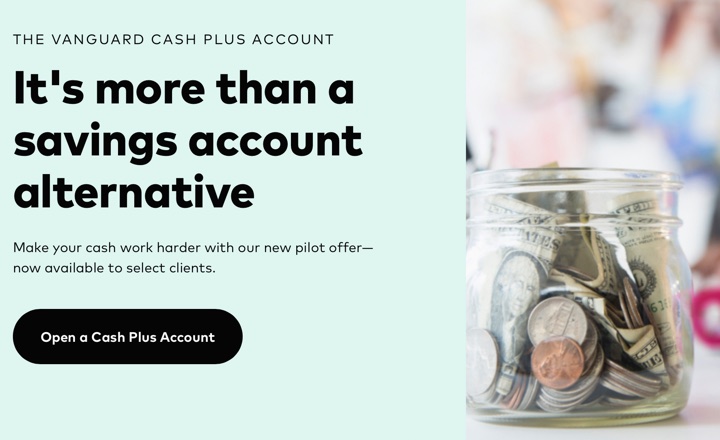 Vanguard has been piloting some new products recently, and I was finally invited to try out the Vanguard Cash Plus Account. I've been playing with it for a few days and here are my thoughts. First, it's important to note that there are two separate FDIC-insured products available from Vanguard:
Vanguard Cash Deposit – This is a new option for the settlement fund (default cash sweep) in your brokerage account. The interest rate has historically been lower than Cash Plus. 3.70% APY as of 8/28/23. You can make immediate trades straight from the funds in this account. FDIC insurance up to $1.25 million ($2.5 million for joint accounts).
Vanguard Cash Plus Account – This is a separate FDIC-insured account with a historically higher interest rate that is not a settlement account. 4.70% APY as of 8/28/23. It is meant as an alternative to a bank savings account and allows incoming ACH direct deposits and ACH withdrawals. FDIC insurance up to $1.25 million ($2.5 million for joint accounts).
Invitation and opening process. I received a physical mailer with an invitation last week, but the application was all online. The invitations are sent to individuals, and if you want to open a joint account, the joint owner must also have a Vanguard brokerage account. The implication is that this product is meant for existing Vanguard brokerage customers only, not as a standalone product.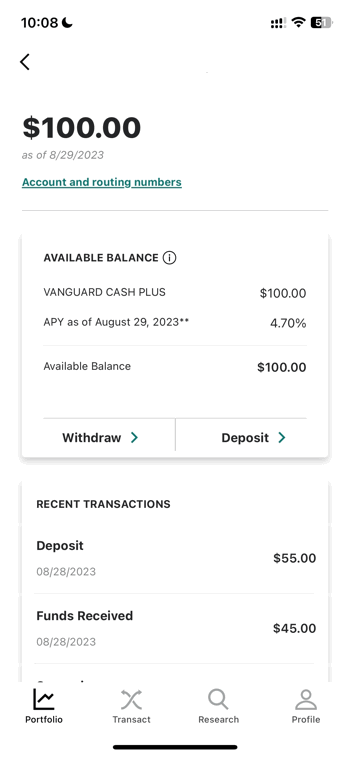 Features. This is not a full-featured account, but a pretty minimalist FDIC-insured savings account. No minimum balance, no monthly fees. You get a routing number and account number (routing number is 242071583 which turns out to be PNC Bank NA, their bank partner.
It's important to note all that is not included:
No ATM or debit card. (No ATM rebates.)
No checkwriting. (I did find mobile check deposit on the app.)
No online bill payment service. (You can use your account number to link at your credit card's website for example, but there is no in-house system.)
No automated recurring transfers.
No ability to use your money market fund as a backup overdraft source.
Historical note: For a while, Vanguard did offer an "Advantage" account to select customers which did include all these things, but they abruptly discontinued it in 2019. So Vanguard is definitely intentionally leaving all these features out.
Basically, you get to make ACH direct deposits and ACH withdrawals. This enables the direct deposit of paychecks, Social Security, pensions, PayPal/Venmo transfers, and pay bills through vendor websites.
You might think that since it is a Vanguard account, you could use the funds in Cash Plus directly to buy some Vanguard ETFs or mutual funds. Not quite. First, all accounts must be "like registered" for you to transfer from Cash Plus. I am not allowed to transfer to my trust accounts. Second, you must manually transfer the money over, and then it should be available the same day. I found this statement in one place:
A transfer from a Cash Plus Account into a Vanguard Brokerage Account will settle by the next business day, but will be available for trading immediately.
But a slightly different one on their public FAQ:
How long will it take to move my cash from one account to another?

Transfers (including from one Vanguard account to another) generally take 2–3 business days, but at times may be quicker.
The competition. This is a supplemental Vanguard account meant to add functionality for existing Vanguard customers. However, I must point out that Fidelity has included a much higher level of functionality for its customers for a long time.
The plain taxable Fidelity brokerage account will also provide you account and routing numbers so that you can perform ACH deposits and withdrawals. Their core options (settlement fund) also include an FDIC-insured option with lower interest rate, but you can use a money market mutual fund like SPAXX that currently has a 4.98% yield.
But Fidelity also includes a nice bill payment interface, ATM debit card, checkwriting (with free checks), and mobile check deposit all within their standard brokerage account. (Fidelity also includes domestic and international ATM rebates if you have at least $250k in total assets with them. The alternative Fidelity Cash Management Account does include ATM rebates with no minimum balance requirement, but takes a bit more work to manage the cash optimally by manually purchasing their money market funds. I'll leave the details for another review.)
Basically, if you are the type to want an all-in-one banking solution, Fidelity has already been doing it for years and years with more features. I feel that Fidelity's customer service is also much better than Vanguard's.
The Cash Plus account appeals to a niche customer. You are a loyal Vanguard customer that wants the added functionality from a basic high-yield savings account with bank routing and account numbers. You want one that shows up when you log into Vanguard, so you don't have to log into another bank. The interest rate is pretty good and should stay that way, but still lower than Vanguard's own money market funds. Maybe you want that FDIC-insurance. Finally, you are satisfied with Vanguard's level of customer service these days. In my experience, the differences in hold times between Vanguard and Fidelity is simply night and day.
Will I actually use it? Honestly, it's kind of hard to get excited that Vanguard is offering a barebones FDIC-insured savings account like ING Direct in 2023. I'd love to see the Cash Plus APY as the standard settlement fund along with account/routing numbers. They could even add the other features like ATM debit cards, but I don't think they can handle the customer service level required. Instead, we just get this little step forward.
Mostly, I don't need the FDIC insurance as I have full faith in the Vanguard Federal Money Market Fund (VMFXX, 5.28% yield as of 8/28/23) and Vanguard Treasury Money Market Fund (VUSXX, 5.19% yield as of 8/28/23) which both offer much higher interest rates and partial state income tax deductions. These are perfectly acceptable as my "savings accounts". Stay lean Vanguard, just take the customer service back to the acceptable levels you had before your huge growth.
For now, my plan is to simply keep my Cash Plus account open with minimal activity in case one day the APY is higher than the money market alternatives.