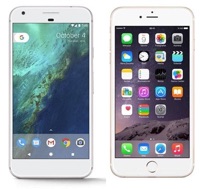 Updated 2020. Cell phone bills are getting cheaper than ever. Have you checked prices recently? All of the major networks sell wholesale minutes to MVNOs (Mobile Network Virtual Operators), which they in turn sell at a significant discount to individuals. If you choose to Bring Your Own Device (BYOD), every MVNO will have a form where you can check compatibility via identification number (IMEI or MEID).
This list includes unlimited talk and text plans with at least 2 GB and 5 GB of 4G LTE data. The average data user used 3 GB of data per month in 2017. If you don't need data, here are the lesser-known cheapest talk and text only cell plans. Many of these advertise "unlimited data", which means they throttle speeds down the 128 kbps (2G) after your LTE allotment runs out. After looking through what must have been over 100 MVNOs, here are the cheapest options by network below (Verizon, AT&T, T-Mobile, Sprint).
Disclosure: This post includes affiliate links. If you make a purchase through the links below, I may be compensated.
T-Mobile Network – T-Mobile Network Color: Hot Pink
Note: I recently switched to Mint Mobile in my own phone. Please see my Mint Mobile SIM Activation and Number Port Transfer Review for tips based on my experiences.
Sprint Network – Sprint Network Color: Yellow
Sprint Unlimited for $35: Sprint offers a "barebones" but still unlimited talk, text, and unlimited data for $35/month via their Sprint Kickstart plan that they don't really promote. You can bring your own compatible phone (check with them) or buy one.
AT&T Network – AT&T Network Color: Blue
Verizon Network – Verizon Network Color: Red
If you don't need data, here are the lesser-known cheapest talk and text only cell plans.
When you buy through links on our site, we may earn an affiliate commission. Thank you for your support.