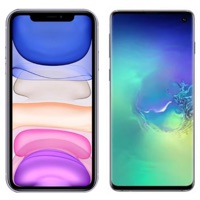 Updated 2020. The world of cell phone plans is constantly changing. Every major network sells wholesale minutes to MVNOs (Mobile Network Virtual Operators), which they in turn sell at a significant discount to individuals. You can still save some serious money over time buy shopping around by using a lesser-known provider.
This list includes unlimited talk and text plans with at least 2 GB and 6 GB of 4G LTE data. The average data usage is between those two numbers. If you don't need data, here are the lesser-known cheapest unlimited talk and text only cell plans. Many of these advertise "unlimited data", which means they throttle speeds down the 128 kbps (2G) after your LTE allotment runs out. Here are the best options by network below (Verizon, AT&T, T-Mobile, Sprint). I sort by network because that usually makes it easier to Bring Your Own Device (BYOD), though every MVNO will have a form where you can check compatibility via identification number (IMEI or MEID).
Disclosure: This post includes affiliate links where available. If you make a purchase through the links below, I may be compensated.
T-Mobile Network – T-Mobile Network Color: Hot Pink
Note: I am currently in my second year with Mint Mobile on my own phone. Please see my Mint Mobile SIM Activation and Number Port Transfer Review for tips based on my experiences.
Sprint Network – Sprint Network Color: Yellow
AT&T Network – AT&T Network Color: Blue
Verizon Network – Verizon Network Color: Red
If you don't need data, here are the lesser-known cheapest talk and text only cell plans.