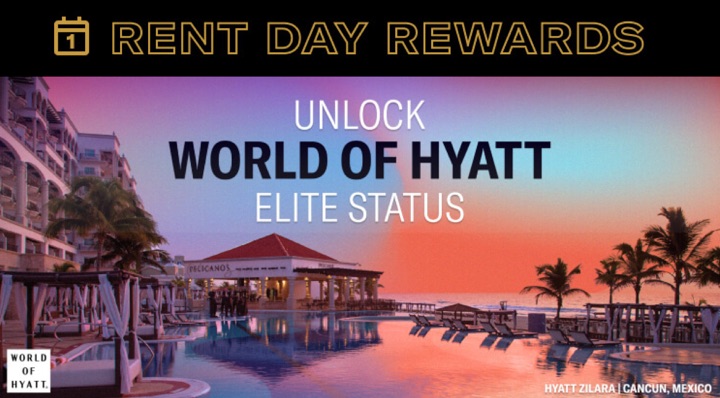 April 1st Bilt Rent Day: Free Hyatt Explorist Status for 90 days. The Bilt Mastercard is great for all renters, but especially if you wait until their special promos on the first of every month ("Rent Day"). Now through April 1st, Bilt Members can get trial World of Hyatt Explorist status for 90 days with a Status Challenge opportunity to extend your status. I also got 100 Bilt points just for linking my World of Hyatt account.
Explorist is the second-to-top status (Globalist) and gets you upgrades to the best available room at check-in, up to but excluding suites and rooms with lounge access. Nice benefit if you already have some Hyatt rooms booked through July 16th.
– Link your Bilt Rewards and World of Hyatt accounts in the Bilt app under the "Travel" tab.
– Now through April 1st, choose "Unlock World of Hyatt Trial Status" on the Rent Day tab in the Bilt app.
– Receive confirmation by April 17th of your trial World of Hyatt Explorist status, and enjoy through July 16th. All stays checking in April 17th or after, and checking out July 16th or before, will count towards your qualifying nights.
– If you complete enough qualifying nights, enjoy Explorist (10 nights) or Globalist (20 nights) status through February 28th, 2025.
On 4/1/23, you can also get 6X points on dining, 4X points on travel, and 2X points on other purchases (except rent) for up to 10,000 points. Remember that you also need to make 5 transactions each statement period, so it's best to get these done on the double points Rent Day where you get a minimum of 2x points.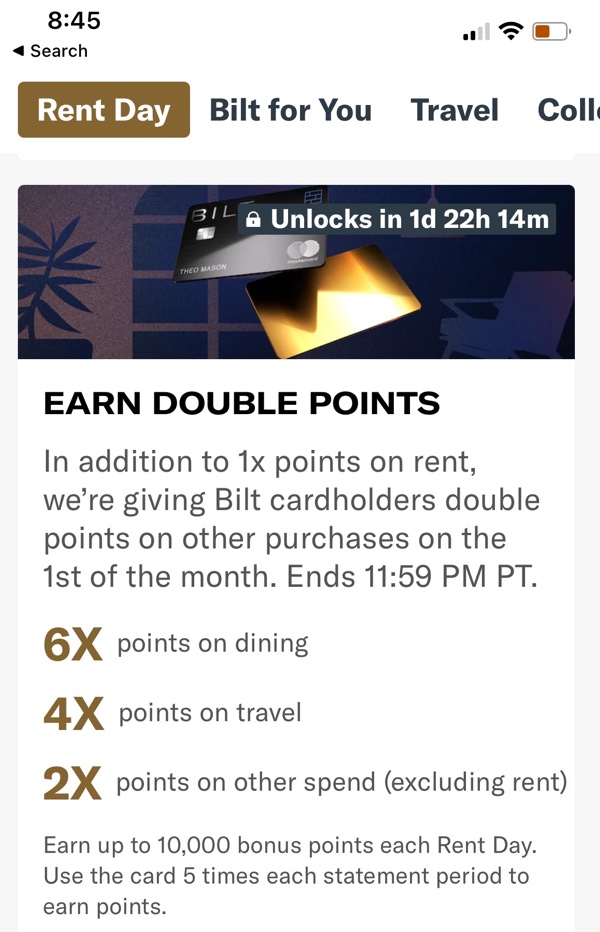 Finally, they have a simple trivia game called "Point Quest" every 1st of the month, and last month I got around 200 free and easy Bilt points (worth 200 Hyatt points) just for playing it. Easy and fun.
Full review: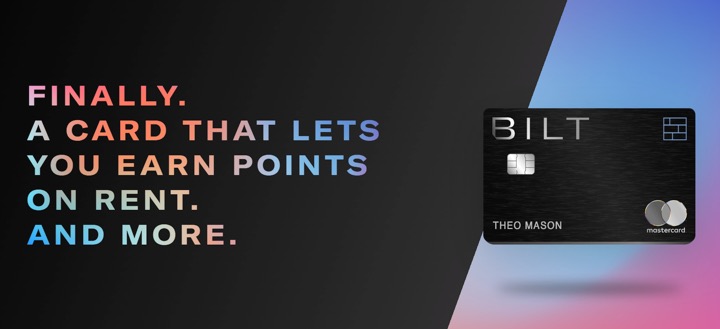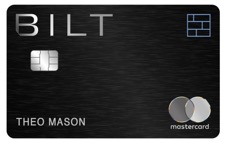 The updated Bilt Mastercard is a unique credit card that earns rewards on rent payments to any landlord. Bilt is a rent payment platform and they will send your landlord a check or ACH bank transfer so that your landlord will not have to do anything. In addition, the credit card has bonus categories and a variety of points redemption options like many other rewards credit cards. Here are the highlights:
Up to 1X points spent on rent payments without the transaction fee, up to 50,000 points each calendar year.
3X points on dining.
2X points on travel including hotels, rental cars, and cruises when booked directly with airlines, hotels, and car rental agencies.
1X points on other purchases.
Earn points when you make 5 transactions that post each statement period.
When renting at a Bilt Alliance property, you can choose to have your rent payments automatically reported by Bilt to the three major credit bureaus each month; Experian(TM), TransUnion(TM), and Equifax(TM).
No annual fee.
World Elite Mastercard perks like cell phone insurance and purchase protection.
That means your rent can be up to $50,000 per year ($4,166 per month) and you would still be able to take full advantage of the 1X points per dollar spent on rent payments. They do require you to make at least 5 transactions per month (rent can be one), otherwise too many people might just put their rent on the card and not use the card otherwise.
Bilt has partnered with the owners of over 2,000,000 apartment units to create the Bilt Rewards Alliance. The easiest way is find out if you live in a qualifying property is to simply type in your address into the Bilt app.
Bilt also offers Double Points on "Rent Day", aka the 1st of every month. This means that on the 1st day of every month, you can get 6X on dining, 4X on travel, and 2X on other purchases(except rent). They also offer other promos on this day. For example on 12/1/2022, you can transfer 1 Bilt point into 2 IHG points (1:2 instead of 1:1).
Bilt Rewards Points redemption options
Travel partners. Bilt Rewards points transfer on a 1:1 basis to the following hotel and airline partners. You can also get 100 bonus points for every loyalty program you link to Bilt.
American Airlines AAdvantage
Air Canada Aeroplan
United Airlines
Hawaiian Airlines
FlyingBlue (Air France/KLM)
Miles & Smiles (Turkish Airlines)
Emirates Skywards
Cathay Pacific Asia Miles
British Airways Executive Club
Virgin Atlantic Flying Club
Aer Lingus Aer Club
Turkish Miles & Smiles
Iberia Plus
World of Hyatt
IHG One
Hyatt hotel points, American, United, and Hawaiian miles are likely the most useful points for the average US traveler. I am conservative when valuing points and miles due to their redemption hassles and steady threat of devaluation, so I would place the value here a 1 cent a point even though I definitely plan to exceed that. You may wish to use a different value.
Home Downpayment? Bilt says that your points can be redeemed at 1.5 cents per point when used towards a home downpayment. This seems like it might be rather complicated to actually redeem, so I would keep it mind but wouldn't count on it. If you racked up 100,000 points over time, it would be nice to have $1,500 via this method.
Shop with Points at Amazon. You can link your Bilt Rewards points to Amazon and pay for your purchases at rate of 0.70 cents per point.
Rent. Bilt will let you convert points towards your next rent payment at 0.55 cents per point. This is not a good redemption rate when compared to the miles/Hyatt option. It's too bad there is no easy, decent cash-out option.
Other options include fitness classes or physical items like "limited-edition" home decor or art in the "Bilt Collection" catalog. Personally, I like being able to add to my Hyatt and Canada Aeroplan stash.
Possibly help your credit score? When renting at a Bilt Alliance property, your on-time payment activity can be automatically reported to the three major credit bureaus. In addition, with the optional "BiltProtect" feature, your rent payments will be immediately withdrawn from a linked bank account so your credit limit is not decreased (and ideally your rent won't contribute to your credit card debt).
How do I pay my landlord or property manager? They don't take credit cards due to the transaction fees. Bilt will provide you with a bank ACH routing number and account number that you can use to perform an ACH transfer, or they will simply send a paper check on your behalf. You don't actually pay with the credit card, nor do you or your landlord have to pay any credit card transaction fees.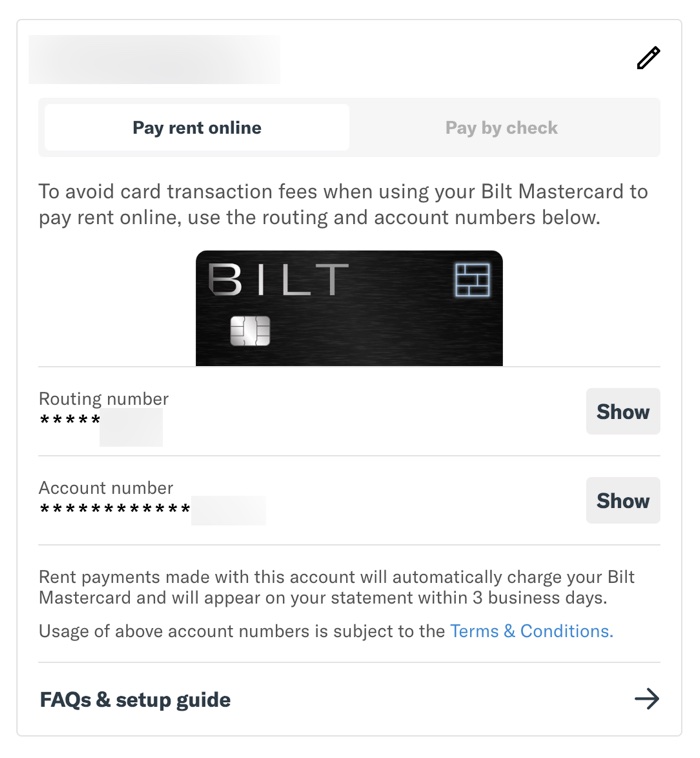 Bottom line. The Bilt Mastercard offers a unique rewards structure targeted specifically at all renters with any landlord. At $2,000 a month in rent, the 1X rewards would add up to 24,000 points per year in rewards = 24,000 American/United/Hawaiian miles or 24,000 Hyatt points with no additional transaction fees and no credit card annual fee. You may even do better if you wait for a "Rent Day" promo on the first of the month. Something to consider if you already have to pay rent anyway.