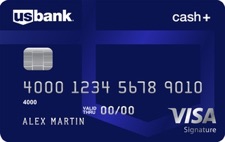 Here is another entrant to the world of 5% cash back credit cards. The U.S. Bank Cash+ Visa Signature card actually lets you choose and change the categories in which you can earn 5% and 2% cash back. Here are the highlights:
5% cash back on your first $2,000 in eligible net purchases each quarter on the combined two categories you choose.
2% cash back on your choice of one everyday category, like gas stations or grocery stores.
1% cash back on all other eligible net purchases.
No annual fee.
Here's how it works. Each quarter, you MUST enroll to choose one 2% back category from a list of three options: gas stations, grocery stores, or drugstores. You get to choose the two 5% cash back categories every quarter, out of a preset selection of specific categories;
Fast Food
Cell Phone Providers
Home Utilities
Ground Transportation
Select Clothing Stores
Electronics Stores
Car Rentals
Gyms/Fitness Centers
Sporting Goods Stores
Department Stores
Furniture Stores
Movie Theaters
TV, Internet, and Streaming Services
You can pick the same categories each quarter, or switch them up once a quarter based on your planned spending. Make sure to choose your categories each quarter! – even if you want them to stay the same. If you do not choose your categories, all purchases revert to only earning 1% cash back for that quarter.
Also see: other 5% cash back cards like the Chase Freedom, Citi Dividend, and Discover More cards.