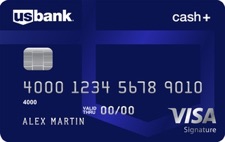 There's a new entrant in the world of 5% cash back credit cards. The U.S. Bank Cash+ Visa Signature card actually lets you choose and change the categories in which you can earn 5% and 2% cash back. Here are the highlights:
$150 New Cardmember bonus after you spend $500 in eligible net purchases in the first 90 days of account opening.
5% cash back on your first $2,000 in eligible net purchases each quarter on the combined two categories you choose.
2% cash back on your choice of one everyday category, like gas stations or grocery stores.
1% cash back on all other eligible net purchases.
No annual fee.
Here's how it works. Each quarter, you can enroll to choose one 2% back category from a list of three options: gas stations, grocery stores, or drugstores. You get to choose the two 5% cash back categories every quarter, out of a preset selection of specific categories;
Fast Food
Cell Phone Providers
Home Utilities
Ground Transportation
Select Clothing Stores
Electronics Stores
Car Rentals
Gyms/Fitness Centers
Sporting Goods Stores
Department Stores
Furniture Stores
Movie Theaters
TV, Internet, and Streaming Services
You can pick the same categories each quarter, or switch them up once a quarter based on your planned spending. Make sure to choose your categories each quarter, even if you want them to stay the same. If you do not choose your categories, all purchases revert to only earning 1% cash back for that quarter.
As you can see, this card is competitive on its own but with such flexibility I see it as a great complement to the other 5% cash back cards like the Chase Freedom, Citi Dividend, and Discover More cards. If you have multiple cards, simply choose a category that isn't covered by your other cards. My credit card "swiss army knife" now has another tool. Currently, the U.S. Bank Cash+ Visa card is also offering a $150 cash bonus if you sign up and make $500 in eligible net purchases in your first 90 days. No annual fee.