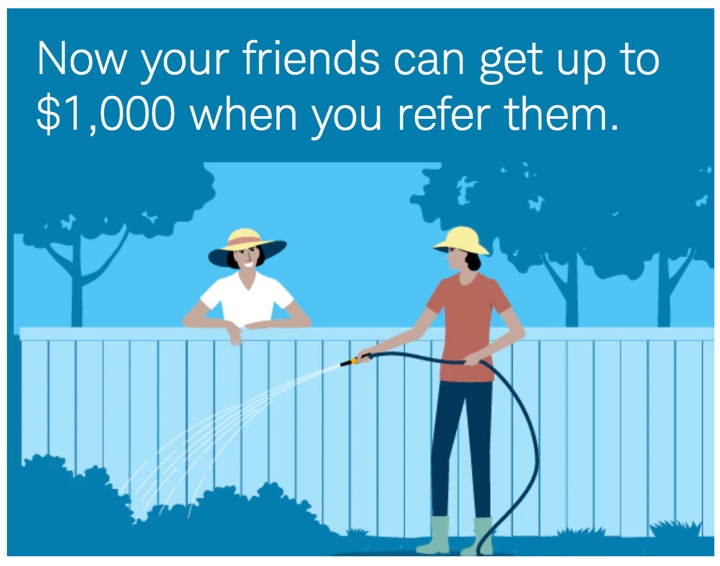 Brokerage firms constantly compete for "assets under management", and many are willing to give you cash to move over your existing portfolio from your existing broker over to them. If you are unsatisfied with your current broker, these incentives may help you find a new home for your hard-earned assets.
Charles Schwab is currently offering up to a $1,000 bonus via referral for new accounts, depending the value of assets that you move over (deposit cash or move over stocks and securities):
$100 with $25,000-$99,999 in qualifying new money.
$300 with $50,000–$99,999 in qualifying new money
$500 with $100,000–$499,999 in qualifying new money
$1,000 with $500,000+ in qualifying new money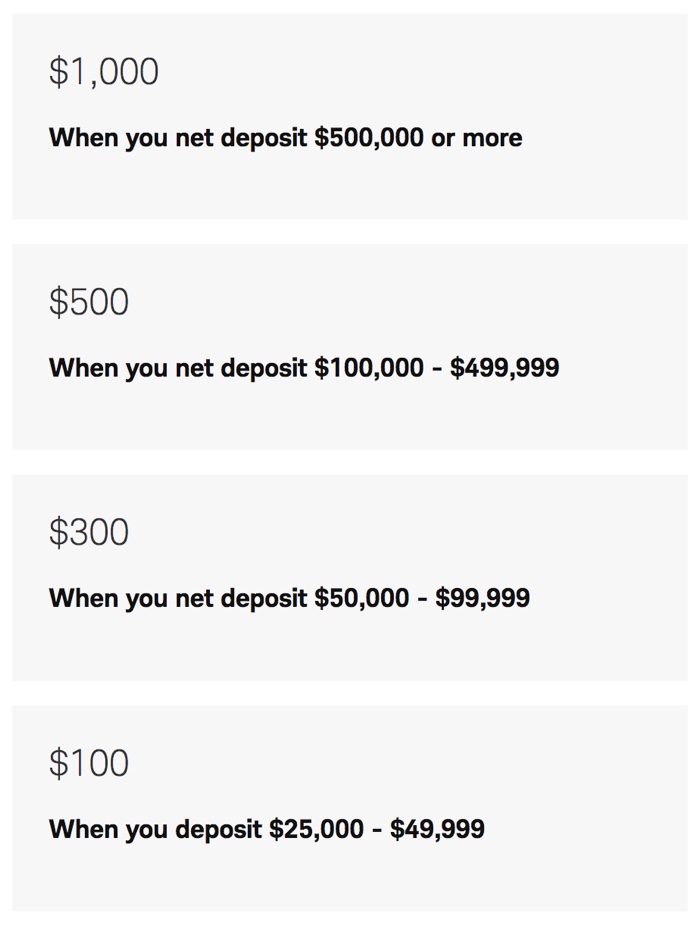 Here are the steps:
Use a referral link. This offer is only available via referral. Here is my personal referral link. I don't think I receive anything. If you get an error with the code: I called Schwab and they said they are having some technical difficulties and recommended to proceed with your application and then call them to apply the referral code "REFERAAFETFRZ" in the link manually.
Open a new Schwab taxable or IRA brokerage account. When I opened my own referral link, it said I had to call Schwab at 800-398-8640 to enroll in the offer. You must call between 8am and 8pm EST.
Transfer – You have 45 days from account opening to fund your account with qualifying new money from outside Schwab.
Earn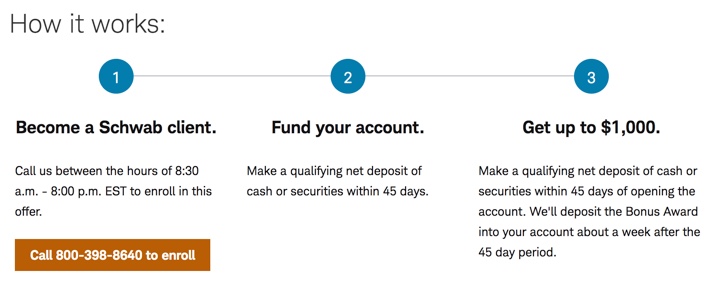 From the fine print and FAQ:
Accounts that are eligible for the Referral Offer include: Schwab retail brokerage accounts and individual retirement accounts (IRAs), including accounts enrolled in Schwab-sponsored investment advisory programs such as Schwab Intelligent Portfolios®, Schwab Managed Portfolios™, Schwab Managed Account Select®, Schwab Managed Account Connection®, and Schwab Private Client™. You must make the qualifying net deposit in a Schwab One® account. Schwab Bank High Yield Investor Checking® ("HYIC") accounts do not qualify for this promotion whether they are linked to a brokerage or are stand-alone.
Can two new clients in the same home get the award?
Yes. As long as both clients are new to Schwab, each can individually open an account and separately qualify for the Bonus Award, provided that each makes a qualifying net deposit.
While Schwab is still running their $101 Starter Kit promo, you should compare the two offers. Definitely if you are transferring over less than $50,000 in new assets, then that promo is easier and a better deal. If you have $500,000+ in stocks and mutual funds that you plan to hold for a while, moving them over to Schwab can land you $1,000 in a couple months!
Given that we are now in a higher interest rate environment, you should take into account the potential lost interest if you deposit idle cash into their default sweep account. Consider buying Treasury bills, ultra-short bond ETFs like MINT, or Treasury Bill ETFs like GBIL (still possible to lose value).
Usually, the easiest thing is to perform an in-kind ACAT transfer of existing securities, which takes less than a week and all of your tax basis information should also move over after another few days. Your old broker may charge you an outgoing ACAT fee about about $75, although you should ask Schwab if they will reimburse you for this fee.