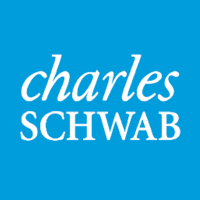 Charles Schwab became a major player by offering discounted stock trades back when high commissions were the norm. These days, nearly every broker offers $0 commission trades on online equity/ETF trades. Where they differ is how they choose to squeeze out profit in such a lean environment. Even though Schwab will deny it publicly to retail customers, they have chosen to focus on skimming interest from their customers' idle cash as a primary source of profits. This "net interest revenue" added up to $3 billion dollars in 2022 Q4 alone and makes up roughly half of all their revenue.
Here are two sample slides from the Charles Schwab Corporation 2023 Winter Business Update, which is meant for shareholders. The first one talks about the growth of "net interest revenue" over the years: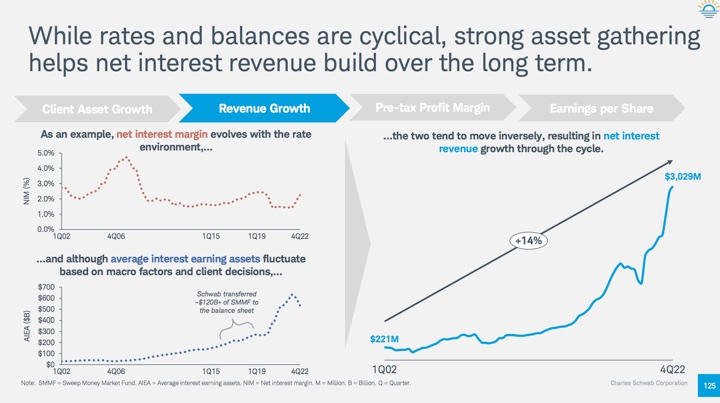 The second one talks about "sorting", which is basically when a customer realizes their cash is earning very little interest and actually puts forth the effort to earn some more interest by moving away from the default cash sweep options. More sorting is bad for Schwab's profits. But not to worry! Schwab is happy to report that "A growing portion of our client base is less prone to sorting."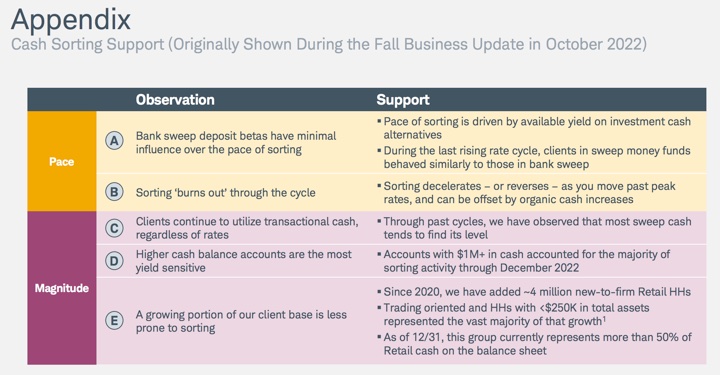 First, some perspective. Chase, Bank of America, Wells Fargo, they all make money by making money off your idle checking account balances while paying you nothing or 0.01% APY. They could all pay you more interest, but they don't. This is why I post regular updates and monthly summaries of better banking options. Take your money and walk.
However, let's also be clear that if Schwab was truly client-first, then they would offer a high-yield, low-cost money money fund that would be paying 4%+ interest as their default sweep. Instead, their mandatory default cash sweep pays only 0.45% APY as of 2/28/23. They purposefully make the default profitable for them while making the alternative more hassle.
For comparison, Vanguard's default cash sweep is the Vanguard Federal Money Market Fund, which has an SEC yield of 4.52% as of 2/28/23. If I make a sale or receive a dividend distribution, my Vanguard cash automatically waits in this low-cost fund and earns a competitive interest rate. I may complain about how Vanguard is slipping in the customer service area, but this feature by itself is a major reason that I maintain my Vanguard brokerage account.
Schwab will say "Oh, but our cash sweep is FDIC-insured! That's what people want!". Well, if you care what I want, then how about letting me have a choice?
For another comparison, Fidelity has an FDIC cash sweep available as well, but they also let me switch my "core position" (their term for default cash sweep) to a higher-yield money market fund like Fidelity Treasury Money Market Fund (FZFXX) which has an SEC yield of 4.23% as of 2/28/23 or Fidelity Government Money Market Fund (SPAXX) which has an SEC yield of 4.22% as of 2/28/23. I find it amusing that Schwab is so chippy with Fidelity in this article Zero Confusion: Setting the Record Straight. I think Fidelity's cash setup is more customer-friendly than that of Schwab.
In the end, the most important thing is for you as the customer to understand the situation. Schwab still has other positive attributes and a reputation for good customer service. The good news is that there are several options for you self-motivated individuals (those that read posts like this!) that are willing to put forth a little effort to earn what could add up to hundreds or thousands in extra interest.
Manually invest in Schwab money market funds. The key is to visit this page: Schwab Purchased Money Funds for the most current fund options, minimums, and rates. These are not FDIC-insured, but they are still regulated by the SEC and required to hold very safe investments of a very short duration. Here the the available Schwab funds and SEC yields as of 2/28/23 with zero minimums. No transaction fees. There are higher-yielding options if you have more than $1 million.
Schwab Value Advantage Money Fund® – Investor Shares (SWVXX) 4.47%
Schwab Government Money Fund – Investor Shares (SNVXX) 4.18%
Schwab Treasury Obligations Money Fund – Investor Shares (SNOXX) 4.27%
Schwab U.S. Treasury Money Fund – Investor Shares (SNSXX) 4.21%
Again, these money market mutual funds can't be set as an automatic sweep; you must manually move money in and out of the product. Every time you have a dividend or capital gains distribution, or you made a sale, you have to remember to move your cash ("sort") into a higher-yielding option. This also means that if you want to for example buy new shares of stock, you would need to first put in an order to sell your money market mutual fund shares into cash (in order to have the funds available to buy that stock). The system won't be able to automatically sell your fund. You'll have to coordinate settlement times.
Treasury bills (auction and secondary). You can buy US Treasury bills and bonds directly through the Schwab fixed income desk. You can place either an auction order for a "new" T-Bill or buy them on the secondary market. There is no commission for online orders and a $25 fee per broker-assisted trade.
Buying an outside ETF. You can also use your free stock trades to buy an ETF that is close to cash (ultra-short duration, high-quality bonds). These will not be FDIC-insured and carry a bit of duration risk, but if your ETF holds T-Bills then those are also fully backed by the US government. Here are a few ideas (note the the reported rates may lag by up to one month):
The iShares 0-3 Month Treasury Bond ETF (SGOV) has an effective duration of 0.10 years. SPDR Bloomberg Barclays 1-3 Month T-Bill ETF (BIL) has an effective duration of 0.08 years.
Bottom line. Charles Schwab has a default cash sweep option with a relatively low interest rate. Schwab offers no other better cash sweep options, but you can manually move your money. If you have significant assets with them, you might want to call your rep and tell them your opinion and try to create a change. Otherwise, I detail your available options if you want to keep your cash at Schwab and earn a much higher interest rate.