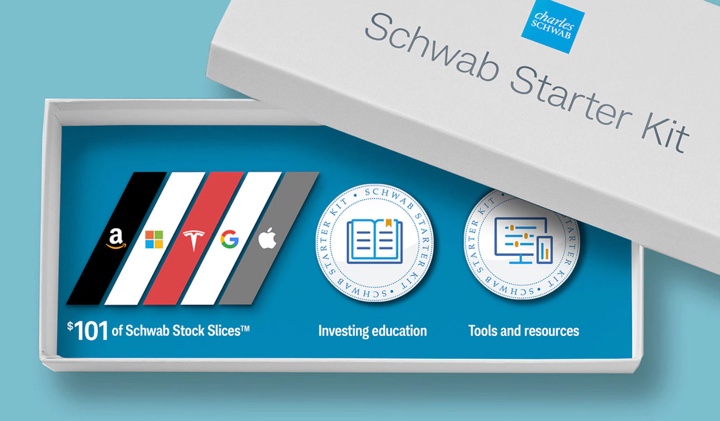 I'm a old fart now, but if I am going to keep most of my net worth somewhere, I want it somewhere that if I called their phone number, I'd be confident to have a knowledgable human pick up the phone and help me with my problem. That means Vanguard, Fidelity, and Schwab over Robinhood. Still, competition is good. I like trying out new interfaces and features, and the best of those new apps usually flows down to everyone else. The Robinhood era has helped make everyone's apps more user-friendly. Commissions are lower. And now even the big boys have are willing to pay you cash to try them out!
Schwab has a Schwab Starter Kit that includes $101 in free fractional shares of stock ("slices") plus some educational resources. The $101 will be split equally across the top five largest companies in the S&P 500 index – currently Apple, Microsoft, Alphabet/Google, Amazon, and Tesla. (If you do not want the stock shares and just want the $101 in cash, see the fine print quoted below for the short window of time when you can cancel the trades.) To qualify, you must be a new customer opening a Schwab account through that page and deposit at least $50 within 30 days. Emphasis mine:
After you enroll in the offer, here's what will happen:

Two business days after your account is opened, Schwab will begin checking for qualifying deposits every business day. Once your qualifying deposit has been received, Schwab will credit the $101 cash bonus to your brokerage account at approximately 6:00 p.m. Eastern Time the next trading day. (If you make your qualifying deposit after 8:30 p.m. Eastern Time, Schwab will credit the $101 cash bonus at approximately 6:00 p.m. Eastern Time two trading days later.)

Schwab will send you an email about your 5 trade orders the night before the orders are placed.

Schwab will place the 5 orders for you ($20.20 fractional share orders for each of the top 5 stocks in the S&P 500) at approximately 8:00 p.m. Eastern Time the day the cash bonus is credited to your account, provided you maintain at least $50 in your brokerage account at that time.

You will have a short period of time (from approximately 8:00 p.m. Eastern Time until approximately 9:25 a.m. the next trading day) to cancel the orders.

To cancel the orders, you will need to go to the Order Status page on schwab.com or on any of Schwab's other trading platforms or call a Schwab representative at 800-435-4000.

If you cancel your orders, you will keep the $101 cash bonus and can save or invest it however you want.

If you take no action, the orders will be executed shortly after market open the next trading day. You will then see the stocks reflected in your account and Schwab will send you trade confirmations for the trades.