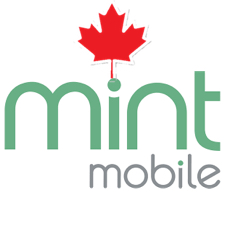 After a delay of two years, my family finally used up our flight credits and stash of hotel points to travel internationally to Vancouver and Whistler, British Columbia for some snow-filled fun. I was a bit worried about how well my "budget" cellular service Mint Mobile would work in Canada. (I've used them for years now to keep my monthly bill under $20 a month – see my Mint Mobile review.) Hopefully this information along with my personal experiences will be helpful to other cost-conscious travelers.
Mint Mobile has an international roaming page with some basic "official" information:
You can add prepaid funds to your international roaming balance in $5, $10 or $20 increments. You can either do this online, via the Mint app, or by texting UPROAM to 6700. You should probably do this in advance, as you need internet access or cell service in the first place.
For Canada, the rates are: 6 cents per minute voice, 2 cents per SMS text, and 6 cents per MB of data. This means 1 GB of data costs $60!
You can check your balance by texting ROAM to 6700.
Note: While in the US, you can make free voice calls from the US to Canada and Mexico. Handy for trip planning!
Additional tips to activate voice and data roaming on your phone. Mint says the above is all you need, but I dug up following additional steps to try after reading about user difficulties on the Reddit forum which seemed to make sense (i.e. make sure you enable cellular voice network roaming and cellular data roaming). I did all this upfront and both voice calls and texts worked fine for me, but I'm not sure if it was critical. Try the following on your phone:
– Before leaving the US, enable airplane mode.
– Once you arrive at your destination's, disable airplane mode.
– Dial (#766#) from your phone's keypad to activate roaming.
– Activate roaming and data roaming on your device.
No data? Check your APN settings. Again, my cellular data roaming worked fine without changing my APN settings, but if it doesn't for you, changing them to one of the settings either at Mint Mobile (try the Android settings even if you have an iPhone) or Ultra Mobile (same owner) has worked for other users. I might even print these out beforehand, or copy them onto an offline doc on your phone. After changing your APN settings, you may be allowed to pick a specific local network provider in Canada like TELUS.
Tips to minimize costs. Due to the high cost of cellular data, we pretended we were back in 2010.
Cellular coverage was quite adequate in Vancouver and Whistler, BC. My wife and I communicated primarily by SMS text message. At 2 cents each, it was very efficient and economical. We did have a few voice calls when text was too cumbersome.
We turned off cellular data for 95% of the time, only really using it when we needed Uber/Lyft or additional Google Maps guidance.
When cellular data was turned on, it was on "Low Data" mode to prevent too much automatic background usage.
We did all our iMessage, emails, and other activities when we were back on hotel WiFi, free restaurant/coffee shop WiFi, or other free public/airport WiFi.
While on WiFi, we also downloaded offline maps onto the Google Maps app for all the areas we knew we'd be going. GPS worked fine using offline maps. We also *gasp* used physical maps too! Felt strange.
Before we left, we loaded $20 each ($40 total) to our Mint international roaming balance. After about 10 days of running around Canada, we ended up using about $10 each ($20 total). The balance supposedly never expires, so we can use the rest later. Overall, I felt it was a very reasonable price for the flexibility provided. Again, some other users do report having trouble with initially connecting to cellular data in Canada, but we had no such issues. Hopefully, with all the troubleshooting tips above, you can also use Mint Mobile while on a short trip to Canada.