While doing research about getting the most nutrition for my dollar, I ran across an interesting report from the U.S. Department of Agriculture called How Much Do Fruits and Vegetables Cost? [pdf]. The overall goal of the study was to better understand why Americans don't eat the recommended amount of fruits and vegetables. Here are some neat charts of vegetables ranked by price per pound, as well as ranked by cost per edible cup equivalent: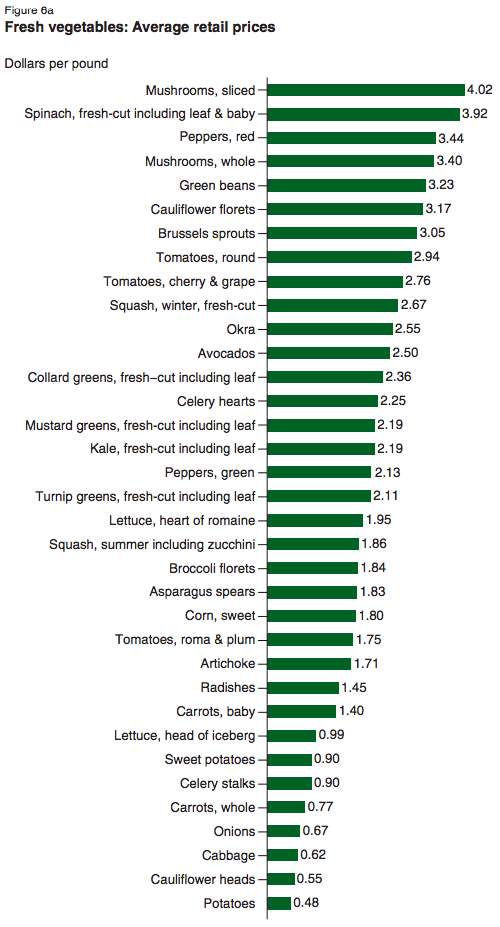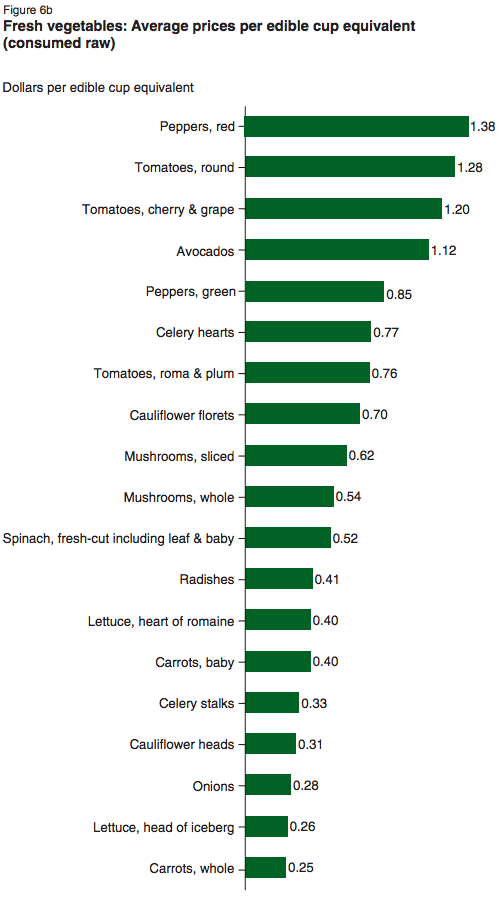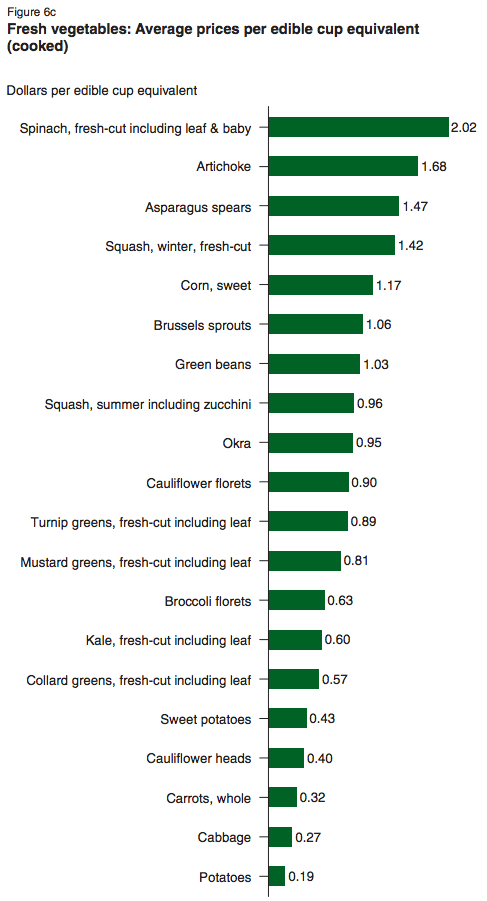 Legumes and pulses like beans, lentils, and peas were considered separately. Here's their chart, ranked by edible cup equivalent: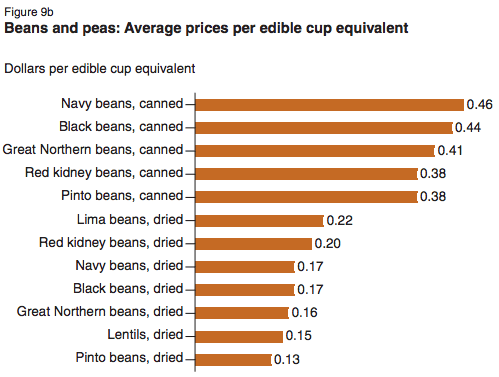 There are more charts in the full study, covering canned fruits and so on. Here are a few of their major findings:
An adult on a 2,000-calorie diet could satisfy USDA recommendations for vegetable and fruit consumption for around $2 to $2.50 per day. This accounts for both amount and eating a variety of fruits and vegetables.
Canned or frozen fruits and vegetables were not consistently more or less expensive than fresh produce. For example, canned carrots (34 cents per edible cup equivalent) were more expensive than whole fresh carrots eaten raw (25 cents per edible cup equivalent), but for peaches the opposite was true.
You shouldn't just compare prices per pound, as the amounts may shrink after cooking and removing inedible parts. For example, fresh broccoli florets and fresh ears of sweet corn both sold for around $1.80 per pound at retail stores. After boiling and removing inedible parts, however, the sweet corn cost almost twice as much as the broccoli florets ($1.17 vs. 63 cents per edible cup equivalent).
I actually discovered this information after purchasing the ingredients on my $1.50 a day menu, but my trips to the grocery store and ethnic food markets resulted in similar conclusions. The dried pinto beans, dried lentils, carrots, and onions that I ended up choosing were all amongst the cheapest vegetables in the study (while still providing plenty of nutrition!). Cauliflower, potatoes, and cabbage would have also been good choices. It would be interesting to have some sort of ranking based on nutritional value, but that would be hard to simplify down to a single number.