I'm now nearly halfway through the Live Below the Line challenge, and here are some pictures and additional cooking/eating commentary about my $1.50 a day menu. Please also refer back to my menu and ingredient list and my nutritional information breakdown.
Breakfast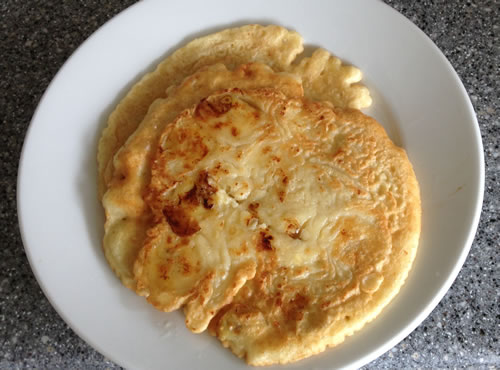 These banana crepes/pancakes are pretty big at nearly 8 inches in diameter. At 300 calories each, each one has about the same calories, fat, and (update: half the) protein as an Egg McMuffin at McDonald's but at only 10 cents each they are less than 5% the price and have no added flavors or preservatives. If I added another egg, it'd be 15 cents each and the protein would be equal. (It'd be even better if I used whole grain flour.)
I have to prepare them from scratch daily, but I timed myself and cooking time including prep was only 15 minutes. I know that may still be too much time for some folks, but waiting in a busy drive-thru line can take 5-10 minutes on its own. I simply whisk .75 cup flour, an egg, 1 cup water, and a little salt together to make a thin batter. Then add one sliced banana. While frying the second pancake, I clean up my mixing bowl, whisk, and measuring cups. When done eating, I simply wash my single plate and rinse/wash the nonstick frying pan.
They actually taste good; I would eat them on any given weekend. I don't really miss the milk found in the original recipe. I do wish I could alternate between apples and bananas, but apples cost too much for this challenge. For a bit more money, the variety would be nice.
Lunch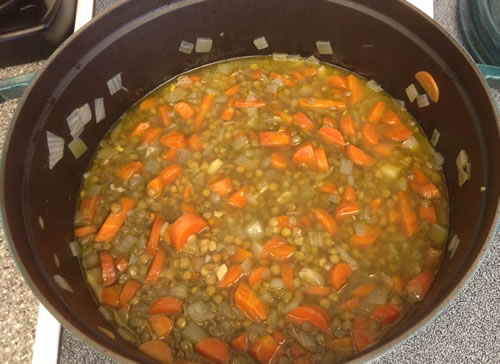 There are "simple" lentil soup recipes out there, but mine is probably the simplest. 🙂 Okay, yes, it lacks in the herbs and spices department. I sautéed two onions and four carrots in canola oil with a bit of minced garlic. I was in a hurry, so the chopping quality was horrendous. When the onions were translucent, I added two cups of dried lentils (no soaking required), 8 cups of water, and some salt. I brought everything to a boil and then simmered for 45 minutes. The total prep time was 15 minutes for the chopping and gathering, and while it was simmering I could still do work around the house (or make the chapatis below). So in an hour, I had 5 big bowls of soup (~2.5 cups each) at $0.40 each.
I personally love the taste of lentils, and the garlic, onions, and carrots gave it just enough flavor to avoid an annoying level of blandness. However, I'm sure that better cooks could add some herbs or stock and make the soup taste a lot better.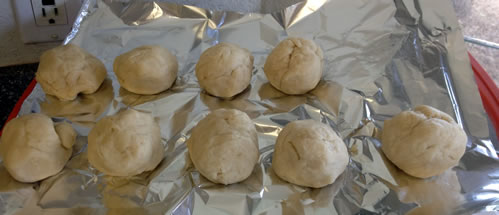 These chapatis are very similar to the Asian green onion pancakes that my mom used to make, minus the scallions. I just mixed 3 cups flour, 1/4 cup oil, salt, and added boiling water to make a big ball of dough. Add the water slowly so you don't get it too wet and sticky. Part it out into 10 balls. I flattened the dough with a rolling pin between two sheets of parchment paper, and then dry fried them since they already contain oil. That's it! Less than a nickel apiece.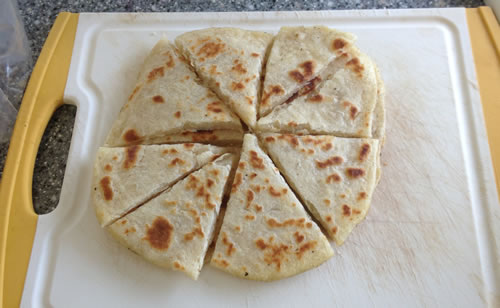 These taste fine, but if I could do it over I'd make it with some scallions for added flavor.
Dinner
My plan was to have lunch be the more interesting meal of the day, and dinner was just to last me until bedtime. Rice and beans! I cooked the rice in my trusty Zojirushi rice cooker instead of bothering with the stove. For the beans, I could have done the "quick soak" which is basically more boiling time, but I'd never done the overnight soak before so I tried that. Nothing really exciting, other than seeing the beans double in size. Boil the soaked beans, drain, mash the cooked beans in the pot with my IKEA potato masher, and portion everything into 5 separate tupperware. At mealtime, reheat in microwave and add 1/5th of can of crushed tomatoes for flavor. You would not believe how big a difference having the tomatoes makes! I admit this meal is pretty bland and not very appealing to look at. It's too bad I had to cut out the onion when I did my repricing, that would have made it more like salsa.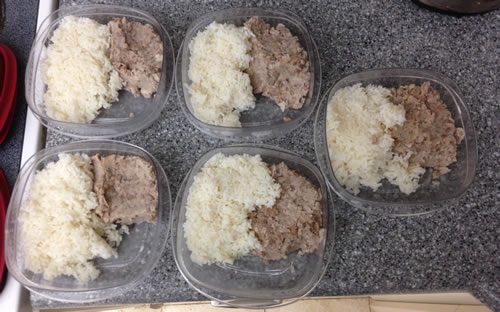 After eating this food for two days, I feel a bit hungry between meals but not ravenous or overly distracted. Mostly, I have to check myself when thinking about grabbing a snack to munch on or drinking anything else besides water. I also try to drink a lot of water when eating to make me feel fuller. I'll follow up one last time after the end of the week with my overall impressions and takeaways.