I've been taking advantage of credit card bonuses and rewards for over 10 years now, earning thousands of dollars in perks while paying zero interest. I can honestly say that sign-up bonuses have never been larger than today. My rule used to be that I would only apply in exchange for at least $100, but now cards with $500 bonuses have been around for several months. I basically paid for all my holiday shopping with them!
A common reader question is – how does opening and closing all these cards affect your credit score? I've answered parts of this question here and here, but here's the all-in-one answer.
Credit Score Basics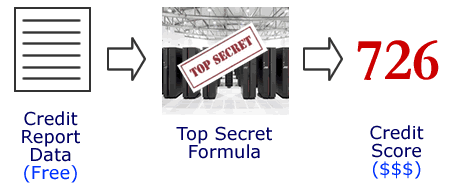 Credit scores come from proprietary mathematical formulas, the most popular one being Fair Isaac (FICO). The input is the history and data from our credit reports. The output is a numerical prediction of our creditworthiness. Since we have 3 different credit reports (Experian, Equifax, Transunion), we have 3 different credit scores. They'll never reveal all the ingredients to the secret sauce, otherwise they'd have nothing to sell us. Thus, we must make do with what we have. FICO has released this breakdown for us, along with many other collected details over time: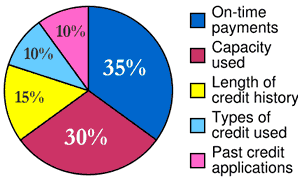 Effect of Opening New Credit Cards and/or Closing Existing Accounts
35% On-Time Payments. Not surprisingly, the biggest chunk of the score is your record of timely payments. If you pay your bills, you're likely to… keep paying your bills! Briefly, anything 30-days late or worse can show up here, although a 60-day late or 90-day late is even worse. If you just barely miss a due date and pay it off within 30 days, it shouldn't show up here. This factor has nothing to do with opening or closing credit cards.
30% Capacity Used. This refers to how much of your available credit you are using, also known as utilization ratio. The lower the better. Being maxed out on all your cards is obviously not a good sign. Utilization ratio is tracked both on an overall level and on a per card level. For example, having five different cards with a $1,000 balance each and $10,000 credit limit each (10% ratio x 5 cards) is better than having 4 cards with no balance and one card with the $5,000 balance (50% ratio on 1 card).
In the long run, having more credit cards would be a good thing as it should mean more available credit and a lower utilization ratio. For the same reason, you should never close a credit card unless not doing so would cost you money. You want to keep all the available credit you can.
15% Length of Credit History. The longer your credit history, the better. Both the age of your oldest account and the average age of all your accounts are tracked. Continuously opening new credit lines will thus hurt your credit score. At the same time, having a lot of old cards can "anchor" your average account age as well. If I already have 20 cards averaging 8 years old, adding another new credit card won't make that average budge hardly at all. Recently, I learned that closing a credit card actually has no effect on your average age of accounts or credit history length. The closed account will stay on your credit report for 10 years.
If you have "young" credit history, you'll need to balance the desire for new accounts (which will one day be old accounts) with how good your other factors currently are to keep a good credit score. Another strategy is to be added as an authorized user on someone else's account with a long age. (They took this away for a while due to abuse, but brought it back. Just make sure it's legit, for example with your spouse/partner or parents.)
10% Types of Credit Used. We're getting to the lesser factors. How do I know? This factor refers to the mix of different credit accounts out there – revolving credit like credit cards, retail accounts (store cards), installment loans like auto loans, and home mortgages. Having a greater mix is better. However, I have never had a store card, auto loan, or a mortgage on my credit report, and my credit score has remained excellent. You definitely don't need all of these types to have a good credit score.
Now, I do think it is a good idea to have at least some form of credit to show that you can handle the idea of borrowing something and paying it back. A credit card allows you to do this within the monthly grace period without paying any interest.
10% Past Credit Applications. This what everyone worries about, but it's again we see it is only a 10% weighting. This factor makes sense though, as applying for a lot of credit in a short period of time is an indication of financial troubles. Therefore, you should be very careful with what are called "hard" credit inquiries. Hard credit inquiries ("pulls") are usually from loan applications (asking for more credit). Soft credit inquiries occur when you are just checking your own credit score, or when other financial companies check your credit history as identity verification or for pre-approval offers (here, you didn't ask for it).
Hard pulls affect your credit score negatively for a temporary period of time. For mortgage and auto loans, there are special accommodations by FICO for "rate-shopping"; All hard inquiries within a 14 day period for mortgages or auto loans will only count as one inquiry.
In regards to apply for new credit cards, it's difficult to know the effect of a hard inquiry by itself, as a new credit card account will also affect the other factors above (average age of accounts, credit limits, utilization ratio). For someone with a longer credit history, a new credit card application will have little effect. For someone with zero credit cards, it will have a larger effect. The general consensus is that each hard pull knocks about 3-5 points off your credit score, and the effect decreases as time passes – after 6 months the effect is reduced, and after a year it is gone. The recording of inquiries does stay on your report for 2 years.
Takeaways
For a high credit score, the most important things to do are to pay your bills on time and not use all of your available credit limit. Don't lose sight of this.
Applying for new credit cards will affect your score negatively for the short-term, with the effect going away over time and gone in a year. However, that doesn't mean they aren't precious. Only apply if it's worth it through lowering your existing interest rates, upfront bonuses, cash back, or travel rewards. Hard pulls are the same as cash for me!
Never close an existing credit card unless you are avoiding a fee or in exchange for something worthwhile (like a mortgage approval). Closing an account never helps your score, but only really hurts if it makes up a huge chunk of your existing credit limit.
Based on my own experiences, my personal choice is to limit myself to about 3-5 credit cards per rolling 6-month period (more when there are good offers and less when there isn't). My primary concern is not really the credit score, but more the fact that individual issuers might not approve me just due to the inquiries even though my score is fine. I've scored over $2,000 in bonuses the last year alone, and that's not even including my wife.
p.s. It's not FICO, but now you can get your free credit scores with no trial periods from all 3 major credit bureaus. Tracking them regularly can alert you to significant changes in your reports.