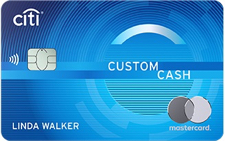 The Citi Custom Cash Card is a newly-launched rewards credit card which offers 5% cash back on your top eligible spending category up to $500 spent each month. This card will again compete against the other 5% cash back cards on the market, as did their now-discontinued Citi Dividend card. Highlights:
Earn $200 cash back after you spend $1,500 on purchases in the first 6 months of account opening. This bonus offer will be fulfilled as 20,000 ThankYou(R) Points, which can be redeemed for $200 cash back.
5% cash back (5X Thank You points) on your top eligible spending category up to $500 spent each monthly billing cycle. 1% cash back on all other purchases.
0% Intro APR on balance transfers and purchases for 15 months. After that, the variable APR will be 18.99% – 28.99%, based on your creditworthiness.
No rotating bonus categories to sign up for – as your spending changes each billing cycle, your earn adjusts automatically when you spend in any of the eligible categories.
Citi will only issue one Citi Custom Cash(SM) Card account per person.
No annual fee.
This is a new card, but note the following:
Citi will only issue one Citi Custom CashSM Card account per person. You will qualify for the bonus offer only if you have not received a bonus offer for opening a new Citi Custom CashSM Card in the past 48 months.
List of eligible categories. Taken from their fine print:
Restaurants. Includes purchases at cafes, bars, lounges and fast food restaurants. Excludes purchases at bakeries, caterers, restaurants located inside another business (such as hotels, stores, stadiums, grocery stores, or warehouse clubs) and third party dining delivery services.
Gas Stations. Excludes gasoline purchases at warehouse clubs, discount stores, convenience stores or other merchants that do not use the gas station merchant category code.
Grocery Stores. Includes purchases at supermarkets, meat/seafood stores, dairy stores, bakeries, and miscellaneous food/convenience stores. Excludes purchases at general merchandise/discount superstores; wholesale/warehouse clubs; candy, nut and confectionery stores. Purchases made at online supermarkets or with grocery delivery services also do not qualify if the merchant does not classify itself as a supermarket by using the supermarket merchant category code.
Select Travel. Includes airline, hotel, cruise line and travel agency purchases. Excludes timeshares, boat leases and rentals, campgrounds and trailer parks, and real estate agencies.
Select Transit. Includes car rentals, ferries, commuter railways, subways, taxis/limousines/car services, passenger railways, bridge and road tolls, parking lots/garages, bus lines, and motor home and recreational vehicle rentals. Excludes bike/scooter rentals, auto clubs and insurance companies.
Select Streaming Services. Includes the following cable, satellite, and streaming providers: Amazon Prime Video, Amazon Music, Apple Music, CBS All Access, Disney+, AT&T TV NOW, ESPN+, fuboTV, HBO Max, NBA League Pass, Netflix, Pandora, Showtime, Sling TV, Spotify, Starz, SiriusXM, Vudu, YouTube Red, YouTube TV, and Tidal.
Drugstores
Home Improvement Stores
Fitness Clubs
Live Entertainment
Thank You points. As with the Double Cash card, this card technically earns Thank You points, which you can then convert to a statement credit or direct deposit into your bank account. So you really earn "5 ThankYou Points for each $1 you spend in your highest spend category each billing cycle up to the first $500 spent in that category." 2,500 Thank You points = $25 statement credit, and so on.
You can't convert your points to airline miles with this card, but if you also have the Citi Premier Card, that card does allow you to convert miles in various programs on a 1:1 basis including JetBlue, Cathay Pacific, EVA Air, Etihad, Flying Blue by Air France and KLM, Singapore Airlines, and Thai Airways. For example, with the Premier card, you could convert 20,000 TY points into 20,000 Singapore Airlines KrisFlyer miles.
My take. This is a minor variation of the other cards that offer 5% cash back on rotating categories every quarter. Those cards usually offer 5% cash back on a couple of specific categories on up to $1,500 of spending each quarter (3 months). This makes the maximum cash back via 5% categories the same: $25 a month, or $300 a year.
As wit the other 5% cards, since you only earn 1% cash back on every other purchase, you can easily get better rewards elsewhere. For example, if you had the Citi Double Cash card, you could be earning 2% cash back on every other purchase. You could put all your small purchases on the Citi Rewards+ card, which rounds up rewards to the nearest 10 points. If Citi really wanted to shake things up, they would have combined the 5% cash back on up to $500 and the 2% cash back on everything else, instead of making us keep two different cards going. That would have been a slam dunk.
As a rewards optimizer, the best use for this card would be to only use it for a specific category all year long (up to $500 a month). If you wished you could just pick a category and just stick with it all year, this card lets you do that. You could put only gas on the card. You could put only restaurants on the card, and so on. Use another card for your other purchases, even a 1.5% cash back card is better. Of course, Citi is hoping you won't do that, making your overall cash back rate much lower, possibly even lower than 2%.
Bottom line. The Citi Custom Cash Card is a newly-launched rewards credit card which offers 5% cash back on your top eligible spending category up to $500 spent each month. Since you only earn 1% cash back on everything else, you should pair it with a 2% cash back card like the Citi Double Cash card.