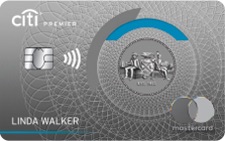 The Citi Premier Card has changed up their sign-up bonus to 60,000 bonus points (worth $750 in airfare booked at ThankYou.com) with a $95 annual fee for the first year (not waived). Here are the highlights:
60,000 bonus ThankYou points after $4,000 in purchases in the first 3 months
3X points on Travel, including Gas Stations
2X points on Dining Out and Entertainment
1X points on All Other Purchases
Points Transfer allows you to transfer points to participating airline and hotel loyalty programs
No foreign transaction fees
$95 annual fee.
3X points include both air/hotel/car rental and daily commute items. "Travel" includes hotels, airfare, taxis, car rental, public transportation, parking, cruises, and gas. When combined with the 25% travel premium, makes that equivalent to a 3.75% reward towards travel booked through Citi Travel Center. The double (2X) on restaurants (includes bars and fast food) and entertainment (sporting events) makes that 2.5% towards travel booked through Citi Travel Center.
Bonus details. The current bonus is 60,000 bonus points and $95 annual fee. 60,000 points are redeemable for $750 in airfare on any airline, anytime with no blackout dates when booked through the ThankYou.com travel portal, or $500 in gift cards when redeemed at thankyou.com. The previous offer was 50,000 points and the first year of annual fee waived, so this can be seen as a slight improvement as 10,000 points can be redeem for $125 in airfare vs. the $95 annual fee. If you got a lower bonus recently, it doesn't hurt to ask Citi to match the current bonus via their secure message system. The worst they could say is no.
Note the following fine print:
Bonus ThankYou® Points are not available if you received a new cardmember bonus for Citi Rewards+SM, Citi ThankYou® Preferred, Citi ThankYou® Premier/Citi PremierSM or Citi Prestige®, or if you have closed any of these accounts, in the past 24 months.
ThankYou.com Travel Center redemption details (60,000 points = $750 in travel). With this card, every 10,000 ThankYou points will get you $125 in airfare, hotel nights, car rentals, and cruises book through the ThankYou.com Travel Center, which in my experience has very similar (if not identical) total price with taxes as compared to Expedia, Orbitz, etc. Because you can book any flight that can be otherwise purchased with cash, there are "no blackout dates".
This can be even more flexible than traditional "miles" redemptions because you can use it across multiple flights, multiple passengers, and you can even do partial redemptions. Let's say you found a ticket that want for $200 = 16,000 points, but only have 10,000 points available. Citi now lets you pay the difference, so in this case you can get your $200 ticket for 10,000 points and $75. This makes it easy to use up all of your points at the better travel rate without buying anything extra you don't need.
60,000 ThankYou points = $600 in gift cards, $600 check towards student loan or mortgage. You can view your redemption options at ThankYou.com. I took a quick look and it takes 10,000 ThankYou (TY) points to redeem for a $100 gift card to retailers like Gap, Banana Republic, Barnes & Noble, Bath and Body Works, Bed Bath & Beyond, Cabelas, CVS Pharmacy, Kohl's, Land's End, LL Bean, Sears, Lowe's, Home Depot, Staples, and Walmart. So with 60,000 TY points, you could get six $100 gift cards from different stores.
For a check mailed to you, it is 8,000 points for $50 (1 points = 0.625 cent). A better conversion ratio comes from a check mailed towards your mortgage payment or student loan (it arrives made out to your lender), which is 7,500 points for $75 (1 points = 1 cent).
Hotel points and airline miles transfer options. Citi ThankYou points are also now available to transfer to certain airline mileage programs on a 1:1 basis including JetBlue, Cathay Pacific, EVA Air, Etihad, Flying Blue by Air France and KLM, Singapore Airlines, and Thai Airways. For example, 60,000 TY points can get you 60,000 Singapore Airlines KrisFlyer miles. If you know how to redeem these points wisely and like to fly in international business class, you can get a lot of value. For example, Singapore Airlines has some very nice award options and great customer service.
Bottom line. The Citi Premier Card is a premium travel card with a $95 annual fee. Currently, new cardholders can get a sign-up bonus of 60,000 ThankYou points = $750 in airfare on any airline, anytime with no blackout dates when booked through the ThankYou travel center. Minus the $95 annual fee, and the total first year value is roughly $650. Note the restrictions if you've had or closed a similar ThankYou card in the last 24 months.
Also see: Top 10 Best Credit Card Bonus Offers.