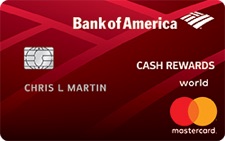 The new Bank of America Unlimited Cash Rewards Card is the most simple, straightforward, no-annual-fee credit card in the Bank of America line-up. If you are a Preferred Rewards client, you can increase the cash back earned by 25% to 75%. For such "relationship" customers, this boost can change this card from good to great. Here are the highlights:
New customers: $200 cash rewards bonus after $1,000 in purchases in the first 90 days.
Earn unlimited 1.5% cash back on all purchases. Redeem as a statement credit, deposit to BofA bank account, or deposit to Merrill brokerage account (including 529).
0% Introductory APR offer. See link for details.
10% customer bonus when you have an active Bank of America checking or savings account.
If you're a Preferred Rewards client, you can increase that bonus to 25% – 75%. See details below.
3% foreign transaction fee.
No annual fee.
Preferred Rewards bonus. The Preferred Rewards program is designed to rewards clients with multiple account and higher assets located at Bank of America banking, Merrill Edge online brokerage, and Merrill Lynch investment accounts. Here is a partial table taken from their comparison chart (click to enlarge):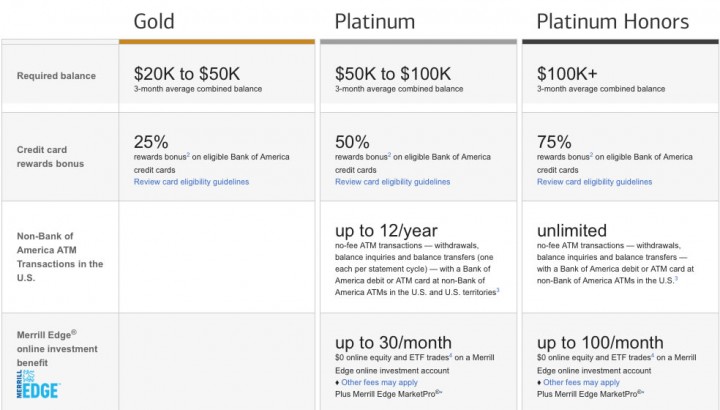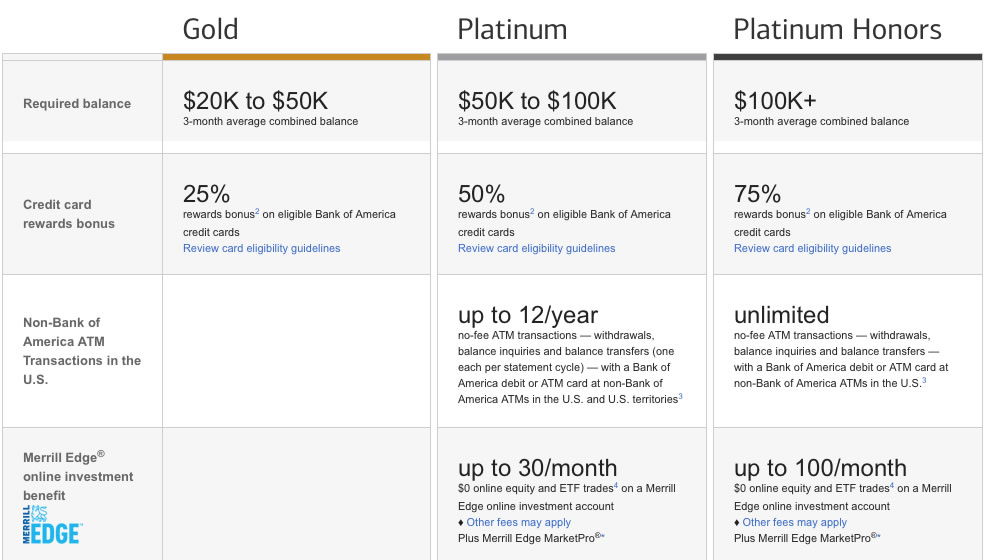 Let's consider the options. Bank of America's interest rates on cash accounts tend to be lower than highest-available outside banks (read: nearly zero), so moving cash over to qualify may result in earning less interest on your cash deposits. Merrill Lynch advisory accounts also usually come with management fees. The sweet spot is therefore the Merrill Edge self-directed brokerage, where you can move over your existing brokerage assets like stocks, mutual funds, and ETFs held elsewhere (Vanguard, Fidelity, Schwab, etc).
In the past, moving over to Merrill Edge at the Platinum and Platinum Plus levels also led to 30 to 100 free online stock trades every month. Fast forward to now, and nearly all major online brokers offer commission-free trades anyway.
Personally, I moved over $100k of brokerage assets from Vanguard to Merrill Edge to qualify for Platinum Honors. You should ask Merrill Edge if they will cover any ACAT transfer fees involved. I realize not everyone will have this level of assets to move around, but if you do then it is worth considering. Keep in mind that it will take a while for your "3-month average combined balance" to reach the $100k level and officially qualify for Platinum Honors. You might become Gold first, then Platinum, and so on. After that, the 25%-75% rewards bonus on credit card rewards kick in. Once you reach a certain tier, BofA guarantees that you will stay there for a year no matter what, even if your balance fluctuates.
Note that the terms state "The Preferred Rewards bonus will replace the customer bonus", which means that you will lose the 10% customer bonus when you qualify for the 25% to 50% bonus.
Boosted cash back percentages with Preferred Rewards. The standard structure is a flat 1.5% cash back on all purchases. Here's how the numbers work out after you reach each tier:
Platinum Honors: 2.625% cash back on all purchases (75% bonus).
Platinum: 2.25% cash back on all purchases (50% bonus).
Gold: 1.875% cash back on all purchases (25% bonus).
BofA checking or savings accountholder: 1.65% cash back on all purchases (10% bonus).
I consider the bar set at 2% cash back to be considered a "great" rewards card. The Platinum and Platinum Honors levels allow you to surpass that bar. Again, not everyone will have this level of assets to move around, and so this offer is not available to everyone. BofA is willing to pay such high cash back on the credit card because they hope to make it back through their other products (banking, brokerage, loans).
Their plan worked on me because Bank of America has managed to convince me to go from only having a checking account with them to now also having a Merrill Edge brokerage account and a Bank of America credit card.
Comparison against other BofA credit cards. Not all Bank of America consumer credit cards qualify for Preferred Rewards. Other cards of interest that do qualify are:
Honestly, these are all solid cards if you qualify for Preferred Rewards. I can see any one of them being a good choice for those that want relatively simple rewards after setting up a "relationship" with BofA.
My slight personal favorite is the Travel Rewards credit card. The rewards structure on the Travel Rewards is similar to the Unlimited Cash Rewards card including the 1.5% back (up to 2.62% with Preferred Rewards) earning rate and no annual fee, except that the rewards can only be used to offset past travel and dining purchases made on the card in the past 12 months. I have redeemed thousands of dollars in statement credits and never run out of travel/dining purchases to offset. Their redemption process is quick and easy. One difference is that the Travel Rewards has no foreign transaction fee, while this Unlimited Cash Rewards card has a 3% foreign transaction fee. Together, this makes the Travel Rewards card a great "catch-all" card that I always have in my wallet. You may prefer the Unlimited Cash Rewards card if you have very little travel/dining charges.
The Premium Rewards card may be better if you can reliably utilize the $100 annual Airline Incidentals credit (seat upgrades, baggage fees, lounge fees) to offset the $95 annual fee, as then the increased cash back on travel/dining is all net profit. The Customized Cash Rewards cards with its 3/2/1 structure is also tempting as a companion to the Travel/Unlimited Cash, but you may prefer other rewards card for specific categories.
Bottom line. The Bank of America Unlimited Cash Rewards Credit Card is an "okay" cash back rewards card with a 1.5% cash back on everything structure, but turns into an "excellent" 2.62% cash back rewards card if you can take full advantage of their Preferred Rewards program. If you transfer $100,000 of existing brokerage assets (could be ETFs or mutual funds) over to Merrill Edge, you can qualify for the highest Platinum Honors tier. This won't be a good option for everyone, but something to be aware of if you can swing it.