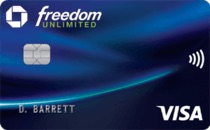 The Chase Freedom Unlimited Card is a no-annual-fee rewards card which earns a flat 1.5% cash back on all purchases (or a possibly more valuable 1.5 Ultimate Rewards points per dollar spent). This is a different card from the popular Chase Freedom, which has 5% cash back on rotating categories, on up to $1,500 in purchases each quarter. Here are the highlights:
$150 cash bonus after $500 in purchases in your first 3 months.
Earn unlimited 1.5% cash back on all purchases. Redeem for cash – any amount, anytime.
Cash Back rewards do not expire as long as your account is open.
0% Intro APR for 15 months on purchases.
No annual fee.
1.5% cash back on all purchases might have been a great percentage number several years ago, but there are now at least a few competitors with higher effective cash back rates.
But wait, you actually get Ultimate Rewards Points! The lesser-known perk of this card is that you actually earn Ultimate Rewards points, which are in turn redeemable for cash back at a rate of 100 points = $1 in cash back, or 1 cent per point. Ultimate Rewards points are worth collecting because of their flexibility. (I hope Chase doesn't forget this fact.) This is important because there are many ways in which Ultimate Rewards points can be worth much more than 1 cent per point.
If you have also have the Chase Sapphire Preferred, Chase Sapphire Reserve, or Ink Business Preferred Card, then you can pool all of your Ultimate Rewards points together (even with your spouse/partner as an authorized user) and thus utilize all of the same transfer partners with the following results:
Earn 1.5 United Mileageplus miles per dollar spent on ALL purchases.
Earn 1.5 Hyatt points per dollar spent on ALL purchases.
Earn 1.5 British Airways Avios per dollar spent on ALL purchases.
Earn 1.5 Southwest Rapid Rewards points per dollar spent on ALL purchases.
Notice that you are earning more miles and points on ALL purchases than even the specific co-branded cards from United or Hyatt themselves! Most of them just offer 1 point/mile per dollar spent on all purchases.
If for example, you placed a perceived value of 1.5 cents on each United Airlines mile or Hyatt hotel point, then you'd receive 2.25 cents of perceived value per dollar spent with this card. Your actual numbers will depend on your own specific redemption choices, but you can see that you can definitely exceed 2% cash back value on an ongoing basis with the Sapphire Preferred/Freedom Unlimited combo.
If you would like the opportunity to earn 5% cash back on rotating bonus categories each quarter, compare with the Chase Freedom card. You can have both a Freedom and a Freedom Unlimited card, but you'll have to apply for each card separately. I think this is actually a great idea if you plan to keep a Sapphire Preferred/Sapphire Reserve/Ink Preferred cards as well.
Restrictions. This card is subject to "5/24" restrictions, which means that your application will be automatically denied if you have opened 5 or more credit cards in the last 24 months (check your credit reports). Our household strategy is to have one person only apply for Chase 5/24 cards, and the other person applies for everything else. There is also this language on the consumer card:
This product is available to you if you do not have this card and have not received a new cardmember bonus for this card in the past 24 months.
Bottom line. As a plain cash back rewards card, the 1.5% cash back of the Chase Freedom Unlimited can be exceeded by other 2% cash back cards. The key factor for those in the know is that if you or your partner also has the Chase Sapphire Preferred, Sapphire Reserve, or Ink Preferred Business cards, then this card allows you to receive the equivalent of 1.5 Ultimate Rewards points per dollar spent on every purchase. If you value other travel points like United Airlines miles, Hyatt points, or Southwest Rapid Rewards points, then by earning Ultimate Rewards you can obtain solid rewards value and flexibility from this card.