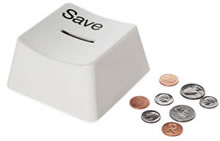 Hanscom Federal Credit Union (HFCU) has hiked back up the rate on their CU Thrive account to 5.00% APY, which is a capped certificate of deposit that rewards consistent saving. The rate is set for 12 months, and during those 12 months you can transfer up to $500 every month from a HFCU checking account. No monthly fees. However, you cannot make any withdrawals during those 12 months, or you will be subject to an early withdrawal penalty of 90 days interest.
This product is not meant for big balances. Instead, it is meant to encourage the creation AND maintenance of a modest savings habit. 5.00% APY is more than 10 times what the top "high-yield" savings accounts offer right now.
How much interest can I earn? At 5% APY, if you maxed out this account and set aside the full $500 a month for 12 months, at the end you'd have put in $6,000 and earned about $150 in interest by the end of the year (~$162 if you made every transfer on the 1st of the each month by my quick calculations). $6,000 also happens to be just about the same amount as a full Roth IRA contribution (hint hint) or the foundation of a solid emergency fund.
At the end of the 12 months, all accrued savings plus earned dividends will be transferred into your primary savings account. It will NOT automatically renew at maturity. Each member can only have one CU Thrive account open at one time, but after one 12-month period ends you can open up another one to keep up the savings habit (assuming it is still offered). Full disclosure (PDF).
Eligibility details. To open a CU Thrive account, you must first open an HFCU checking account in addition to the savings account required for all members. HFCU offers a free checking account with no direct deposit and no minimum balance requirement. HFCU membership is open to active duty or retired military along with many other groups (see application), but anyone can also join the Air Force Association, Paul Revere Chapter for a one-time $20 fee and be eligible. On the application, choose the option "I am a member of or will be joining a sponsoring member organization." You must also keep $25 in the share savings account as long as you are a member.

New refer-a-friend program. HFCU has a referral program which offers an additional $30 cash bonus after your new savings and checking accounts are open and in good standing for 90 days. The referring member gets $30 as well. If you would like a referral from me, please me send your full name, e-mail address, the text "HFCU referral" via my contact form. I will use this information only to fill out their referral form.
Account opening process (from a few years ago). I started the online application and had to provide the usual personal information and then answer questions based on my credit report to verify my identity. Based on my free credit monitoring, they did not perform a hard pull on my credit report. You can fund with an online bank transfer but they also gave me the option to fund with credit card up to $2,000 (not sure if this is still an option today). They didn't mention if this would be considered a cash advance or not, but it showed up as a purchase for me. Finally, you must print out, sign, and mail in a signature card. You can also open an account in-person. All of their physical branches appear to be located in Massachusetts.
My 1-year experience. I had set the maximum $500 to be transferred every month to my CU Thrive account from my HFCU Checking account. I made 11 transfers but missed one because my checking balance was too low on the date of automatic transfer. My fault. When that happens, the account basically just skips the transfer. There is no penalty, you just don't get to add that money to the account. I called them but they said there was no way to replace that transfer, even if I moved more money into the checking account a day later. Other than that, everything went very smoothly and I was paid my interest as promised. At the 1-year maturity date, the funds were automatically transferred to my HFCU savings account and the CU Thrive no longer shows up on my online account page. I can now open up another CU Thrive account, if I wish.
I also discovered that Hanscom Federal has paid a Loyalty Dividend to its Credit Union members for over 20 consecutive years. When I had this account, I earned another $1.57 in bonus loyalty dividends on top of my $78.46 of interest earned.
In addition to the CU Thrive and free checking options, HFCU also has a Kasasa Cash Checking account that offers up to 1.00% APY on balances up to $15,000 if you make at least 12 debit card or credit card purchases per month, complete at least 1 ACH Credit/Direct deposit per month, and enroll in online statements. This isn't the highest Kasasa rate available nationwide, but if you're already a member, it may be convenient.
Bottom line. The CU Thrive account is a good option for people looking to build up a savings habit, with 5.00% APY for 12 months. However, the system really works best if you use HFCU's free checking as your primary checking account. (You may also consider their Kasasa Cash checking account with higher interest but debit card activity requirements.) Juggling it as an external savings account is perfectly possible, but you have to keep on top of your transfers to avoid idle cash earning zero interest. I received all of the interest promised, the customer service was nice and polite when contacted, and any errors were my own.