Well, I just burned a few minutes and grabbed another $25 Amazon.com gift certificate from MyPoints. It's one of the few surviving "read e-mails for money" websites from the dot-com boom, and is a great example of Bored Money – ways to earn some money on the side that aren't really high-paying on a per-hour basis, but you can usually do them at your convenience with no commitment or responsibilities.
The Payout
For the most part, you get 5-30 points for visiting websites that pay MyPoints an advertising fee. Many of them come by e-mail (BonusMail), so I would recommend either adding a special filter that automatically moves emails from MyPoints to a separate folder, or using a separate free e-mail for this program. You often get bonus points for signing up for e-mail newsletters or registering as a member, so having a separate e-mail would be best in that regard.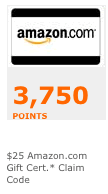 You can also earn points by taking surveys, playing flash games, using specific grocery coupons, using their Search toolbar, shopping through their online mall portal, and other activities. I primarily just stick to the e-mails, and run through them in batches when I'm waiting for some process to run.
As for redemption options, you can swap the points for the usual variety of gift cards – Barnes & Noble, Macy's, CVS Pharmacy, etc. I usually just stick to Amazon.com since they are the easiest to use. 3,750 points = $25 Amazon.com gift card. Again, you're not going to get rich doing this, but the points don't expire as long as you have any activity within 12 months. Like today, I noticed that I was at 3,600 points and picked up another 150 in about 15 minutes so I could cash out.