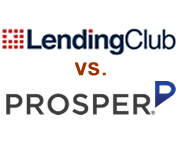 I invested $10,000 into person-to-person loans in November 2012, split evenly between LendingClub and Prosper. It's been a little over 9 months since then, so I wanted to give a detailed update in addition to my brief monthly updates. The primary goal of this portfolio is to earn a target return of 8-10% net of defaults, but I also wanted to see if there were significant differences between the two competitors Prosper and LendingClub.
I'm also considering liquidating both portfolios after 12 months have passed. I'm getting a little bored with the experiment, and having to sell the loans would also allow me to compare the ease of selling either company's loans on the secondary market.
Portfolio Credit Quality Comparison
I wanted to keep these portfolios comparable in terms of risk level, while still trying to maximize overall return net of defaults. Peter Renton of LendAcademy made this helpful chart comparing estimated defaults rates with their respective credit grades. Since each company has their own proprietary credit grading formula, they don't match up perfectly.

Here's my portfolio breakdown: