Here's the 2nd piece of the monthly updates for my Beat the Market Experiment, a set of three portfolios started on November 1st, 2012. Since this update is rather boring, let me provide an update on the overall experiment: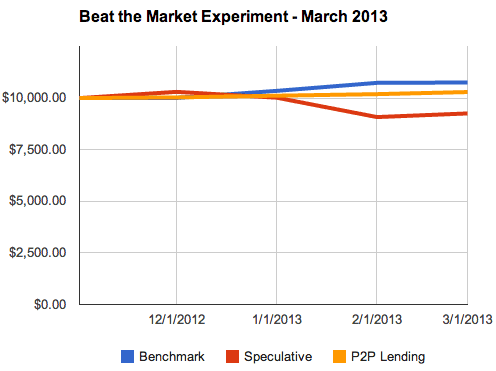 $10,000 Passive Benchmark Portfolio that would serve as both a performance benchmark and an real-world, low-cost portfolio that would be easy to replicate and maintain for DIY investors.
$10,000 Beat-the-Benchmark Speculative Portfolio that would simply represent the attempts of an "average guy" who is not a financial professional and gets his news from mainstream sources to get the best overall returns possible.
$10,000 Consumer Loan Speculative Portfolio – Split evenly between LendingClub and Prosper, this portfolio is designed to test out the alternative investment of peer-to-peer loans. The goal is again to beat the benchmark by setting a target return of 8-10% net of defaults.
$10,000 Beat-the-Benchmark Speculative Portfolio as of March 2, 2013. Many people speculate with their money, buying and selling stocks now and then, but they rarely track their performance even though they may brag about their winners. Honest tracking is the primary reason for this "no-rules, just make money" account. I am using a TradeKing account for this portfolio as I've had an account with them for a while and am comfortable with their low-cost $4.95 trade structure, free tax-management gain/loss software, and free dividend reinvestment. Here is a screenshot taken from my TradeKing home page 3/2/13 mid-day: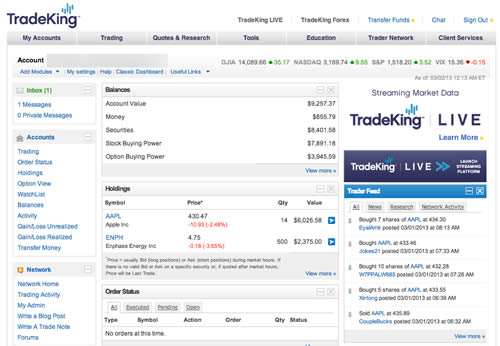 (click to enlarge)
No new activity. I didn't trade anything last month. I'm sticking with my AAPL pick, while my ENPH holdings are actually up over 25% from when I bought it. Too bad it was only 20% of my portfolio. Here's a pie chart of my holdings, tracked via Google Docs spreadsheet (2nd tab):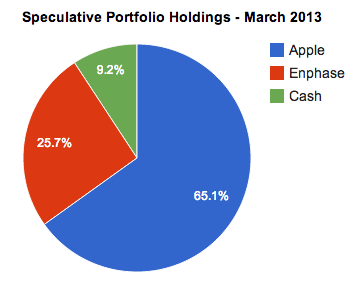 Total value of stocks $8,402
Cash balance: $856
Total portfolio value (3/2/13): $9,258
2013 YTD return: -7.6% (based on $10,019 value on 1/1/13)
Total return since inception (11/1/12): -$742, or -7.4%