Have you seen those "follow the green line" ads from Fidelity? Well, they reminded that a reader sent me their retirement account holdings for review which was managed through the Fidelity Portfolio Advisory Service (PAS). This is a managed portfolio service, which means that you pay Fidelity a fee and they do all the research, selection, buying, and selling for you. Fidelity has two managed-portfolio tiers for individual investors, with the Portfolio Advisory Service for account balances of $50,000+, and the Private Portfolio Service for those with $300,000+ to invest.
At only a $50,000 minimum portfolio size, it appears that the PAS is targeted a relatively large portion of the generic public. Unfortunately, in the wealth management business such small balances usually also mean generic, cookie-cutter portfolios with little or no personalization. Here's what Fidelity says:
In the Fidelity Portfolio Advisory Service product, customers are invested into model portfolios of Fidelity and non-Fidelity mutual funds based on their time horizon, risk tolerance and investment goals. These model portfolios are managed by a team of investment professionals that includes Portfolio Strategists and Mutual Fund Analysts.
Sounds like "we make you answer a short questionnaire and the computer spits out an asset allocation" to me. Let's see how Fidelity constructs this person's portfolio. I will mention here that this is an IRA account, so that taxes aren't a huge concern.
Portfolio Comparisons
Benchmark Portfolio
This particular account used the "Growth w/ Income Portfolio" benchmark, which has an overall 60% Stocks/40% Bonds balance. Other portfolio options are Conservative (20% stocks), Balanced (50% stocks), Growth (70% stocks), Aggressive Growth (85% stocks), and All Equity (100% stocks). Here are the indexes and asset allocation for this portfolio.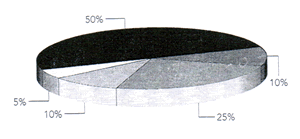 Stock
50% Total US (Dow Jones US Total Stock Market Index)
10% Developed International (MSCI EAFA Index)
Bond
25% US Investment Grade Bond (Barclays Capital US Aggregate Bond Index)
10% US High-Yield (Merrill Lynch US High Yield Master II Constrained Index)
Cash
5% Treasury Bills (Barclays Capital 3-month US T-Bill Index)
Hypothetical Index Fund Portfolio
As mentioned in the statement, you cannot invest in an index. So, I created below a portfolio consisting of actual investments that passively track the above indexes with minimal costs. I chose the cheapest ETF that tracks the exact index if possible, not the cheapest ETF that was similar. I also included the annual expense ratios.
50% SPDR Dow Jones Total Market ETF (TMW) 0.21%
10% Vanguard Europe Pacific ETF (VEA) 0.16%
25% Vanguard Total Bond Market ETF (BND) 0.14%
10% SPDR Barclays Capital High Yield Bond (JNK) 0.40%
5% SPDR Barclays Capital 1-3 Month T-Bill (BIL) 0.13%
The total weighted expense ratio was 0.20%.
Actual Fidelity-Managed Portfolio
The actual choice of investments in this account matches the benchmark asset allocation closely, and included over 30 different mutual funds. You can view the entire mutual fund list here, but here is the overall breakdown:
51.5% US Stock Funds
10.0% International Stock
28.5% Investment-Grade Bonds
10.0% High-Yield Bonds
0% Cash
This includes a mix of twenty (!) different actively-managed domestic stock funds from both Fidelity and outside companies like Janus and T. Rowe Price (Okay, 1.5% was in one index fund – S&P 500 Fidelity Spartan.) The average expense ratio for these was approximately 1%. Six different international stock funds were included, with an average expense ratio of ~1.2%. The overall bond fund expense ratios were 0.8%. This brought the total weighted expense ratio to ~0.94%.
Performance Comparisons
Now for the important part, returns after all fees. This account was not ten years old, so the best long-term return number was the 5-year historical annualized returns. The statement was as of 6/30/09.
First up, we have the 5-year annualized of the Benchmark Portfolio, which as of 6/30/09 was 1.6%. Of course this is a benchmark, which doesn't include any management fees or commissions.
I was unable to find performance numbers as of 6/30/09 for my Hypothetical Index Fund Portfolio as it is already 2010 (if someone knows how to do this please let me know). However, we can estimate the return since the total weighted expense ratio was 0.20%. If we estimate trade commissions to be $5 per trade x 5 ETFs = $25 per month… on a $100,000 portfolio that is 0.30%. (Such trade commissions would be zero if held at Zecco or WellsTrade, given the account size.) Assuming the ETFs follow the indexes closely, then the 5-year returns would be in the neighborhood of 1.1%.
Now, what was the actual 5-year annualized return on this fully-managed account? -0.6%. Yes, negative 0.6%.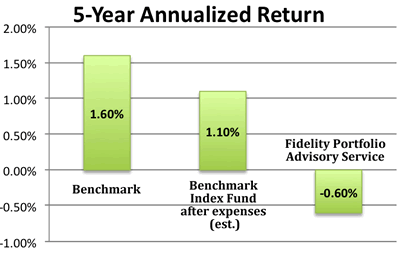 Conclusion
Over the past 5 years, the Fidelity Portfolio Advisory Service managed to construct a portfolio that lagged a simple index fund portfolio by 1.70% annually. That's a huge difference over time. Use any compound interest calculator and stick in two numbers that differ by 1.7%, and you'll see the effect of compound interest working against you for a few decades. Why did this account perform so poorly relative to its benchmark? Isn't it supposed to beat the benchmark?
Too many advisors. To me, if people choose to hire someone to manage their investments, it would be to tap into their expertise and special insight. I'd want him/her to make calculated bets that will beat the market. Putting my money in 34 different mutual funds, each with their own team of advisors, seems like everyone's bets would cancel each other out.
While the reason given for so many funds was "diversification", the only phrases that came to my mind were "overlap" and "lack of focus". You don't need to own a ton of funds to get diversification. With so many funds, you'd probably end up owning the same companies as the index fund anyway.
Costs matter. The actively-managed mutual funds are the first layer of expenses, which was a weighted 0.94%. Then there is the second layer of management fees charged by Fidelity, which includes all trade commissions and varies from .25%–1.7% based on asset levels. In this account, it was 0.8%. Thus, in order to simply match the benchmark, the investments chosen would need to outperform it by 1.74%. Every. Single. Year. That is a stiff headwind.
The really sad thing is, even if I just invested in the index funds through the Fidelity PAS and basically paid them to do nothing, I would have still done better than the funds they chose. 1.6% index – 0.2% index fund expenses – 0.8% Fidelity fee = gaining 0.60% a year. Compare that with losing 0.60% a year.
For a $200,000 portfolio paying 1.38% in portfolio management fees, that's $2,760 a year. Don't pay nearly 3 grand a year for a cookie-cutter asset allocation that doesn't even match an index fund. It can be well worth your time to learn more about investments yourself. Here are some starting ideas.