As part of my Beat the Market Experiment, I started three portfolios on November 1st, 2012:
$10,000 "Good Boy" Passive ETF Benchmark Portfolio that would serve as both a performance benchmark and an example portfolio that would be easy to build and maintain for DIY investors.
$10,000 "Bad Boy" Beat-the-Benchmark Portfolio that would simply represent the attempts of an "average guy" who is not a financial professional and gets his news from mainstream sources to get the best overall returns possible.
$10,000 Consumer Loan Portfolio – Split evenly between LendingClub and Prosper, this portfolio of peer-to-peer loans will have a target return of 8-10% net with the goal of beating the Benchmark portfolio over the long run.
This is the monthly update for the $10,000 Benchmark Portfolio as of December 1, 2012. I opened an account at TD Ameritrade due to their 100 commission-free ETF program, including the best low-cost, index ETFs from Vanguard and iShares. I funded it with $10,000 and bought all the ETFs required to be fully invested on 11/1/12. Due to simplicity and small portfolio size, I am going with 100% stocks and no bonds. My target asset allocation is below.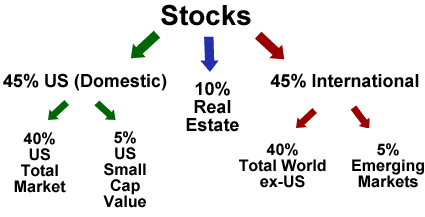 Here are the ETF components that represent each asset class:

Here are my holdings and their market value as of the end of day 11/30/12 (full screenshot):

Here's the asset allocation: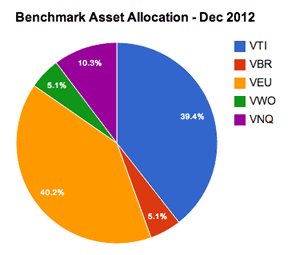 Total value of stocks: $9,982.21
Cash balance: $24.18
Total portfolio value: $10,006.39
Not too much to talk about this month, I bought everything in a matter of minutes with no commissions at all, and a month into the experiment our total return to date is a snoozefest 0.06%. The Play Portfolio update will be up tomorrow.
(Side note: I had previously mentioned that I forgot to enroll in the commission-free ETF program and got dinged $50 for the 5 buy trades that I made which was my own darn fault. A call to customer service got them to rebate back 3 out of 5 trades. A few days later, I was offered a customer service survey where I mentioned the situation, and two weeks after that they called me and offered to rebate back the rest of the trades. So in the end, I was rebated back all my trades, I must give credit to TD Ameritrade for that. I'm enrolled now so all future ETF trades in this portfolio will indeed be free.)