As the last part of my ongoing Beat The Market Experiment, here's the December 2012 update for my consumer loan portfolio. See also my $10,000 Benchmark and $10,000 Play portfolio updates for December 2012.
On 11/1/12, I deposited $10,000 split evenly between Prosper Lending and Lending Club, and went to work lending other people money and earning interest. Here's how I'm doing it:
8-10% target return, net of defaults and fees. Each site provides an estimated return based on the interest rate and expected delinquency rate, but I am also using specific filters to try and maximize my return. Overall, I would say my risk profile is moderate/conservative. If I can get an 8% net return over the next 3+ years in the current interest rate environment, I'll view the portfolio as a success.
Minimal time commitment. I've done the manual loan-picking thing, and I'm over it. 400 loans at $25 a pop would take forever. Both sites allow you to save customized loan filters and use an automated investment algorithm to pick a portfolio for you.
Loan Filters. I'm constantly tinkering with the loan filters, but you can get a good idea of what I am using by reading this best Prosper filters post and this older LendingClub filter post. Nothing too fancy, just some broad filters based on historical inefficiencies that may or may not persist.
Loan term lengths and reinvested interest. I thought about only buying loans with 3-year terms in order to have a clean ending timeframe to this experiment, but in reality that would leave a lot of cash at the end as many people pay off their loans early. Also, higher rates are found in 5-year loans. Given the ample liquidity I found in secondary market, if I wanted to end the experiment I could just sell all my loans and cash out. (In October, I sold all of my existing loans on the secondary Folio market in a matter of days, quite easy as long as you're willing to sell at a discount.) This way I will reinvest any additional cash into new loans maximize return.
LendingClub Details
Below is a screenshot of my LendingClub account as of 12/3/12: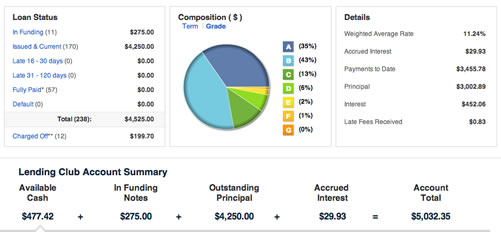 I have $4,250 in issued loans, and still have $750 to invest because sometimes even though you commit your money, the loan does not actually fund due to a variety of reasons. Currently, I have mostly A and B-rated loans with a weighted average rate of 11.24%. I believe the estimated rate of return after defaults is around 8%.
Prosper Details
Below is a screenshot of my Prosper account as of 12/3/12: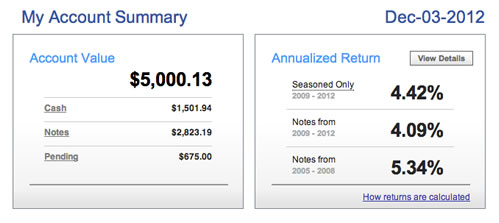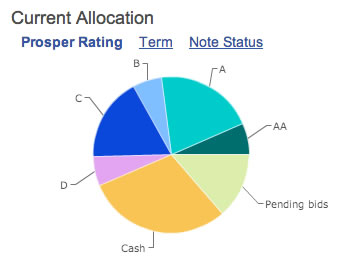 I have about $2,800 in issued loans, $700 in pending loans, and $1,500 in cash. The average loan quality is a little lower than LendingClub. I expect to be fully funded within 2 months. My average loan yield is about 14%, with an estimated rate of return around 9%. We'll have to wait a while before I get any sense of actual return.