LendingClub.com (LC) is a website that securitizes person-to-person loans so that you can lend money to other people in as little as $25 increments, and you earn the interest. The idea is to replace banks and credit cards as the major middlemen used for lending. Here's an illustration from their site: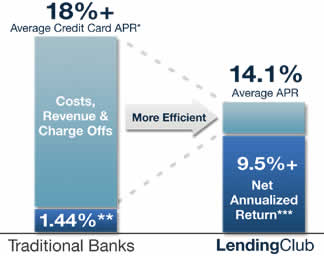 Now, if you read my previous posts on LendingClub, you know I'm skeptical about getting 9.5% returns in the long run. My LendingClub Net Annualized Return is currently 6.8% after fees. If I can stay in the 4-6% range, I'd be happy as I view this activity as a hobby. My favorite loan so far is helping a young couple purchase a tiny 200 sf house-on-wheels.
The investment process is set up such that LC examines the loan application and assigns it a credit grade with an interest rate from 6.39% – 21.64%. All you have to decide is whether to fund the loan or not in increments of $25. You can't change the rate. Therefore, the key is to quickly fund the relatively attractive loans and avoid the unattractive ones.
You can view historical performance data at the LC website, but it is very raw. I recently came across a new site called LendStats.com that has been sorting through the data and presenting it in some very insightful ways. The owner KenL uses a nice, simple formula for return on investment (ROI) and one can see from the data several ways to improve your returns.
Loan Factors To Avoid
Business loans. If you look at all the loan categories, only the ones under the Educational and Small Business categories have negative ROIs. (Educational loans have a much smaller sample size.) In general, perhaps it is a form of adverse selection when someone with a business idea must resort to making a personally-backed loan from strangers to fund their idea. Also, it may be that the economy is so tough that only select new businesses survive.
Borrowers with mortgages. Until recently, a mortgage holder was deemed more credit-worthy than a renter. That person had to have the means to make a 20% down payment and pass underwriting from a bank. Now, with so many people underwater in their homes, the ROI from renters is higher than mortgage-holders. Renters have greater flexibility with their cashflow. I suspect many people find themselves so bogged down by their mortgages that they decide to simply declare bankruptcy and forget about all their other debts as well.
Loan amounts greater than $20,000. Loans over $25k have a negative ROI overall, with $20k loans not doing much better. Bigger loans means bigger risk, which apparently isn't adequately compensated for by higher interest rates. Also, I am wary of people doing the "borrow-and-bankrupt" route where they try to amass as much debt as they can and then declare bankruptcy after either a huge party, leaving the country, or hiding assets.
Borrowers with more than 2 credit inquiries within last 6 months. Average ROI consistently goes down as the number of inquiries on your credit report goes up. This indicates that you are also trying to get credit from others, and thus your debt-to-income may be higher than reported. In general, this also increases the likelihood of either desperation, fraud, and/or impending crisis.
Any F and G rated loans. The general trend is still supporting my original plan of only buying the highest-rated A loans, however there are some improvements in the B through E grades. Loans with the lowest grades of F and G continue to have negative ROIs. These are also the loans with the smallest sample size, but since there are so few of them anyway I find it easier to simply avoid them.