LendingClub.com is a website that securitizes person-to-person loans so that you can lend money to other people in as little as $25 increments, and you collect the interest after some fees. The idea is to replace banks and credit cards as the major middlemen used for lending. "Investors earn better returns, borrowers pay lower rates." I've been investing some money with them since they started in 2007.
Last time I wrote about LendingClub in May, I expressed concerns about their historical performance data living up to their marketed 9.65% returns and then LendingClub responded on why they thought things weren't that bad. It's been 3 months, so I figure it's a good time for another update.
The first part of their argument is that they think that loan performance over time will go like this, with a drop and then significant recovery near the end of the term:
However, I don't see that behavior happening. As you can see below, the older the loans, the lower the overall performance. Returns just keep dropping for loans going from 1.5 to 3 years old. There is no rise or recovery at the end of the three-year term. Data was taken from actual LC loans with observation date of August 17th, 2010.
Loans Originating Second Half of 2008 (about 1.5-2 years old)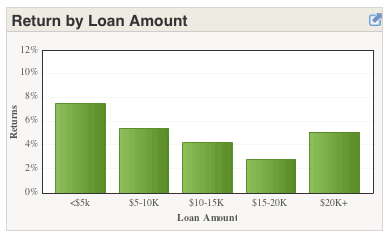 Loans Originating First Half of 2008 (about 2-2.5 years old)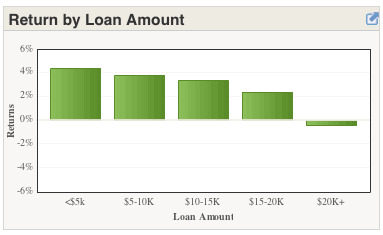 Loans Originating 6/1/2007 to 12/31/2007 (about 2.5-3 years old)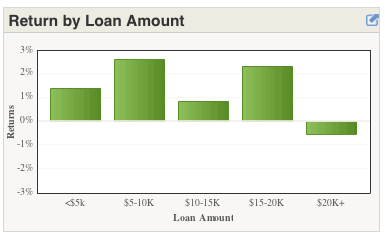 Note the change in the y-axis scale
Now, the next part of their argument was that all the loans that originated before they changed their credit requirements and interest rates at the end of 2008 weren't a valid data set to be analyzing. (That doesn't make me feel much better because as an early adopter, I hold a lot of those loans.) While improved underwriting may make the average returns higher, I don't see why it should affect the overall performance behavior over time.
2009+ Loans Only
Okay, so the newer vintage loans that originated after January 1st, 2009 take into account their current lending criteria. In the end, we'll just have to see if people really get higher returns. From now on, I'm going to try and track the performance every quarter. Here is the performance of loans originating in the first half of 2009, as of August 17th, 2010. Since it a loan has to be late for 4 months to be actually considered in default, this means the loans only have effective ages of 1 to 1.5 years.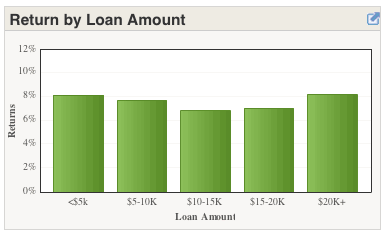 So far, not too bad at about 8% return. Here is the performance of loans originating in the first quarter of 2009 with two observation dates (May 2010 and August 2010) overlaid on top of each other. You can see that the loan performance has decreased slightly over the last 3 months. I hope that I am wrong, and that the performance does start to improve.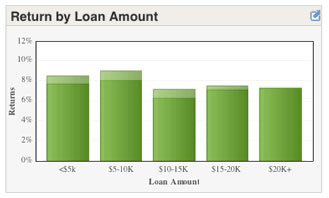 You may call me a LendingClub basher, but I still consider myself an active investor and supporter. I want them to have awesome returns, but the data simply doesn't support the likelihood of earning 9.5% annually. Investors should go into it with realistic expectations, and ideally an interest in P2P social lending. Despite this, if LendingClub can average, say 6% returns going forward, that would still be quite an accomplishment for this new business model. I know I'd be happy with that.
To Prospective Borrowers
Honestly, LendingClub is more attractive as an option for borrowing money and/or credit card debt consolidation. You can borrow up to $25,000 and you can know your rate before actually applying for the loan. If the rate quote they give you can be beaten elsewhere, then just walk away with no obligation. When writing your loan application, try to include as much applicable information as possible (reason for loan, how will you repay, monthly budget breakdown) and answer all lender questions promptly for the best results.