New ACAT transfer bonus. M1 Finance has rolled out some of their biggest bonuses ever for the new year:
M1 New User Deposit Bonus: Up to $500 bonus depending on your initial deposit of $10,000-$100,000. Details on tiers below.
M1 New/Existing User ACAT Transfer Bonus: Up to $10,000 bonus, depending on asset size transferred between $50,000 and $2M+. Details on tiers below.
M1 Referral Bonus (alternate): $10 bonus with smaller $100+ deposit for new users.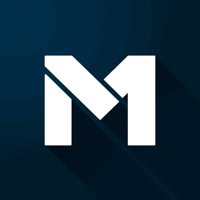 I've tried out my share of robo-advisors, which sounded nice in theory but I became a little disillusioned as they kept generating lot of unnecessary taxes every time they change their model portfolios to chase the latest and hottest trends. My favorite option is where I can pick my own custom target portfolio, but the robo still does the hard work: M1 Finance. Here's a quick rundown of what makes them different:
Fully customizable. You pick your own target asset allocation "pie". (You can add ETFs or individual stocks.) You can simply copy one of the many model portfolios out there, or make your own custom pie as you like. You have full control! M1 handles the tedious stuff, like rebalancing or dividing a $100 contribution across 8 different ETFs. Here is my pie which I named the My Money Blog Portfolio.
No commissions. Free stock/ETF trades with a low $100 minimum for taxable accounts and a $500 minimum for retirement accounts.
0.00% management fee! Most robo-advisors charge an annual management fee of 0.25% to 0.50% of assets, or force you to own something bad, like artificially low-interest cash. (Looking at you, Schwab…)
Free dynamic rebalancing. All new deposits (and withdrawals) will be invested (or sold) dynamically to bring your portfolio back toward your target asset allocation. M1 will also rebalance your entire portfolio back to the target allocation for you automatically (for free) whenever you chose, on demand. You don't need to do any math or maintain any spreadsheets.
Fractional shares (dollar-based). For example, you can just set it to automatically invest $100 a month, and your full amount will be spread across multiple ETFs. Dollar-based transactions were one of the advantages of buying a mutual fund, but fractional shares solve this problem. ETFs are also usually more tax-efficient than mutual funds.
Real brokerage account with off-the-shelf investments that you can move out. Some robo-advisors hold special, proprietary funds that you have to sell if you ever leave, possibly creating a big tax bill. (Looking at you, Fidelity…) M1 is built on a regular brokerage account, so you can move your Vanguard/iShares/Schwab ETFs and stock shares out to another broker whenever you want.
M1 Finance investment minimums:
A minimum account balance of $100 is necessary to get started on M1. Once the $100 account minimum has been reached, deposits can be any amount above $10. Retirement accounts require an initial investment of $500.
M1 Finance checks off nearly all the boxes of my brokerage wish list. They do all the managing for me, but according to my rules. But since I can choose the exact ETFs that they purchase, if I decide to stop their service down the line, I just end up with a brokerage account filled with ETFs that I can easily move elsewhere. I suppose the only thing they could add would be to have the high availability of knowledgeable customer service of a huge company like Fidelity or Schwab. Otherwise, I really like their feature set and I have been putting my recent annual IRA contributions into M1.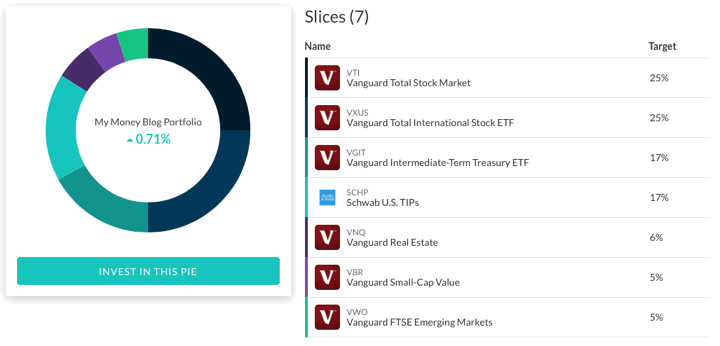 How do they make money? They have a variety of income streams:
1) Interest on idle cash (can be minimized as you can auto-invest all idle cash in the investment account)
2) M1 Borrow (you take out a loan, they charge interest)
3) M1 Checking (debit card generates fees for them)
4) Payment for order flow (same as Robinhood and TD Ameritrade)
5) M1 Plus (subscription fee that gets you higher interest rates, credit card annual fee waiver, additional perks).
6) M1 Credit Card (transaction fees and interest)
M1 Plus. They have been aggressively adding features and pushing their premium M1 Plus membership, which costs $125 a year after an initial 3 month free trial. Essentially, it makes everything a little bit better:
Higher APY on checking accounts (currently 3.30% APY). A new 4.50% APY savings account is coming in 2023.
Lower rates on margin borrowing.
No annual fee on the M1 Owner's Credit Card.
Extra PM trade window.
Automated "smart" transfers.
$10 referral bonus. There is currently a $10 referral bonus only available if you open with a M1 Finance referral link (that's mine), make an initial deposit of $100 for taxable accounts and $500 for IRAs within 30 days of sign-up, and not withdraw the initial deposit within 30 days.
Up to $500 New User deposit bonus. See promotion link for full details. Tiers: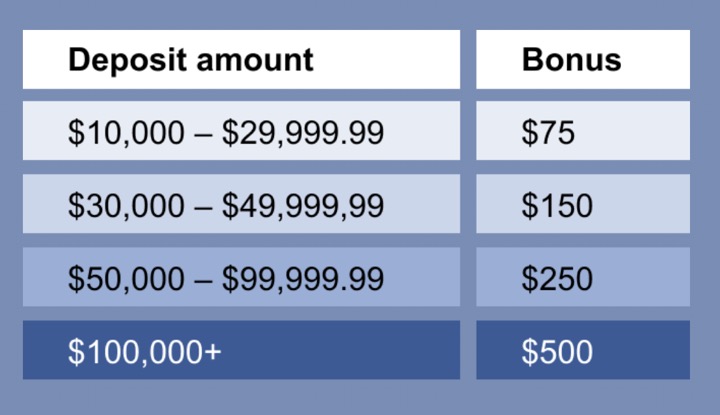 M1 Existing/New User Trransfer bonus. See promotion link for full details. Tiers: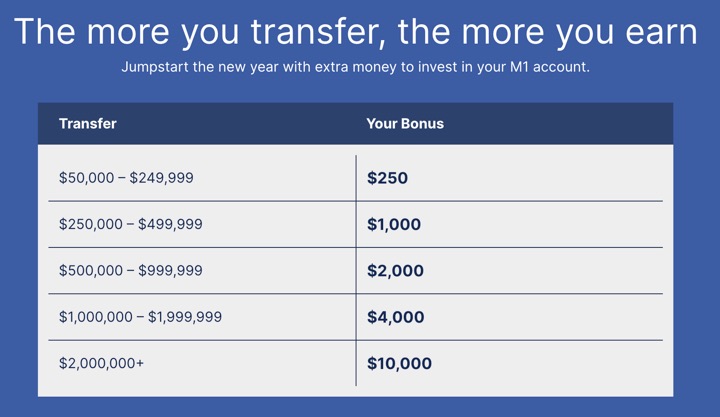 Bottom line. M1 Finance is a brokerage account that acts like a free, customizable robo-advisor with automatic rebalancing into a target portfolio. You control the model portfolio, and they do the tedious work. I deposited part of my Roth IRA contribution with them.
Disclosure: I am now an affiliate of M1 Finance, and may be compensated if you click through my link and open a new account.
Also see: Big List of Free Stocks For New Commission-Free Brokerage Apps