After seeing this household debt bubble chart, I've been especially sensitive to news about consumer debt. Here are some recent stats from across the spectrum:
Mortgages
According to real estate data firm CoreLogic, 22.7% of US homes with a mortgage had negative equity in the first quarter of 2011, meaning the outstanding mortgage amount was greater than the value of the property. That's 10.9 million of them, and another 2.4 million had equity of 5% or less, which means with any further drops they'll be in danger as well.
Nevada was the state with the biggest share of homes underwater, at 63% of all mortgaged properties, followed by Arizona (50%), Florida (46%), Michigan (36%), and California (31%). Goodness.
Home Equity Loans
The same report also found that a hefty 38% of borrowers who took cash out of their residences using home-equity loans are underwater. By contrast, only 18% of borrowers who don't have these loans were underwater. Check out all the home equity extracted up until 2008, which is slowly being paid back now.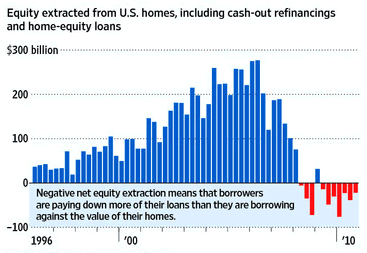 Is there some good data about what all this money bought?
401(k) Loans
Human-resources consulting group AON Hewitt reports that nearly 30% of 401(k) participants currently have a loan outstanding, the highest in recent history. On a purely interest-rate level, these loans can actually be a pretty good deal. (Don't listen to the double-taxation myth perpetuated by Suze Orman and others.) However, you have the potential penalty of losing the preciouis tax-deferred benefit plus a 10% penalty if you don't pay it back in time (and if you lose your job, it's due even sooner). Still, having nearly a third of all people dipping into their retirement money can't be a good thing.
Sources: ConsumerAffairs, LA Times, WSJ, SmartMoney