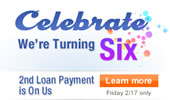 Offer is back! Person-to-person loan site Prosper.com is having a another one-day promotion for borrowers who submit their loan listing on Friday, February 17th where they will actually make your entire 2nd loan payment (principal and interest) for you, up to $300.
* To be eligible for the offer, you (i) must post a loan listing on Prosper.com between 12:00 am PT and 11:59 pm PT on February 17, 2012; (ii) have to reach Verification Stage 3 within 1 week of posting the loan listing; (iii) cannot have posted a loan listing on Prosper.com within the past 30 days; and (iv) may not withdraw your loan listing. If you meet these criteria, Prosper will credit your second required loan payment up to $300. The credit will be posted to your account within 30 days of Prosper receiving your first payment. This promotion cannot be combined with any other promotional offer from Prosper.
Getting a rate quote is free, as their "soft pull" will not affect your credit score. If your loan does not find enough lenders to fund, then you can walk away with no obligation. If you do end up taking out a loan, then it will show up on your credit report. There are several ways you can use this offer.
The quick loan for profit. If you have an excellent credit score, you can get the AA loan rate of 5.65% for 1 year. Even if you don't need it, take out a loan for about $3,500, and you would end up with a monthly payment of around $300. Your closing fee would be 0.5%, or $17.50. Your interest for a month at 5.65% would be less than $20. There is no pre-payment penalty, and your second payment is covered at $300. Just pay back the money they lent you after two months, and you'd be looking at over $250 in profit. You don't need to risk any capital, just pay back the money they lend you and keep the profit. Decide quickly! Get your own rate quote at Prosper here.
Investor opportunity. As a result of the math above, there will be a mysterious surge in listings from AA borrowers for $3,500 loans today. If you like, you can invest in these notes today and tomorrow and earn some decent 4-5% interest for at least a couple months. Yes, there is still risk involved but my view is that people with AA credit scores are unlikely to default over only $3,500. I did this last time around, but didn't have much money in my Prosper account. Sadly, still true this time. Just don't be surprised if all your loans end up being paid off early!
Lowering your effective interest rate. If you don't have an AA loan rating, you can use the free payment to lower your effective interest rate, especially if you pay off the loan early. For a $3,500 loan I got an A rating which meant either a 1-year loan at 6.08% or a 3-year loan at 9.99%. Your closing fee is 3.95% for A & B loans, which for a $3,500 loan that's $138.25. So the free 2nd payment of up to $300 can knock that out completely and you can use the rest of the money to cover most of the first year's interest.
(I went ahead and also got a free rate quote from LendingClub – their main competitor – but there all loans from $1,000 to $11,975 are only available with a 3-year term. With the loan rebate, I think Prosper would have had been the best 1-year rate anyway. However, my rate for the 3-year loan was only 6.78% APR (their highest A1 grade), which is much less than the Prosper APR. So it can pay to shop around.)
Bonus credit score. After getting the free rate quote, I was actually sent my credit score of 776 based on my Experian credit report. Prosper uses the Experian ScoreX Plus credit score, which has a range of 300 to 900. FICO range is 300 to 850. I assume this is due to new consumer laws that require them to send me my score if I'm not given the absolute best rate available. Not a bad side perk.