Another new website, Credit Sesame, now offers you free credit scores and updates based on your Experian credit report. No credit card required, no trial required. This is not a real FICO score, but an estimate of the FICO formula that uses the same range of 300-850. To avoid repeating myself too much, you can learn more about FICO vs. FAKO credit scores here.
Sign-up Process
The sign-up process was quick and relatively painless. They ask you for your home address and household income, but this is primarily to see if they can save you money on a mortgage refinance. (This is one way they make money.) You'll also need to answer three questions based on your Experian credit report data to verify your identity.
Online Security
To get your credit score, you will need to give them your Social Security number. You'll have to decide for yourself if you feel comfortable doing this. They do claim all of the usual security measures, including 128-bit SSL encryption, password encoding, and working with Experian to test their systems. They also do not sell personal information, but will use it to target potential offers to you.
The information that you provide – including name, date of birth, email, real estate ownership, home address, social security, and any information about your finances (income, assets, debt, credit) – is not sold to third parties.
My Credit Scores
Here's a screenshot of my current credit score according to CreditSesame: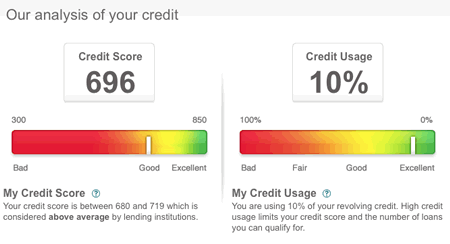 My score of 696 is actually kind of low for me. Compare this with my score from CreditKarma, which is a similar company but uses the TransUnion bureau credit report: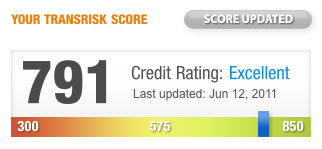 Why the big difference? After some research, I finally remembered why my Experian score may be lower. Over 2 years ago, I found out my old library sent me to collections over a $40 overdue book that I returned. This annoying ding only shows up on my Experian report. To be honest, I haven't bothered to dispute it because now live in another state and I've been approved for every single credit card since finding out. Another reason is that when you apply for a credit card, they usually only check one out of the three bureaus (Experian, Equifax, TransUnion).
This brings up the primary benefit of these free FAKO scores. Having three independent credit bureaus means we all have three different credit scores. These regular updates can show you the effects if different bureaus have different data. They are also handy for checking if there is a big change in your credit score, including someone using your identity or simply an erroneous debt assigned to your name.
You can use CreditSesame for Experian, CreditKarma for TransUnion, and Equifax Score Card for Equifax. All free.