The S&P Case Shiller Home Price index was updated yesterday with data through March 2011, or 2011 Q1. Here is the press release [PDF]. Here is the chart: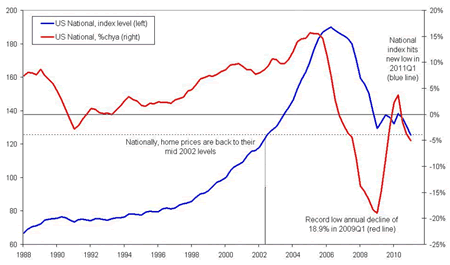 Click to enlarge. Sources: S&P Indices
Nationally, home prices are back to their mid-2002 levels. This means that any run-up in home prices between 2002 and the 2006 peak has been erased. On average home prices are selling at the same value they were nine years ago and are 34% below their 2006Q2 peak.
I feel like this whole thing is still going to take a while to fully unwind.