With the arrival of summer and gas prices at around $4 a gallon, the water cooler conversation has turned again to fuel efficiency. One important thing to remember is that the MPG number is not directly proportional to how much money you're paying for gas. The chart below shows the annual cost of gas varies with the miles-per-gallon rating. Assumptions are 12,000 miles driven a year at $4/gallon.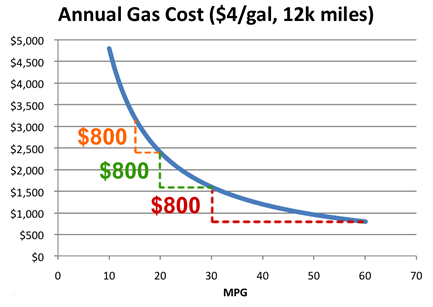 Going from a medium-sized SUV that gets 20 mpg (Ford Explorer, Nissan Xterra) to a compact car that gets 30 mpg (Honda Civic, Ford Focus) will save you $800 a year. That is more money than going from the compact car to a hybrid like a Toyota Prius that gets 50 mpg combined, which would save you $640 a year.
Now, if you are driving a full-size truck that gets 15 mpg, just going from 15 to 20 mpg would also save you $800 a year. So we see that going from 15 to 20, 20 to 30, and 30 to 60 mpg are each about the same size "step" in terms of annual savings. For heavy drivers, each such step would be nearly $1,000 a year in gas, and that's assuming gas prices don't keep increasing! Look up your car's numbers at FuelEconomy.gov.
So while making the jump to 50 mpg would still save you the most gas, the Prius still costs more money than a similarly-sized compact car like a Honda Fit. One piece of good news I read recently was from Scott Burns at AssetBuilder that his Prius batteries have lasted 100,000 miles and 8 years with no need for replacement. If you get good at buying and selling used cars on Craigslist, you could conceivably make the swap to a more fuel-efficient car relatively painlessly.