The Onion shares their scientific poll results for the ever-important retirement question: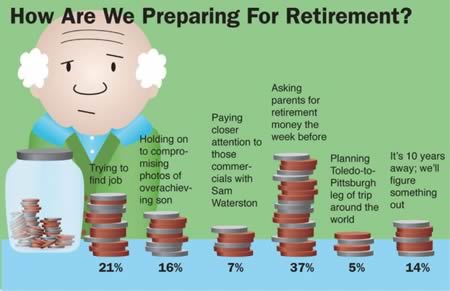 Some quick online research reveals that what I thought was just another funny option is all too real – lotto tickets. According to a 1999 survey by the Consumer Federation of America, 40% of Americans with incomes between $25,000 and $35,000 thought their best shot at paying for their retirement was winning the lottery. Along the same lines, a recent Consumerist article has low-income households spending a whopping 9% of their annual income on lottery tickets.
I wonder what would happen if on a certain number of the losing scratch-off cards, scratching off the latex ink won you free personal finance and budget management services.
In most states that have them, lotteries are justified because the revenues goes towards education. But what I've seen happen is every $1 that comes from the lottery just means the government can cut $1 of funding from somewhere else. The quality of education stays the same, if not worse. According to this article, a study found that states without lotteries maintained or increased their education spending more than states with lotteries.
Hmm… I got sidetracked on this "fun" post and landed in sad town. Doh!