When I was a senior in high school, I still remember my parents offering me a new luxury car instead of tuition assistance. Although I'm pretty sure it was only a test, it did serve to remind me of the cost of tuition and not to waste it. Seeing the average student debt of graduates is now over $30k, I wanted to see how the price of a new car and student debt tracked. These are the best charts that I could fine.
The green line in the first chart tracks the average cost of a new vehicle as rising from ~$15,000 to ~$27,000, within the time period of 1990 to present. I don't believe the green line is inflation-adjusted. You can see it runs from roughly $15,000 to roughly $27,000. (Source: Atlantic)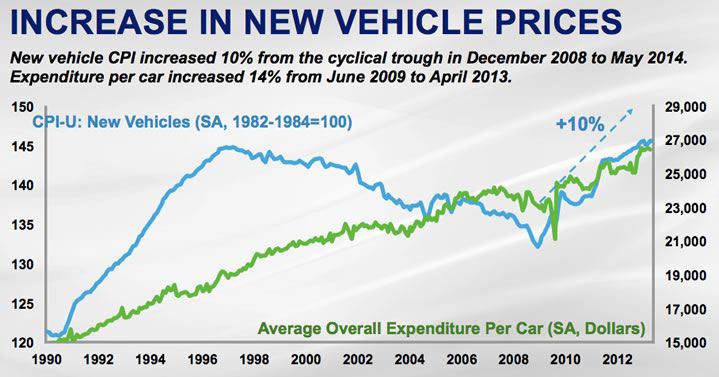 The second chart below tracks the average student debt upon graduation over basically the same timeframe, 1990 to present. The non-inflation-adjusted value has risen gone from ~$9,000 to ~$33,000. (Source: WSJ)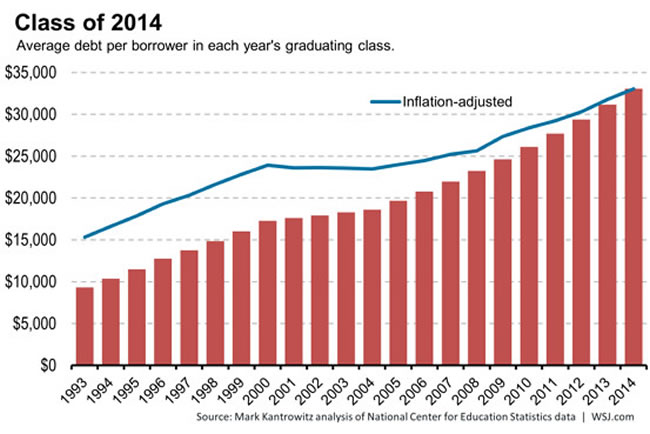 It is hard to equate the two values because student debt is just the amount left over after the parent (usually) pays as much as they can while the student is in school. However, this USA Today article suggests that since 2010 parents on average have been paying less.
Five years ago, only half of families reported using grants and scholarships to pay for college. This year, two-thirds of families did, the study shows. […] Meanwhile, parents are contributing less of their income and savings toward college costs, covering 27% of college costs compared with 37% in 2010, the study shows.
At the same time, other reports show that for parents with top 20% incomes, education spending has nearly doubled as a share of their total budget.
Average student debt is definitely growing faster than new car price. But in terms of total size, it is still comparable to the cost of a new car. People finance new cars all the time. Does that make student loans less scary? I don't know, because financing a new car has always scared me a lot too.
Even after taking the tuition assistance from my parents, I still came out of college with roughly $30,000 in student debt myself, above-average at the time. I like to think that I got better value of my degree than a new car. 🙂