Many recent articles and surveys have illustrated how many American are basically living paycheck-to-paycheck, with no significant savings cushion:
Most Americans can't afford a $1,000 emergency expense – "A majority, or 64%, of Americans don't have enough cash on hand to handle a $1,000 emergency expense, according to a survey by the National Foundation for Credit Counseling."
Many don't have $2,000 for a rainy day – "A new study by the National Bureau of Economic Research shows 50% of Americans would struggle to come up with $2,000 in a pinch."
CareerBuilder.com Survey – "Forty-two percent of workers in the survey of more than 5,200 workers say they usually or always live paycheck to paycheck"
Along the same lines, a reader introduced me to an interactive poverty "game" called Spent, in which you try to make it through one month as an unemployed worker looking for a job and housing with their last $1,000. Try it out, and you'll have to make some touch choices.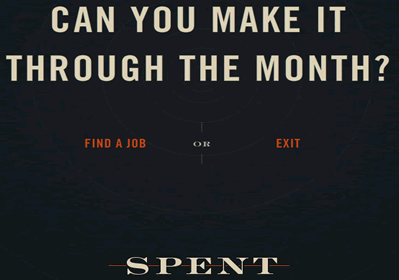 In just one month, I managed to get sick, need dental work, receive an undeserved traffic ticket, my best friend gets married and I can't go, my mom needs money for medicine, my landlord raises the rent illegally, and my child refuses to eat the government-subsidized lunch. Seems a bit unlikely, yes. But a combination of a streak of bad luck and lack of support is exactly how you might end up in such a scenario.
In addition to the societal issues this brings up, from an individual point-of-view, I found that this simulator shows how living close to the edge is often significantly more expensive than someone with a cash cushion. Being poor can cost more than being rich. Consider the following:
If you don't have enough money for a security deposit, you'll have a hard time renting an affordable apartment. Many renters are thus forced into long-term motels that actually charge more on a monthly basis.
If you can't afford a car repair, you can't make it to work and face the prospect of losing your job.
If you don't pay for preventative medicine, you can end up needing more expensive treatment later.
If you have a low balance on your bank account and overdraft by just $10, you'll get hit with a $35 overdraft charge.
If you just don't pay the bill, you'll get a late fee charge.
If you don't pay the bill for consecutive months, you'll get your gas/electricity service shut off and be subject to an additional $250 deposit to get it back on.
If you charge any of this on a credit card and don't pay off the balance each month, you'll owe 15-25% interest. That's if you have the credit history to get a credit card. If you go with a payday loan instead, you'll owe more than 100% annualized interest.
For this reason, one of the first financial steps a person should take is to save up a cash cushion. That emergency fund can easily save you more money than a 20% increase in the stock market. I would tell my own child to forget saving for retirement until you have a least a couple months of expenses saved up. Luxuries like smartphones, alcohol, cable TV, and dining out should be off-limits until then as well.
One should expect "unexpected" expenses. Even though I have a relatively high income, I place great value on my emergency fund.