Here is an interesting Quartz article by Matt Phillips outlining "the most important change in the US economy since the Great Recession that nobody is talking about". I don't know about that, I've seen a lot of these charts before. But many include more recent data, and below are a few of the notable ones. (Note the truncated scales on several of the vertical axes.)
The overall theme is that household debt levels appear to be settling at a more sustainable level. Household debt service payments as a percentage of disposable income are at their lowest levels in over 20 years: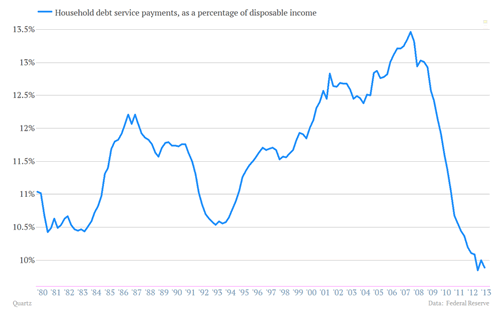 (click to enlarge)
Breaking this down a bit, we see that total US credit card debt has been dropping pretty consistently since 2009 and remains lower than 2003 levels: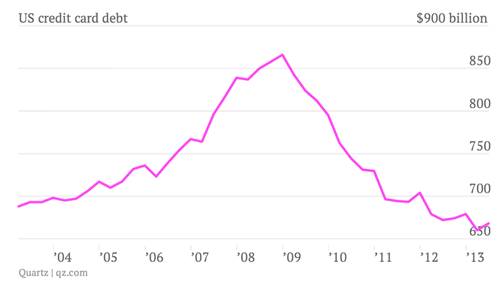 This next chart adds in home-equity credit lines, auto loans, and student loans. Home equity line of credit (HELOC) debt has also been dropping since 2009. Auto loans have bounced back up recently, while student loans continue their seemingly inexorable climb (!).