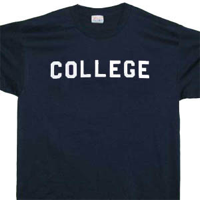 Sometimes I get questions about dealing with student loan debt, but I no longer feel well-qualified to answer. I graduated in 2000 with roughly $30,000 in student loan debt myself, but I never participated in any government-backed repayment plan, nor did I refinance it into a lower interest loan. Roughly 70% of students are graduating with debt today as opposed to 60% in 2000, according to this NPR chart: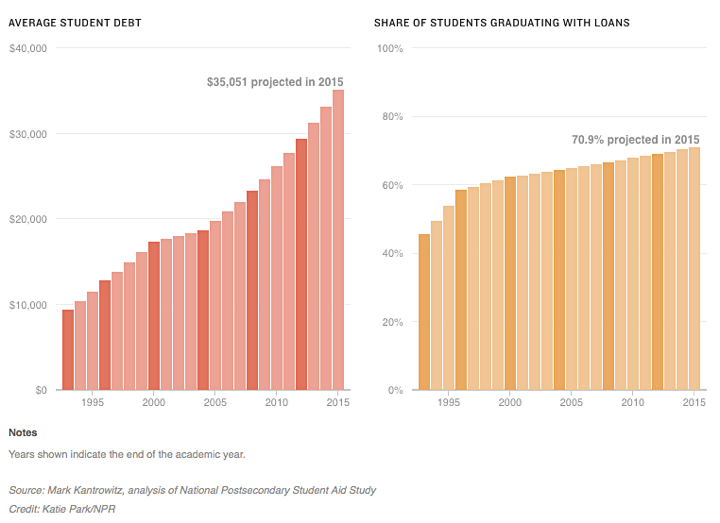 Once I started earning income, I did the "live cheap like a student" thing (not hard, I was a grad student for most of the time) and paid off the debt in about four years. If I had a bigger balance or a tighter budget today, I might do things differently given the current options. I know there are smart readers out there with more recent experience, so I ask you:
How did/are you handling your student loan debt?
Perhaps one of these government-backed repayment plans? If so, which one did you pick and why? Some limit your payment due to 10% to 20% of "discretionary" income, and some will even forgive the remaining balance after 20 to 25 years.
Pay As You Earn Repayment Plan (PAYE)
Revised Pay As You Earn Repayment Plan (REPAYE)
Income-Based Repayment Plan (IBR)
Income-Contingent Repayment Plan (ICR)
Did you refinance your loan privately through a student loan start-up or traditional bank? Why did you pick yours over the competitors? Some examples:
SoFi.com
CommonBond
Earnest
Local community bank or credit union
National bank or credit union like Navy Federal
Please share your experiences, positive or negative, in the comments. It will help me focus my own research. You can also contact me directly.