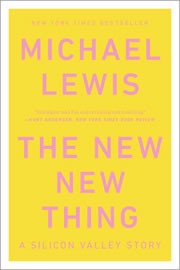 Somehow I picked up a copy of The New New Thing: A Silicon Valley Story, which is a Michael Lewis bestseller published back in 1999 about the internet boom. The central character is Jim Clark, founder of Silicon Graphics (SGI), Netscape, and Healtheon/WebMD. That means Clark started three separate companies in three different industries that were all worth at least hundred of millions of dollars to over a billion dollars. Although Silicon Graphics has since filed for bankruptcy and younger folks probably don't even know the same, for a while it was one of the most prestigious places for computer engineers to work.
It's been over 15 years since the dot-com boom, and reading it actually felt nostalgic to this 36-year-old, but as with any Michael Lewis book it was at least a good story. It was light on practical finance-related material, but as always I like to record my notes.
The 1990s were a turning point where a young person with strong technology skills could get stupid rich. Before that, it seemed that you needed to work somewhere on Wall Street after showing off your Ivy League credentials. Even today, the smartest people want to be tech entrepreneurs. Geeks are cool and nerds can be treated like rock stars.
Clark grew up poor and had a chip on his shoulder. He grew up poor in a small town in Texas with an abusive father. Now on one of his rare returns "home", he buzzes the town in his private jet, has lunch with his mom, and then jets off again the same day.
Jim Clark's personality was perfect for this era. He had the smarts and street cred of a techie, but also the visionary skills and lack of self-doubt that made him a leader of other techies. Netscape was a web browser without a plan to make money (this was pre-Google!), yet it made Clark a billionaire. I liked this quote:


Most people don't enjoy making huge gambles on the future. They would just as soon have someone else tell them what to do. And that is what Jim Clark did. From the moment Netscape made him a billionaire […] half the engineers in the Valley wanted to work for whatever company he started

Rich men have a thing for big boats. Since Michael Lewis spent a lot of time following Jim Clark around and Clark was obsessed with his big-ass sailboat (which would barely fit under the Golden Gate Bridge), a lot of the book is somewhat boring stuff about trying to make a computerized sailboat called Hyperion. Then he commissioned an even bigger boat, Athena. Now go check out Steve Jobs' super-yacht that cost over $100 million: Venus. Shrug.
"If money is how your measure yourself, you'll never have enough" is a recent quote that I came across, source unknown. But that's pretty much Clark (and probably a lot of other billionaires to be fair). Before founding his first big company SGI, he said he just wanted $10 million. After becoming a multimillionaire, he wanted $100 million. After his Netscape shares hit $600 million, he wanted a billion. After the Healtheon IPO made him an after-tax billionaire, he wanted more than Larry Ellison ($13B at the time).
The book ends with Jim Clark starting another business called myCFO, which was supposed to cater to all those new internet millionaires and help them manage their money without having to go with one of those stuffy, established institutions like Merrill Lynch or Goldman Sachs. myCFO ended up being sold off for "only" $30 million, but I think it was a precursor to modern non-traditional advisors like Wealthfront which also specifically targets Silicon Valley engineers.
Jim Clark's more recent ventures since the publishing of this book have much been less exciting. The only one I hard heard of is Shutterfly, and he was really only involved with the funding. It appears that now he's just enjoying life with his big boats and family.