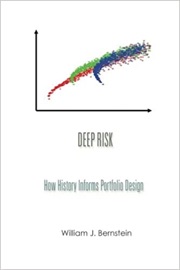 The third book in the "Investing for Adults" series by William Bernstein is Deep Risk: How History Informs Portfolio Design. As before, I'm just trying to pull out a few practical takeaways rather than summarize the entire book. In Book 1: The Ages of the Investor, I learned to take advantage of a lucky streak in stocks and stop when I've won the game. In Book 2: Skating Where the Puck Was, I learned why it's so hard to find any "new and improved" asset classes.
The main problem addressed in this book is "deep risk", the permanent loss of real (inflation-adjusted) capital. This contrasts with "shallow risk", in which the value of something usually rebounds within 5-7 years or less.
Here are some deep risks that you can offset by purchasing insurance (and be happy if you never have to use it!).
Death of income earner.
Long-term health disability.
Legal risk – lawsuit with large judgment.
Select types of asset loss (i.e. theft, building fire).
Unfortunately, there are other deep risks against which you can't buy insurance.
Hyperinflation, prolonged and severe.
Deflation, prolonged and severe.
Confiscation by government.
Devastation (war).
Over an extended period of time, history has shown us that "safe" bonds are often more sensitive to deep risk than stocks. Many countries saw 100% losses for their bondholders, while partial ownership in a business survived wars and regime changes. An example given was in Germany after World War II. Bonds are also at risk for inflation, while a 30-year fixed-rate mortgage (a negative bond) can be a great inflation hedge.
A portfolio of internationally-diversified stocks is the most practical way to protect yourself from both inflation and deflation. Historically, inflation is much more likely than deflation. You might have an event in one country, but it would be very rare to have a large majority of nations experience severe inflation and low stock returns all at the same time. In such a case you'd be looking at global devastation.
As for local confiscation and local devastation, you would be looking at foreign-held assets, foreign property, perhaps the right passports, and a plan to escape in a timely manner. This sounds like something that a billionaire might pay someone else to set up, but not so sure how practical it would be for most people.
Bernstein offers his own summary:
This booklet's primary advice regarding risky assets is loud and clear: your best long-term defense against deep risk is a globally value-tilted diversified equity portfolio, perhaps spiced up with a small amount of precious metals equity and natural resource producers, TIPS, and, if to your taste, bullion and foreign real estate.
I admit that I am somewhat fascinated by worst-case scenarios, and I recommend reading the entire book for the full discussion. But in the end, my primary takeaway is that if you have a globally-diversified stock portfolio, you've done most of what you can in terms of deep risk. The rest is the same advice as before: consider TIPS if you have enough money, maximize Social Security, and keep some nice safe bonds and bank CDs for short-term needs (shallow risk).