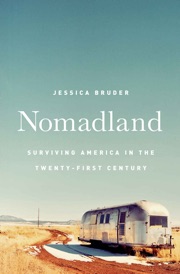 I'm reading Nomadland: Surviving America in the Twenty-First Century by Jessica Bruder. Essentially, it's the story what happens to a group of people when their plans for retirement fall apart. Here's the book blurb:
From the beet fields of North Dakota to the campgrounds of California to Amazon's CamperForce program in Texas, employers have discovered a new, low-cost labor pool, made up largely of transient older adults. These invisible casualties of the Great Recession have taken to the road by the tens of thousands in RVs and modified vans, forming a growing community of nomads.
You'll probably retire earlier than you expect. Consider this EBRI chart showing the big difference between when workers expect they will retire (dark blue) and when people actually retired (light blue). One-third (34%) of all workers ended up "retired" by the time they reached 60, but the majority didn't see it coming (which I assume means it was mostly involuntary).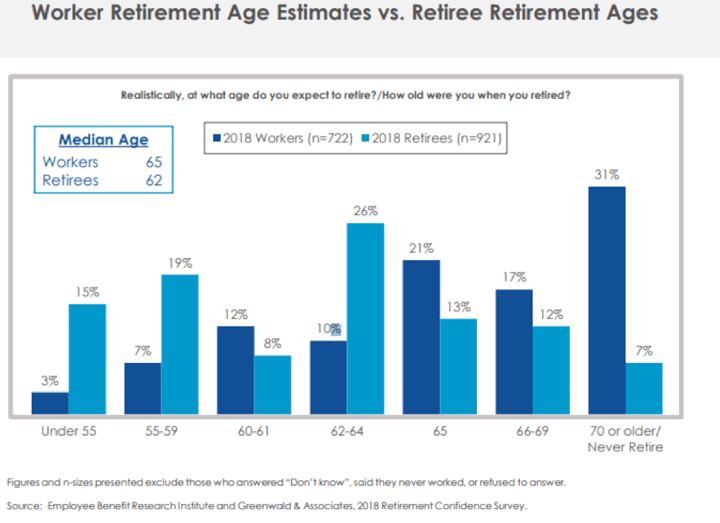 Going through the book, here is a rough breakdown of the stages that the people went through:
Plan A: Ideal retirement. You have plenty of savings and income in retirement. I'm all set with a rock-solid pension, Social Security, and a big pile of investments.
Plan B: Make everything more modest. I don't have as much as I'd hoped. Maybe I don't need that beach condo? Maybe I'll move into a smaller primary house. It'll be easier to clean. I'll just have to take less vacations. No problem.
Plan C: Work longer. Hmm, not still enough. That's okay, I'll just keep my job a little longer. I have lots of valuable work experience. I'm still healthy.
Plan D: Find any job. I've been laid off, and now I'll have to find something that is full-time and offers benefits. The easiest targets are retail: Walmart, Home Depot, McDonald's.
Plan E: REALLY cut expenses. My house is going into foreclosure. I have to sell all my other assets, including whatever life insurance policies, 401k plans, jewelry, and anything else of value that I have accumulated.
Plan F: Ask for assistance from extended family or friends. I can't find any steady work that pays the bills (or may no longer be healthy enough to do so). I need to find cheaper living arrangements, immediately. I might crash with my children or other family/friend.
This corresponds well with this EBRI survey that I found afterward: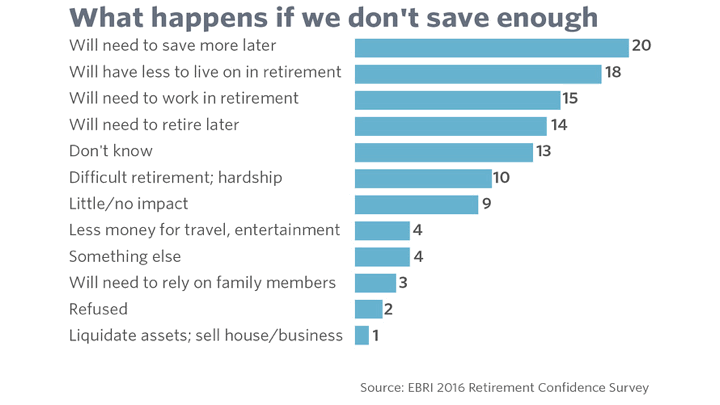 What happens if none of this works? That's the common thread through many of the people profiled in this book. Not only did Plan A fail, but their backup plans also failed. Many had a late divorce. Many lost their high-paying jobs in their 50s, when they were planning to work until 70. Others had medical issues that racked up huge bills. They worked retail for a while, but it never added up to a decent full-time income. There just aren't as many jobs for someone in their 60s and 70s. They lived with their children for while, but their kids are struggling as well.
One solution that some came up with in this book with is to change "homeless" to simply "houseless". You buy a big van or small RV for well under $10,000 and you live in it. As long as you can find a place to park it, you've just cut your housing cost down drastically. People figure out to live on $500 a month. You can also now travel for temporary work – Amazon warehouse picker, campground manager, agricultural farm worker. As more and more people do this, they have formed communities and annual gatherings to support each other.
The book has me switching between two feelings: empathy for what brought them to this place, and curiosity about the mechanics of their day-to-day life as modern-day nomads. For now, one big takeaway is that people can and do fall through the cracks. The folks in this book are still taking action and working to survive and hopefully once again thrive.