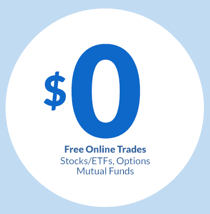 Firstrade.com has announced free online trades on stocks, exchange-traded funds (ETFs), options and mutual funds. All of them. As a more traditional online broker, Firstrade includes access to all stocks, ETFs, options and mutual funds currently available in the U.S. There are no limits on the number of trades allowed, no minimum holding periods, and no minimum account requirements.
Pricing comparison. Here's their updated pricing chart, including a side-by-side comparison with TD Ameritrade, Fidelity, E*Trade, and Schwab. Note that each competitor does offer their own selected list of commission-free ETFs.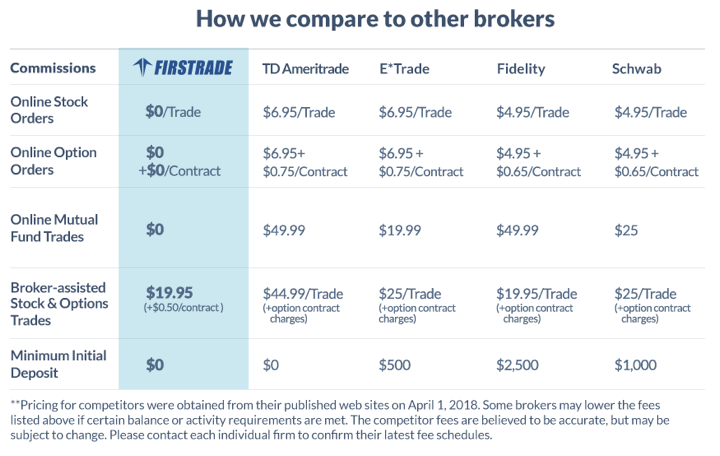 Customer service. Since they are offering free trades, you might be worried that it would be hard to get assistance. They actually offer a lot of help options including live chat and free call-back phone service: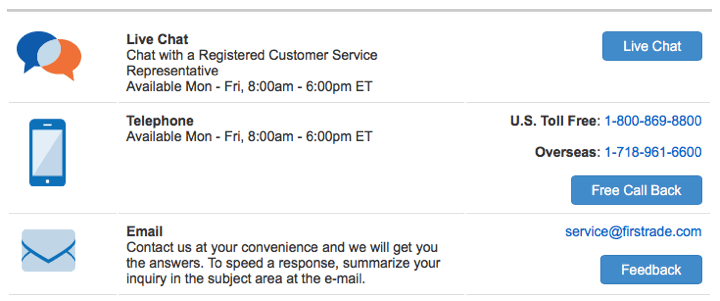 Are they legit? Yes, Firstrade Securities has been around since 1985, and I actually have an idle account with them from an old promotion. They have been a competitive discount online broker for a while, with their only physical branch in Flushing, New York. They are unique in that they offer special service to Chinese-speaking customers by providing a Chinese language version of their site (Simplified and Traditional) and also Chinese-speaking customer service reps (Mandarin and Cantonese). But other than a few Chinese character links on their site, you wouldn't otherwise notice.
iOS and Android apps. Both iPhone and Android apps are available. Touch ID/Face ID supported on iOS. In May 2019, they released a redesigned 3.0 version of their iOS app, which now looks more like the other app-first brokerages. Screenshot: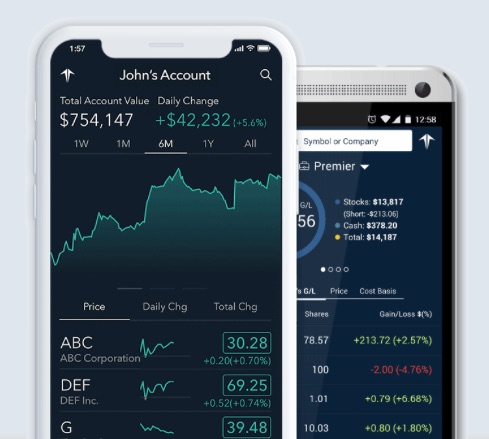 Up to $200 rebate of transfer fees if you switch. They will rebate up to $200 in transfer fees if you move your assets over to them from another broker. Here's the fine print:
Firstrade will rebate the account transfer fee (ACATS only) up to $200 charged by another brokerage firm when completing a Full Account Transfer for $2500 or more (excluding mutual funds & fixed income products). The rebate will be based solely on the actual transfer fee charged by the firm you are transferring from. To receive transfer rebate, please submit (upload, fax or email) a copy of your most recent statement from your previous broker with evidence of transfer charge. Submissions must be received within 60 days of transfer date. Credit will be deposited to your account within 30 days of receipt of evidence of charge. This offer applies to Firstrade regular investment accounts and IRAs (Traditional IRA, Roth IRA, and Rollover IRA), excluding Partnership, Corporate, Investment Club, ESA Education Planning Account, and Custodial Accounts. The account must remain open for 12 months with the minimum funding or assets required for participating in the offer — if your account assets fall below $2,500 due to withdrawals or outgoing transfers, Firstrade may reverse the transfer rebate at the time of withdrawal. Offer valid from 09/19/2017 to 08/31/2018.
Firstrade is kind of stuck in the middle between the huge mega-brokers and slick startups, so this is a big move for them to get some attention. The big financial names – Fidelity, Schwab, Vanguard all have some commission-free ETFs but not all stock trades. Robinhood and WeBull are new start-ups that have free stock/ETF trades, but not free mutual fund trades.
Bottom line. Firstrade is a discount broker with real human customer service that is moving to the new world of app-centric trading, offering free online trades on all stocks, exchange-traded funds (ETFs), options and mutual funds. No minimum account requirements.