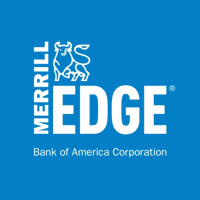 Updated. Merrill Edge is the self-directed brokerage arm formed after Bank of America and Merrill Lynch merged together. They are currently offering an increased cash bonus of up to $1,000 for moving "new money" or assets over to them from another brokerage firm. The offer code is 1000PR. Here's an overview along with my personal experience as I've had an account with them for a few years now.
Cash bonus. If you are holding shares of stock, ETFs, or mutual funds elsewhere, you can simply perform an "in-kind" ACAT transfer over to Merrill Edge. Your 100 shares of AAPL will remain 100 shares of AAPL, so you don't have to worry about price changes, lost dividends, or tax consequences. Any cost basis should transfer over as well. Make a qualifying transfer and/or deposit
to your new account within 45 days and maintain your balance for at least 90 days. The fine print version:
You must enroll by entering the offer code in the online application during account opening or by providing it when speaking with a Merrill Financial Solutions Advisor at 877.657.3847 or at select Bank of America® financial centers. You are solely responsible for enrolling or asking to be enrolled in the offer.
Fund your account with at least $20,000 in qualifying net new assets within 45 days of enrolling in the offer. Assets transferred from other accounts at Bank of America, MLPF&S, Bank of America Private Bank, or 401(k) accounts administered by MLPF&S do not count towards qualifying net new assets.
You must be enrolled in Preferred Rewards as of 90 days from meeting the funding criteria described in Step 2.
After 90 days from meeting the funding criteria described in Step 2, your cash reward will be determined by the qualifying net new assets in your account (irrespective of any losses or gains due to trading or market volatility) as follows:
$100 bonus with $20,000+ in new assets
$200 bonus with $50,000+ in new assets
$400 bonus with $100,000+ in new assets
$1,000 bonus with $250,000 or more in new assets
This offer includes "instant" Preferred Rewards status, which does require a Bank of America checking account:
Promotional Early Enrollment in Preferred Rewards: Until May 26, 2023, when you enroll in the Preferred Rewards $1000 More Cash Offer, you consent to early enrollment in the Preferred Rewards Program. Once you satisfy the funding requirement for the offer, you will be enrolled in Preferred Rewards within 45 days based on your current balances at that time rather than the usual requirement of three month average combined balances. You also must have or open an eligible Bank of America personal checking Advantage Banking account to be enrolled in Preferred Rewards. All Preferred Rewards benefits available in the tier associated with your combined balance level will be active within 30 days of enrollment.
More fine print:
For purposes of this offer, qualifying net new assets are calculated by adding total incoming assets or transfers (including cash, securities and/or margin debit balance transfers) from external accounts, and subtracting assets withdrawn or transferred out of the account within the preceding 24 weeks.
This offer includes both IRAs and regular taxable (CMA) accounts, including robo-advisor and human advisor accounts:
Offer valid for new and existing individual Merrill IRAs or Cash Management Accounts (CMA) opened September 1, 2022 through May 26, 2023. Cash bonus offers, in the aggregate, are limited to one CMA and one IRA per accountholder. Eligible Merrill IRAs limited to Traditional, Roth and owner-only SEP IRA. The Merrill IRA or CMA may be a Merrill Edge Self-Directed account, Merrill Edge Advisory Account, Merrill Guided Investing account or Merrill Guided Investing with Advisor account. You may be eligible for a different or better offer. Please contact us for more information.
Note that last sentence! After I did this bonus once with a partial transfer (just enough to satisfy one of the tiers), a Merrill Edge rep contacted me and offered me a custom bonus to move even more assets over. (The bonus ratios were about the same, but higher limits.) Therefore, if you are considering this and happen to have more than $250,000 to transfer over, you may want to give them a call and see if they can offer even more money.
You can even transfer in Admiral Shares of Vanguard mutual funds – they won't let you buy any additional shares, but you can only hold or sell them. You can, however, buy more shares of the corresponding Vanguard ETF if you wish. (Alternatively, you should consider having Vanguard convert your Admiral share into ETFs on a one-time basis that will preserve your original cost basis. After you have ETFs, you can move those over to Merrill Edge and trade them as you wish.)
The features for the account itself seem like most other online brokerages. Unlimited commission-free online stock, ETF and options trades (+ $0.65 per-contract fee). You can trade ETFs, fixed income, mutual funds, and options.
Preferred Rewards bonus. The Preferred Rewards program is designed to rewards clients with multiple account and higher assets located at Bank of America banking, Merrill Edge online brokerage, and Merrill Lynch investment accounts. Here is a partial table taken from their comparison chart (click to enlarge):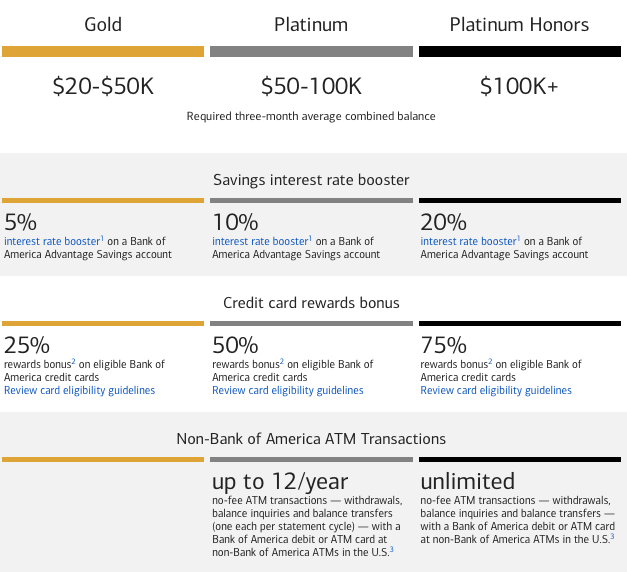 At the Platinum and Platinum Plus levels, Merrill Edge used to offer 30 and 100 free online stock trades every month, respectively. These days, everyone gets unlimited $0 trades. Bank of America's interest rates on cash accounts tend to be quite low, so moving cash over to qualify may result in earning less interest on your cash deposits. Merrill Lynch advisory accounts also usually come with management fees. The sweet spot is Edge with self-directed brokerage assets like stocks, mutual funds, and ETFs.
BofA checking accounts. With Gold status ($20k in assets) and above, you'll get the monthly maintenance fee on up to 4 checking or savings accounts waived. That means you no longer have to worry about a minimum balance or maintaining direct deposit, depending on your account type. You'll also get waived ATM fees at non-BofA ATMs at Platinum and above (12/year at $50k assets, unlimited at $100k). Free cashier's checks.
Credit card rewards. With the Preferred Rewards boost, you can get up to 2.6% cash back on all your purchases with the Bank of America Unlimited Cash Rewards card, or 2.6% towards travel and no foreign transaction fees with the Bank of America Travel Rewards Card. You can also get 5.2% cash back on the first $2,500 in combined grocery/wholesale club/gas purchases each quarter with the Bank of America Customized Cash Rewards Card.
My personal experience. In terms of Merrill Edge, I've had an account with them for a few years now and my lightning review is that they have a "okay/good" user interface and solidly "good" customer service (i.e. real, informed humans available 24/7 on the phone, not email-only customer service that takes hours to days like Robinhood). I am not an active trader and only make about 10-15 trades a year, but have been quite satisfied with the account. I can also move money instantly between my Merrill Edge and Bank of America checking accounts, making it relatively easy to sweep out idle cash into an external savings account, as their default cash sweep pays nearly zero interest. Don't leave too much cash there!
The biggest financial benefit to this BofA/Merrill Edge combo with Preferred Rewards has probably been the 75% boost to their credit card rewards, allowing me to get a flat 2.625% cash back on virtually all my daily purchases. The second biggest benefit has probably been this cash bonus, and the third is the waived checking and ATM fees.
Bottom line. Merrill Edge is currently offering up to $1,000 if you move over new assets to their self-directed brokerage. This can simply be mutual fund or ETFs shares currently being held elsewhere. When you keep enough assets across Bank of America and Merrill Edge, their Preferred Rewards program can offer ongoing perks like waived bank account fees and boosted credit card rewards.