If you like maximizing your credit card rewards, you probably know that you can earn a base rewards rate of 2.6% cash back on ALL your credit card purchases and up to 5.2% cash back on the first $2,500 in combined grocery/wholesale club/gas purchases each quarter by combined the right Bank of America credit card with their Preferred Rewards program. The catch is that you have to park at least $100,000 in assets inside qualifying Bank of America deposit and/or Merrill investment accounts. You can avoid any lost interest or management fees by transferring over some existing IRA or brokerage assets to a self-directed Merrill Edge account.
Bank of America recently updated the tiers for their Preferred Rewards program, and thankfully the benefits for the three existing tiers did not change. You can still earn the 75% bonus with $100,000 (Platinum Honors) in qualifying assets and 50% bonus with $50,000 (Platinum) in qualifying assets. Specifically, they track your average daily balance for the trailing three calendar months for qualifying accounts:
Bank of America deposit accounts (including checking, savings, certificate of deposit)
Merrill investment accounts (including brokerage "Cash Management Accounts", IRAs, 529 Plans)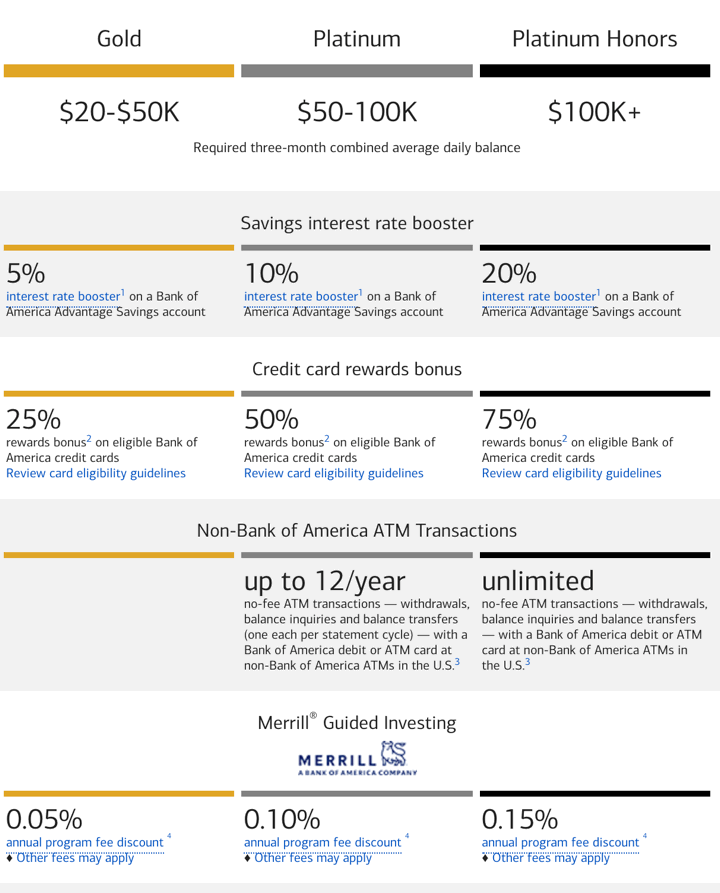 BofA added two brand-new tiers for those with $1 million+ (Diamond) and $10 million+ (Diamond) in qualifying assets. Here is an edited comparison table that includes the new Diamond and Diamond Honors benefits with the most potential value (mortgage and HELOC interest rate deductions). Of course, I would compare rates to make sure that BofA's loan rates are initially competitive. Click to enlarge: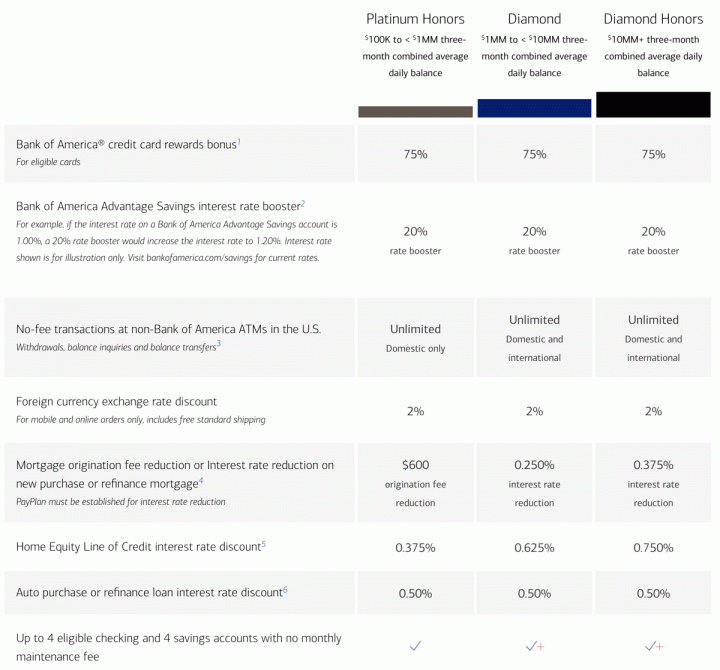 In addition, they added new lifestyle benefits to the Diamond and Diamond Honors tiers. These include "access" and "discounts" to travel experiences, luxury merchandise, special events, and concierge-type services. You can also gain Avis Preferred Plus status (Diamond) or Avis President's Club (Diamond Honors).
My take. I personally don't see anything special that would encourage me to aspire to Diamond or Diamond Honors status, but you may feel differently. I'm glad that they are keeping the 75% boost for $100,000 in assets, and it has worked as I would not otherwise have much of a "relationship" with BofA. I would not have an active Merrill Edge account, and I wouldn't have any active BofA credit cards without the boosts.
This "2.6% back on everything" has been my catch-all system for a long time, used whenever I couldn't earn more while trying out a new credit card promo or 5% bonus category.
(hat tip Doctor of Credit)