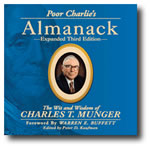 Charlie Munger is best known as the long-time friend and business partner of Warren Buffett, and officially as the Vice-Chairman of Berkshire Hathaway. Even though he is Buffett's partner in investing, Munger is different in that he does not enjoy the spotlight as much and is rather more blunt and cranky. For some reason that just makes me like him more. 🙂
Ever since I read more about him in the Buffett biography The Snowball, I have wanted to learn more about him via the book Poor Charlie's Almanack: The Wit and Wisdom of Charles T. Munger, which is mostly a collection of his speeches but also includes some of his own personal notes and reflections from his peers and family. From the website:
For the first time ever, the wit and wisdom of Charlie Munger is available in a single volume: all his talks, lectures and public commentary. And, it has been written and compiled with both Charlie Munger and Warren Buffett's encouragement and cooperation. So pull up your favorite reading chair and enjoy the unique humor, wit and insight that Charlie Munger brings to the world of business, investing and life itself.
The first thing you should know about this book is that it is not meant to be an investing How-To book. Yes, there is a lot of investing advice in it, but the book is more about how to live a successful and fulfilling life more than the accumulation of money. Munger puts more emphasis on integrity and how to think correctly than how to calculate a company's return on capital.
Financial Independence
One of the reasons that Buffett and Munger appeal to me is that their primary motivation for doing what they do is not simply to be rich, it is to to be independent. Here's a quote from Buffett on why he wanted to make money:
It could make me independent. Then I could do what I wanted to do with my life. And the biggest thing I wanted to do was work for myself. I didn't want other people directing me. The idea of doing what I wanted to do every day was important to me.
Here is a very similar quote from Munger:
I had a considerable passion to get rich. Not because I wanted Ferraris – I wanted the independence. I desperately wanted it. I thought it was undignified to have to send invoices to other people. I don't where I got that notion from, but I had it.
(I'm afraid I have a similar obsession. I think my wife is tired of me talking about it, actually.)
Accordingly, you won't find either of their names on the list of owners of the longest yachts in the world, even though they could easily be there. I find that respectable, as I reading through that list I can't find anyone that I actually look up to.
Reliability
In his speeches, Munger lists reliability as one of the most essential traits for success. He explains that while something like quantum mechanics may be unlearnable by many, reliability can be learned by anyone. If you can master the ability to always be reliable, that alone can overcome many other failings or disadvantages that you may have. He notes that this has gotten him in trouble when talking at elite universities because he applauds McDonald's for teaching millions of teenagers the importance of showing up reliably for work.
I found this nugget special because it was very similar to the advice my father gave me when I graduated college. He told me that I should always, ALWAYS deliver what I promised. Never over-promise and under-deliver. Being unreliable will kill your career and friendships. If anything, under-promise and over-deliver. That is something I'll pass on to my kids someday, hopefully by example as well as with words.
Both Mark Twain and Woody Allen are credited with the quote "80 percent of life is showing up." Think about the importance of reliably showing up for school, for work, and for your family and friends when you've said you would.
There is a lot more I have written down from this 500+ page book, but I'll keep the investing-related notes for another post.