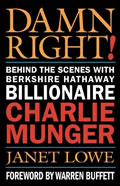 I recently finished reading the biography of Charles Munger done by Janet Lowe, Damn Right! Behind the Scenes with Berkshire Hathaway Billionaire Charlie Munger, originally published in 2000. The book did a pretty good job of filling in details about his childhood and family history, although much of it was pieced together from existing speeches, books, and articles about Warren Buffett and Munger. (Although if you haven't read any of that other stuff, you wouldn't notice.) In any case, I still found many passages worth highlighting and saving:
On learning business skills from playing poker:
"Playing poker in the Army and as a young lawyer honed my business skills. What you have to learn is to fold early when the odds are against you, or if you have a big edge, back it heavily because you don't get a big edge often. Opportunity comes, but it doesn't come often, so seize it when it does come."
On the merits of buying and holding onto investments for the long haul:
There are huge advantages for an individual to get into a position where you make a few great investments and just sit back and wait: You're paying less to brokers. You're listening to less nonsense. And if it works, the governmental tax system gives you an extra 1, 2 or 3 percentage points per annum compounded.

And you think that most of you are going to get that much advantage by hiring investment counselors and paying them 1% to run around, incurring a lot of taxes on your behalf? Lots of luck.

On being prepared for the volatility of stock investments:
Munger tells investors to conduct their financial affairs so that no matter what crazy things happen in the markets, they can stay in the game. He cautioned that if you can't afford for your Berkshire Hathaway stock (or any stock, for that matter) to drop 50%, you probably shouldn't own it.
On how being smart doesn't mean you're always right:
…the hedge fund known as 'Long-Term Capital Management' recently collapsed, through overconfidence in its highly leveraged methods, despite I.Q's of its principals that must have averaged 160. Smart, hard-working people aren't exempted from professional disasters from overconfidence. Often, they just go aground in the more difficult voyages they choose, relying on their self-appraisals that they have superior talents and methods.
On the importance of knowing yourself when it comes to investing:
A frequently asked question is, how do you learn to be a great investor? First of all, you have to understand your own nature, said Munger. Each person has to play the game given his own marginal utility considerations and in a way that takes into account his own psychology. If losses are going to make you miserable-and some losses are inevitable-you might be wise to utilize a very conservative pattern of investment and saving all your life. So you have to adapt your strategy to your own nature and your own talents. I don't think there's a one-size-fits-all investment strategy I can give you.
I found this last one amusing regarding one of Munger's favorite childhood books, Robinson Crusoe (free via Kindle and Gutenberg):
When Charlie's grandparents read and reread Robinson Crusoe to him, they planted a notion in his head. "He wanted to be rich so he could be completely independent, like Crusoe on his island, and not have to do what anybody else said."
I felt the same about The Boxcar Children when I was young. Also see this previously highlighted quote about parenthood.
If you are interested primarily in the teachings of Charlie as opposed to his personal history, I would recommend reading Poor Charlie's Almanack first over this biography (although it is rather expensive and hard to find in libraries).