As part of our transition to parenthood (less time) and part-time work (less income), Mrs. MMB and I have been trying to get more organized with our finances. I've eased up on my control-freak ways and we've shifted as many bills as we can to auto-pay status. I still try to pay everything I can with credit cards in order to make things easy to track and of course, maximize credit card rewards. Here's a rough diagram of our current situation: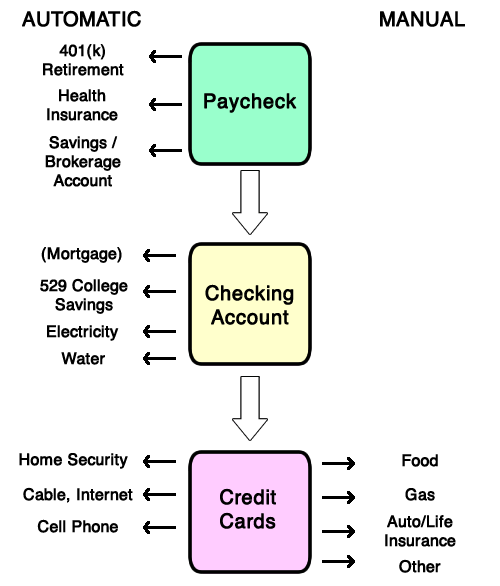 We're still trying to stick with our existing simple budgeting system and only putting money into our checking account that we are willing to spend. That way we basically force ourselves to meet a minimum savings rate for the year by "paying ourself first" with a good chunk of our paychecks into savings-type accounts (401k's, separate bank accounts, brokerage accounts, etc). If the checking balance still grows past a certain point (hasn't been happening much lately!), then we skim off some and transfer it over to savings.
I would note that I don't put the credit cards themselves on auto-pay, as I still want to spend the time and look over those statements each month. I know some folks do this as well to reach nearly full-automation.
Another backup use for this chart is for reference in case something happens to me, as I usually keep track of all the bills. This fits into our 2013 resolution to get our crap together.