For the past several months, we've been using a crude but effective way of tracking our overall spending each month. The basic idea is that we only put the amount of money we actually want to spend into our primary checking account, and then pay all our bills out of that account. Everything else goes directly into either a high-yield savings account, an IRA/401k/403b, or a brokerage account.
Add in an appropriate buffer balance to avoid overdraft fees, and ideally our bank balances should look something like the sinusoidal line below: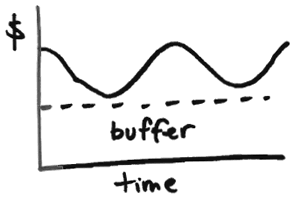 So what is a proper spending goal? I would recommend looking at your current spending levels first, and then deciding on a numerical goal of say $X,XXX per month.
Or, for us, we decided that we wanted to live on only one of our incomes (the lesser one). So only that paycheck is direct deposited into our "spending" account, minus retirement account contributions. We pretend this account is all we have, carefully watching that the balance does not go below the buffer level. (We are signed up for e-mail alerts if we do hit that barrier.)
In addition, we note the high and lowest balances for the last 30 days. This helps keep a rough trend that we are headed in the right direction. Here is an graph made from the actual daily balances of our checking account from the last few months: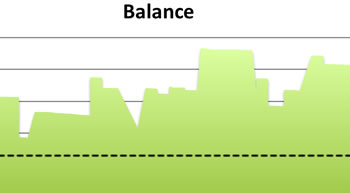 Benefits
The biggest benefit is that because it is so simple, we actually do it! By keeping all our other transactions separate, it really helps us pretend that we only have a certain income. It's a reflex that when I see the balance get low, I get nervous and start changing my spending behavior. If we eat into the buffer one month, then the next month we have to dig our way back.
Also, looking at the big picture in this way prevents the cheating that sometimes happens when we have a large unexpected expense like a plane ticket to visit sick family or a surprise car repair. It's so easy to ignore that chunk and say that we still did okay our regular categories like "Gas" and "Groceries". And we all have unexpected expenses, right?
Drawbacks
This system really works best for those that already have a basic idea of what they spend each month, and aren't looking for drastic changes. It does not provide any deep analysis, such as identifying areas to cut back. We'll have to do that separately, or use another budgeting system.