Several months ago my "check engine" light went on. I went to my local mechanic, who plugged in a code scanner and found my error. Since it didn't re-appear after resetting, he said he could try to fix it ($$$) or I could just leave it and it might never come back on. He said he normally charges $50 just do do the diagnostic, but this time it'd be free. A week ago, it came back on, and of course I wasn't eager to go through all this hassle again.
I decided to try and buy my own error code scanner. If you search for "OBDII", "OBD II", or "OBD 2" code readers, these devices will plug into your 1996 or newer model year car and read the diagnostic code from your car computer. In addition, they can erase or reset the code so that you can see if it is an ongoing problem.
Luckily, while searching I ran across a post on Fatwallet that had this CodeKey OBD II code reader on clearance for $23.90. There are nicer scanners out there, but they usually start at $60+. From the CodeKey site: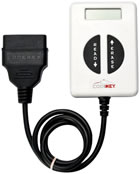 Simply put, CodeKey™ is an easy to use device designed to unlock the mystery of why your vehicle's Check Engine Light is on. The Check Engine Light can ignite for something as simple as a loose gas cap, or as serious as a fuel leak. A flashing Check Engine Light can be serious, and continued driving can cause permanent damage to the vehicle. Until now, you would need to rely on a mechanic to determine what problem caused the light to go on

When you know the source of the problem you can:
* Decide if you should go to the garage immediately.
* Determine if the problem is something you can fix yourself.
* Know what to expect when you bring your car to a garage.
Other options
If you go to a dealership and have them read this code, it'll cost you $100 just for the "diagnostic check". Some people report that your local Autozone may lend these out for free at the store. I have also read that some Jiffy Lubes let you use theirs if you pay for some service like a oil change. I'd call first.
The old-school method is to simply disconnect your car battery and wait for the computer to reset itself. But for cars newer than 1996, this site reports that wiping out the computer's memory can affect the operation of the transmission, climate control system and other functions. You can also trigger your alarm system or anti-theft car radio into lock-down mode. However, you won't know the actual cause of the problem.
In the end, at less than $25 I just bought the tool. Just avoiding the gas to/from the mechanic and having to arrange a carpool for pickup/dropoff would be worth it. And sure enough, after resetting the light it has not come back on again.
It turns out, buying this tool could be the start of a new side business. Check out this Craiglist ad where a guy will come over and reset your light for $25. Learn how to do common repairs, and there you go. I think I'll pass, but don't forget to deduct business mileage if you go this route! 😉