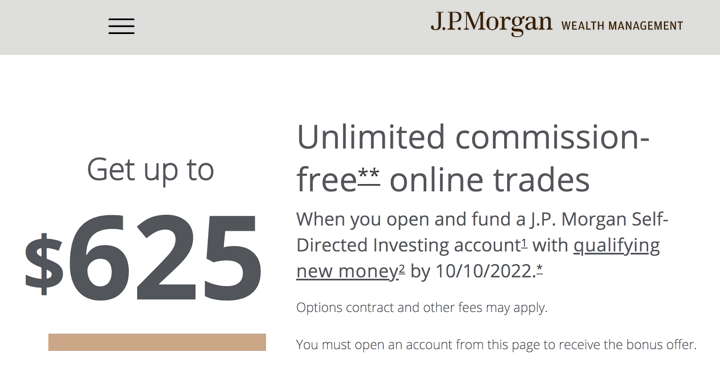 Brokerage firms constantly compete for "assets under management", and many are willing to give you cash to move over your existing portfolio from your existing broker over to them. If you are unsatisfied with your current broker, these incentives may help you find a new home for your hard-earned assets.
Chase started a self-directed brokerage arm called "Chase You Invest", but I guess that didn't sound fancy enough, because now it is called JP Morgan Self-Directed Investing (a part of JP Morgan Wealth Management). They are currently offering up to $625 for new accounts, depending the value of assets that you move over (deposit cash or move over stocks and securities):
$125 with $25,000-$99,999 in qualifying new money.
$300 with $100,000–$249,999 in qualifying new money
$625 with $250,000+ in qualifying new money

Here are the steps:
Open a J.P. Morgan Self-Directed Investing account through this page by 10/10/2022. (General Investment Taxable, Traditional IRA, or Roth IRA.)
Transfer – You have 45 days to fund your account with qualifying new money (cannot be existing deposits, funds or securities held by you at JP Morgan, Chase or affiliate partners). Your bonus will be determined on day 45.
Earn
The features for the account itself seem like most other online brokerages. Unlimited commission-free online stock, ETF and options trades (+ $0.65 per-contract fee). You can trade ETFs, fixed income, mutual funds, and options. The interface is more on the basic side, but you can perform instant funds transfers between the brokerage account and your Chase checking account, which may be convenient.
Here is their fee schedule. A few things I noticed: Buying a treasury at auction costs $50. IRA Maintenance fee of $75 per year. IRA Termination fee of $95 per account.
Here is more fine print:
You can only participate in one J.P. Morgan Self-Directed Investing new money bonus in a 12 month period from the last bonus coupon enrollment date. Coupon is good for one time use and only one bonus per account. Account types and other restrictions apply. Offer terms are subject to change and/or termination without advance notice. The value of the cash award may be considered income, and we may be required to send you, and file with the IRS, a Form 1099-MISC ("Miscellaneous Information"), or a Form 1042-S ("Foreign Person's U.S. Source Income Subject to Withholding") if applicable.
The $125 bonus is best in terms of percentage (0.5% of $25,000), but in terms of time/effort you may just want to get the biggest bonus. There have been somewhat higher bonuses in the past from Chase/JP Morgan, but it's unknown if they will come back.
Given that we are now in a higher interest rate environment, you should take into account the potential lost interest if you deposit idle cash into their default sweep account. You might also consider ultra-short bond ETFs like MINT or Treasury Bill ETFs like GBIL (still possible to lose value).
Usually, the easiest thing is to perform an in-kind ACAT transfer of existing securities, which takes less than a week and all of your tax basis information should also move over after another few days. Your old broker may charge you an outgoing ACAT fee about about $75, although you should ask JP Morgan if they will reimburse you for this fee.